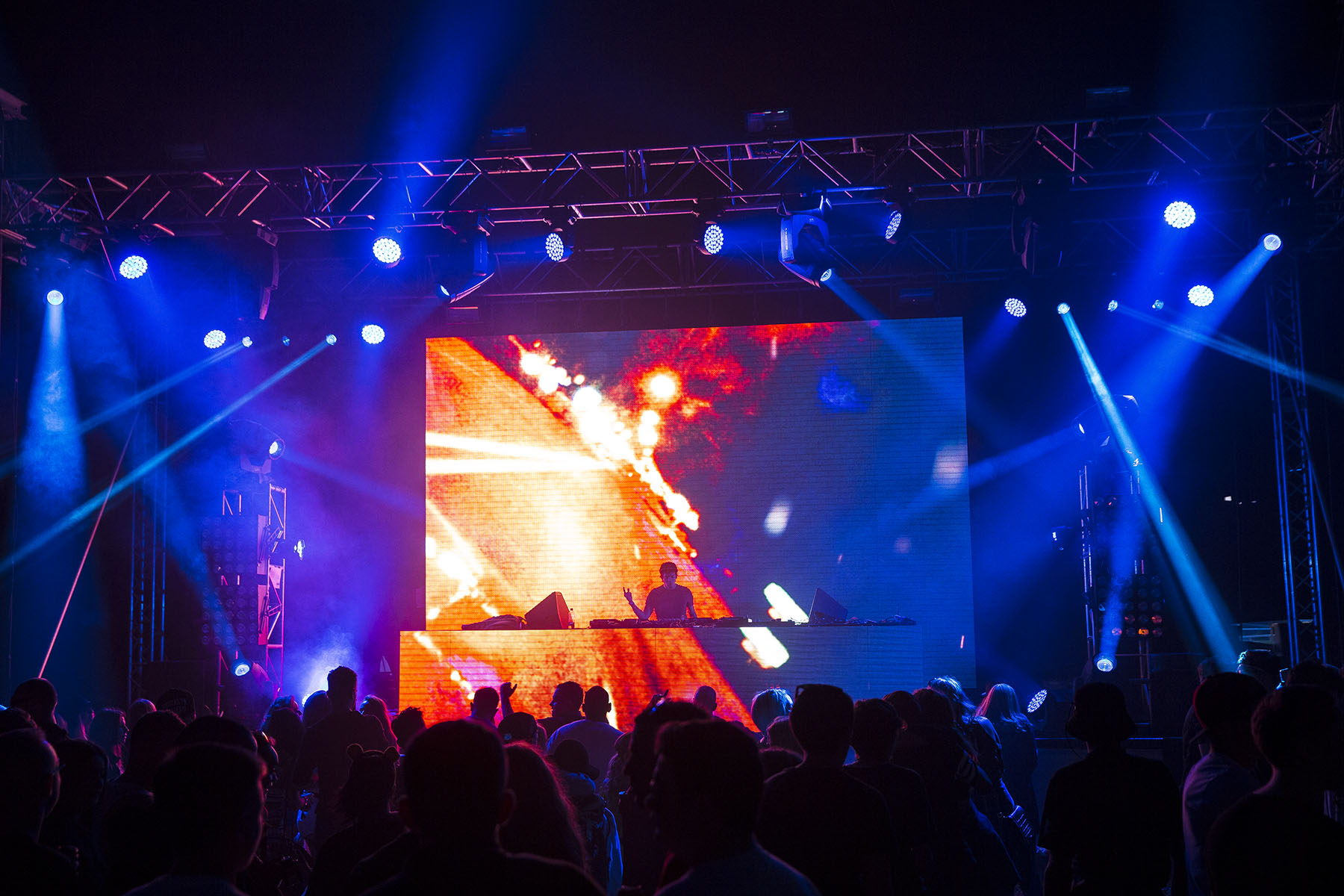 UK: The invigorating alternative line-up was just one of several fresh elements to the 2015 MiNT Festival; the 10,000 capacity event expanded to two days for the first time, and also had a new location at Wetherby Racecourse near Leeds in the UK.
Colour Sound Experiment was asked to provide rigging, trussing, lighting and LED screens for the six main tented arenas which featured sets from Duke Dumont, The Martinez Brothers, Sigma, Sven Vath, Jamie Jones, Luciano, Ricardo Villalobos and many more.
Fourteen top Colour Sound crew were led by Jon Rickets and worked closely with the production team from The Dark Horses and technical production manager James Brennan, who co-ordinated all the site production.
Colour Sound's Haydn Cruickshank, commented: "It's exciting to see a new festival growing and finding its identity, and also embracing 'small is beautiful' whilst investing properly in good production values to present a great overall experience".
Dynamic 'house' production lighting and visual designs for each of the arenas were created by Colour Sound's Fletch with the objective of making each look different, individual and interesting, so a variety of lights and LED screen configurations were deployed.
Colour Sound has its own proprietary BT brand of LED screen – bright, lightweight, reliable and easy to rig – with several different pitch-options, and this was used extensively site wide to great effect.
The 'Bitch' stage was anything but. Colour Sound installed a 6-legged ground support system around the stage, rigged with 36 moving lights – a mix of Clay Paky Alpha Spot 1500 HPEs and Sharpies, Robe LEDWash 600s plus ten Jarags, eight Atomic strobes and smoke machines.
The Jarags were on upright trusses at the front of the stage flanking the DJ booth and also along the front of the extended stage wings, widening the whole space to draw the people at the edges into the action as well as those in the centre and directly in front of the stage, which worked very well.
Lighting was run by Sam Campbell using a ChamSys MQ300 console.
The LED screen was Colour Sound's new BT7 HD indoor / outdoor product, arranged as a 6 x 4 metre main screen upstage, with a 5 x 1 metre strip cladding the front of the DJ booth.
For the MiNT tent, a front truss was flown between the tent's king poles and upstage trussing for lighting positions was rigged via a self-climbing goal-post structure.
The 28 moving lights were 12 x Robe MMX Spots joined by 16 x Beam 200 fixtures, 10 Robe CycFX 8s, 10 x Chauvet Q-Wash 260s and eight COLORband PiX LED battens, 10 Atomic strobes and 10 x 2-lite Moles – a good 'all-round' selection of fixtures chosen for the diversity of effects they could produce.
Lighting control was a ChamSys MQ200 expertly operated by Phil Lee, and Colour Sound also supplied two 6 watt green lasers and Pangolin control.
The LED set up comprised a 10 metre high by 3 metre wide surface upstage and a 5 x 1 metre matching strip across the front of the DJ booth.
A self-climbing goal post structure was erected at the back of the Knee Deep In Sound stage, complemented at the front by a run of Litec truss on two Mobil Tech heavy-duty stands – providing a neat low-profile solution for front lighting, supported by a 12 metre long advance truss – made from 52cm SuperTruss – flown between the tent king poles.
The lights were again a combination of 12 x MMX Spots and 12 x Beam 200s together with 12 x Diamond seven small LED moving heads, eight active Sunstrips plus strobes and hazers, operated by Toby Lovegrove using an MQ60.
The BT-20 screen was hung off the back truss in seven 1 metre columns, ranging between 2 and 3.5 metres in drop length with a 5 x 1 metre strip on the front of the DJ booth. Some of the Sunstrips filled the gaps between the LED columns, with the others were running horizontally across the back truss.
Lasers were also part of the visuals package with two 3.2 Watt RGB units.
Curated by eclectic UK DJ and music producer Duke Dumont, the look of the Blasé Boys Club was a bit edgier and starker, with a run of truss on Mobil Tech stands at the back of stage and a T-shaped section of A-type truss running between the tent king poles down to the ground.
The lighting featured strobes, Sunstrips, Chauvet Rogue R2 LED Spots and eight Robe Pointes – their ability to multi-function as beam, spot, wash and effects fixtures was extremely useful, effectively multiplying the available rig.
This was operated by Stu Barr using an Avo Tiger Touch Pro.
The screen was BT-20 medium resolution, 30 panels of it arranged in a graduated half triangle shape behind the DJ booth, with another 5 x 1 metre DJ strip at the front.
To give the System space a completely different look and feel, a curved ground support system was designed based on a 10 metre diameter circle made up of Litec QX30 truss. Between the four tent king poles, a 12 metre square box of the same Litec truss was flown for audience lights.
The moving lights were a combination of Robe LEDWash 600s, 12 x Pointes and 6 x Clay Paky A.leda K20s with B-Eye lenses which were individually mapped to produce some trippy effects into the crowds. SGM XC-5 LED strobes and 14 active Sunstrips were available for additional effects, all operated by Jon Curtis using another MQ60 desk.
Ten columns of one metre wide by three deep BT-37 were arranged in an elegant arc around the stage matched with a strip in front of the DJ booth.
This very popular Goodgreef tent was packed with anticipation and great vibes. The rigging infrastructure was a Litec goal post at the back of the stage, two upright trusses onstage and two sets of QH40 trusses flown between the king poles.
Forty-four moving lights included GLP Impression Spot Ones, Beam 200s and Q-Wash 260s, plus XC-5 strobes, COLORband PiX battens and smoke machines. Control was an Avo Tiger Touch II operated by Nick Hamlyn.
The BT-12 screen was arranged in three sections – a centre one in conventional portrait shape, flanked by two inverted pyramids with jagged edges either side, with floor-based upright sections of truss rigged with lights filling in the gaps for a great 'wall of visuals' idea.
In three of the arenas – MiNT, BBC and Knee Deep – Colour Sound also supplied their V-Tower masts for flying the main PA hangs – 9 metres tall for Mint and 6 metres tall a side in the other two. Site wide audio systems were supplied by Audio Plus from Colchester.
VJs – complete with front-end control and individual content for each arena's LED screens – were supplied via production. They rocked-up and were hooked into the requisite LED screen systems.
The main challenge for Rickets and the Colour Sound team was the usual one of time pressure.
He and the rigging team arrived on the Wednesday and installed all the ground support systems, flying and PA towers, then the lighting get-in commenced on Thursday and everyone worked full tilt until the early hours of Saturday morning. Colour Sound's crew service around 60 large scale festival style events throughout an average summer and are extremely experienced in this environment. For MiNT, they worked alongside 10 Road Street Runner stage hands who were "fantastic", according to Rickets.
Everything was finished and ready to kick-off on Saturday morning.
In addition to the operators, Ed Blackwell co-ordinated all the LED screens for Colour Sound with Dave Cottermole and Jani Fodor and on the lighting crew were Tony Wilson (also rigging), Sarah Payne, Aamir Riaz and Alex Ryan.
The event was blessed by good weather, great vibes and some excellent music as the smaller 'boutique' end of the festival market continues to be a popular choice for those seeking a more intimate festival and personal experience.
Photo credit: Louise Stickland