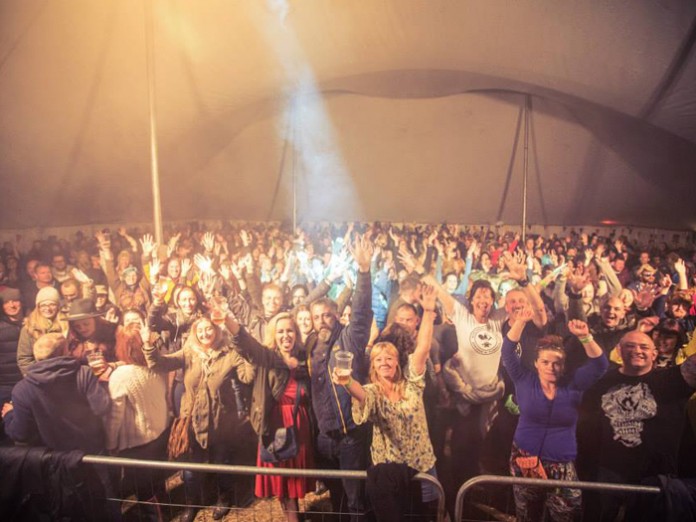 Conleth Maenpaa is the founder of Lindisfarne Festival in Northumberland – a small, boutique and niche festival set on Beal Farm, overlooking the beautiful Holy Island. The festival is a showcase of eclectic music from established and world renowned artists to emerging talent across many genres including indie, rock, dance, funk, soul and folk. As former owner of a leading recruitment agency in London, the festival scene is a new departure for 40-year-old Conleth, but one he always held a great passion for. Here he shares his lessons learned thus far and how he has used his business experience to venture into new territory and launch what has been hailed a very successful first time festival.
As one of seven brothers and sisters, growing up in the Maenpaa household was certainly far from dull. My dad was from America and my mum from County Kildare in Ireland but we spent most of our childhood growing up in a remote part of Cambridgeshire. We lived out in the sticks as they say but we created our own fun and I grew up in a house that hosted plenty of get-togethers and parties. We are a very sociable family and I guess that's where my love of getting people together and having fun all stems from really.
In 1993 I discovered the wonders of the North East and came to study economics at Northumbria University. Was I academic? Not overly, but I loved my time living in Newcastle, going out and enjoying the music scene; it's a fantastic region with great people. Little did I know then that one day I'd be back living here and launching a brand new music festival.
Bongos in Brazil
Always with a sense of adventure and curiosity, I loved travelling and seeing the world. One of my fondest memories was the time I spent in Brazil. Just like many of the festivals I had been to, there was something infectious about the fun, colour and vibrancy of the place and the people that lived there. It was pretty cool. In particular, Salvador Carnival was incredible – think bongos on the beach as people dance in the sea as the amazing Copoeira Boys performed. There was lots of laughter and a great sense of togetherness. Some places just have that vibe you wish you could bottle and I was keen to recreate some of that at Lindisfarne Festival.
When back in London I worked for an investment bank but quickly found that wasn't for me. Shortly after I discovered the world of recruitment. I was still young at 23 and worked my way up the ranks quite quickly.
2004 was a big turning point in my life and I decided along with my business partner James to set up my own recruitment agency, Albany Beck Consulting. Similar to setting up a festival, I learned that determination, gutsiness and hard graft were key ingredients in helping us get to where we wanted to be. Our lives depended on making it a success and we built up a fun and rewarding place for people to work, alongside a reputation for delivering results for our clients, most of whom we are still working with now.
From recruitment in the city to launching a brand new North East festival
So how do you get from recruitment to festivals I hear you ask, and what have I learnt? The answer, very simply, is that I saw an opportunity and went for it. I had also identified that whilst there were many one-day festivals, there was a clear lack of two-day camping festivals in the region, where people could escape to for the weekend.
I'll be honest, I had no experience of organising festivals nor did I have any music, cultural or local contacts in the region so I was completely starting from scratch. All I knew was that I wanted this to work and was determined to throw everything into it, including getting the right team on board to help me deliver it. I wouldn't take no for an answer. I had a vision of creating a festival in an amazing setting, with fantastic music and entertainment. With a hippie-friendly and free vibe, we wanted people to get together with their friends and family, to have fun and make great memories. We wanted it to be intimate too, not a mass-sponsored commercial festival.
With our mutual love of the region and my girlfriend keen to return home to her family in the North East, we were passionate about holding a festival here and creating something the people could be proud of for years to come. We felt that beautiful Northumberland made for the perfect spot, and Beal Farm overlooking the mystical Holy Island ticked all the right boxes. I now just had the tough task of making it a reality and only hoped that my business experience, determination, and occasional stubbornness would see me through.
There were times of doubt and worry, I'm not going to lie, but I'm pleased to say we pulled it off with a lot of blood, sweat, tears and a super team of staff and volunteers. Experts in their fields, each and every one of the team worked so hard to make Lindisfarne Festival the success it was – I couldn't have done it without them. And of course there was my ever supportive girlfriend Catherine who was there through all the ups and downs. It certainly wasn't easy and I can honestly say whilst it was one of the best things I have ever done and proudest, it was definitely one of the hardest.
Lessons learned and making people believe
So what did I learn and how does it compare to running a business in the big smoke? There were the doubters along the way and so many 'what ifs', which I'm sure anyone setting up a new venture can relate to. We didn't let it blur our vision though; we stood firm and true to the brand we created, we prepared for all eventualities and put all our focus on putting on a great event with brilliant entertainment. We knew if we got that right, we could make it work.
When starting out, so many questions run through your head about how you are going to pull this off successfully, I knew I believed, but we had to work hard on our brand and marketing to make others believe, whether that was buying tickets, signing up acts to seeking approval from authorities. We were an unknown festival so knew we had a lot to prove and had to go at it quite hard in year one.
I'm not going to lie, some stakeholders were tough to deal with and you have to be smart at dealing with different personalities, restrictions posed by authorities and the various competing demands that come your way. Music agents were certainly trickier to deal with than any MD I had encountered in the city. Despite our desire to buy from them, it is so often tough to get through. The unresponsiveness can be frustrating but you have to persevere.
We had tough times in recruitment – losing clients during the credit crunch which was soul destroying at times. When planning the festival you can sometimes feel alone with little support, it's you on your own crusade trying to make things happen. There are also the financial constraints and trying to get the right acts at the right price in order to put on an event that is credible and sustainable. You have to be resilient, stay focussed and true to the vision, plans and budget you set. That's what we did and we were delighted to be rewarded with a very successful first time festival. With over 2,000 attendees, great feedback and media support, we were so proud to see the positive reviews fly in. To be shortlisted in the Best New Festival category at the UK Festival Awards 2015 was simply the icing on the cake and we are now going full steam ahead to make 2016 bigger and better.
Lindisfarne Festival 2016 – what to expect
So what can you expect? We are working hard on our plans for 2016 and are focussed on retaining the cool, intimate vibe of Lindisfarne Festival whilst growing capacity slightly as demand increases. As well as a range of local and world renowned talent, we will also have an emerging talent stage to showcase new acts and give people exposure to different genres of music. Like last year we will have great local food and drink, art installations, performers, a comedy / poetry tent and a few other surprises in store but we can't say too much at this stage.
We want to get more first time festivalgoers to attend, so many last year loved it and wondered why it had taken so long to get to one. One thing we urge is for people to buy tickets early. We are expecting increased demand this year, but the sooner you buy tickets the sooner we can invest to make it the best it can be. We hope to see you all there.