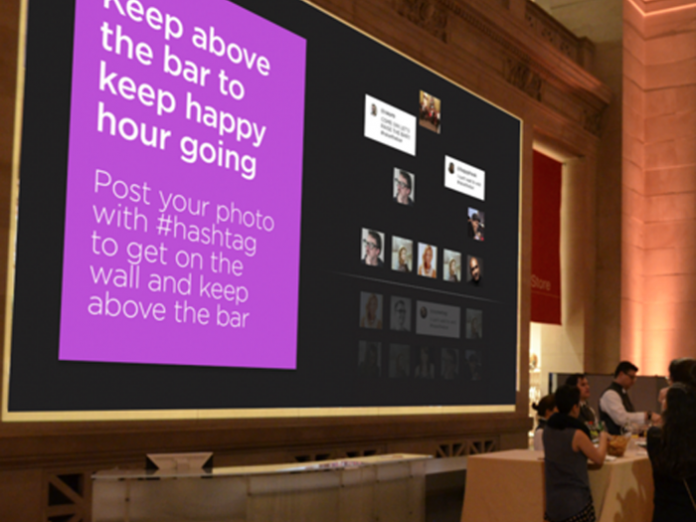 UK: EventsTag, a social marketing business used by brands such as O2 and Southern Comfort, has launched Social Gaming from EventsTag, an extension to its existing live display technology for major events. The new service offers marketers the opportunity to 'gamify' engagement with customers at live events to guarantee greater brand exposure and a richer customer relationship.
The EventsTag platform works on behalf of big brands to collect content from live posts on social media, including Instagram, Twitter and Facebook. It utilises user-generated content to execute fun, visual games displayed on screens at events. Games can range from those at a simple kiosk through to big screens at half time sports stadium events.
This latest service enhances EventsTag's existing offering to display digital centrepieces at major events.
The launch of EventsTag's Social Gaming service provides an immersive method for the 63% of event agencies already embracing gamification to increase their events' social engagement, and EventsTag also hopes that it will offer a simple and effective first step into experiential activations for the uninitiated 37%.
With 79% of brands expecting to execute more experiential programmes, Social Gaming from EventsTag aims to take the possibilities offered by live events to a new level, and to help activations stand out from the crowd.
Having delivered solutions at over 85,000 events, the specialist team at EventsTag works directly with marketing professionals to create unique social gaming activations so no two events are the same. Example activations include:
Keep It Up – where social posts are stacked up in a column. When the volume of content shared exceeds a pre-defined level, the whole audience receives a benefit. This encourages the guests to work as a team to unlock rewards via their social posting, for example, to kick-start Happy Hour.

Social Slot Machine – profile pictures of those sharing event posts are added to the slot game, which spins whenever new content including the bespoke hashtag is posted online. If a profile picture appears across all three slot reels, a prize is awarded. This can be fulfilled digitally, or retrieved in person during the event.
This commitment to ensuring each event is unique extends to the design of the installation of the Social Gaming feed. EventsTag can even integrate an experience where members of a crowd can control lighting and special effects, activated by customers hashtagging content and participating in the game.
Dan Strang, CEO of EventsTag, said: "Brands are increasingly seeking ways to make their events bigger, better and more impactful. We regularly get approached to help marketers ensure their social engagement mechanism stands out from the crowd.
"EventsTag Social Gaming provides a unique centrepiece for an event by acting as interactive entertainment. We know from our experience working with some of the world's largest brands that having live social activations encourages deeper engagement from fans and greatly increases the return on investment for event marketers."
EventsTag was established to offer brands the opportunity to #MakeSocialCount by installing interactive social feeds at live events. Content attributed to a bespoke hashtag is collated using the unique APIs of social media platforms. The company also offers its customers an analytics package that helps marketers make sense of their social traffic. It analyses the data and identifies overall reach, top influencers, and geographical & time-based popularity, in order to better target future social marketing efforts.
Crowd Reactive – EventsTag's parent company – was established in London in 2012 and was incubated by Wayra, Telefonica's global start-up accelerator. It has since attracted subsequent seed funding and opened its US office in July 2014 in New York. Crowd Reactive now offers its product portfolio globally, including EventsTag Social Gaming.