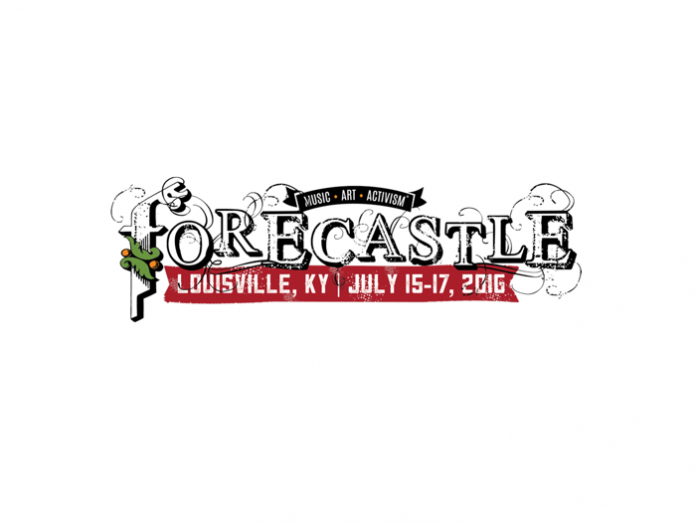 USA: Forecastle Festival, Louisville's three-day music, art and environmental activism festival, is bringing back its Kentucky Bourbon Trail outpost, The Bourbon Lodge, with a unique line-up of bourbon offerings, education, bourbon-inspired cuisine, and the revamped return of the charitable partnership, Bourbon Cares. Wall Street Journal best-selling author Fred Minnick hailed Forecastle Festival as 'bourbon's most important festival for new consumers,' praising its creation of 'future connoisseurs.'
Set to take place from July 15 – 17, 2016, Forecastle will feature a diverse collection of Kentucky bourbon brands uniting to offer dozens of bourbon selections within the Bourbon Lodge, including those from Bulleit, Four Roses, Jim Beam, Larceny, Maker's Mark, Michter's, Old Forester, Wild Turkey and Woodford Reserve.
The Forecastle Bourbon Lodge experience offers an oasis for festivalgoers, complete with an outdoor Bourbon Garden, air conditioning and full service restrooms. New in 2016 will be the addition of a Flight Bar, presented by Liquor Barn, offering patrons a rotating selection of Kentucky's finest craft bourbons, and the chance to learn what makes each unique and exceptional.
Forecastle will again feature the popular Bourbon Cares program, also presented by Liquor Barn. The 2016 edition will pair bourbon brands with Forecastle Foundation partners, to support numerous Kentucky-based conservation projects. Participating brands include Four Roses, Marker's Mark, Wild Turkey, Old Forester and Woodford Reserve. Hand-picked, single-barrel selections will be sampled inside the Bourbon Lodge and sold by the bottle exclusively at Liquor Barn. A portion of proceeds from both samples and full bottle sales will benefit Forecastle Foundation partners, the festival's 501(c)(3) non-profit organisation.
The Forecastle Mixology Station will also return, presented by Liquor Barn, offering patrons the chance to turn their favourite bourbon into a hand-crafted cocktail, by a professional, local mixologist. New this year, select brands will offer signature craft cocktails, available exclusively at their Bourbon Lodge booth.
Bourbon Lodge activities will include Fireside Chats, presented by Liquor Barn, offering an intimate, living-room setting for education on America's native spirit. Festivalgoers will have the chance to chat with master distillers and bourbon experts on everything from the spirit's Kentucky roots and attributes, to the distillation, barreling and ageing process, and more.
Returning for the third year in 2016, Forecastle will have a bar experience commemorating the legacy of Gonzo journalist and Kentucky bourbon aficionado, Hunter S. Thompson. The Gonzo Bar, presented by White Clay, will offer a variety of bourbons and specialty cocktails inspired by the iconic writer, available only at the Gonzo Bar.
New in 2016, the Gonzo Bar will feature Grant Goodwine as the Bar's artist-in-residence, featuring his 'traveling madhouse' of illustration, ink, watercolors, and various paintings inspired by the works of illustrator and frequent collaborator Ralph Steadman. The bar will also feature a film programme in 2016, airing Hunter S. Thompson films and documentaries throughout the weekend.
Also new this for this year, local chef Jason Brauner of Louisville's own Bourbons Bistro will be creating a unique, rotating bourbon-centred menu, featuring food from locally sourced farms provided by ValuMarket.