To artists whose various statuses all come prefixed with 'un'– undiscovered, unsigned, underground – the music and festival industries can seem hopelessly intimidating and impenetrable – like a 60-storey Brutalist skyscraper with windows only on the top floor. Despite the World Wide Web ostensibly opening endless new avenues towards exposure, most seem like dead ends considering the inordinate amount of fellow musicians competing to have their demos channelled directly into the earholes of Very Influential People.
Oversaturation is an understatement when it comes to the marketplace of emerging talent, and this conversely has had an effect on festival organisers embarking on the altruistic endeavour of representing the most talented of these wandering souls. Filtering out the consummate innovators from hordes of their derivative and unprofessional contemporaries is an increasingly difficult task, but it's a process that gigmit is hoping to facilitate through its online platform. Through gigmit, artists sign up, create a profile and EPK with examples of their music and stats on current reach, and then promoters cherry pick the most impressive. At a time when promoters' and organisers' inboxes are perpetually pregnant with prospective performers prostrating themselves, this is one way of taking a more active – not to mention centralised – approach to booking unknowns.
Marcus Ruessel, CEO of gigmit, took his first foray into the music industry at the age of 15 when he began organising shows. The ability to find bands, scout and book new talent, and promote events informed the basis for gigmit, which he founded alongside five others in 2012. "We collectively had the idea to make it easier for artists to find gigs, and for promoters to find the right artists for their event," he said. "The six of us, as fans of live music, wanted to bring more acts on stage. That is why we founded gigmit and that is the ideal that keeps us going."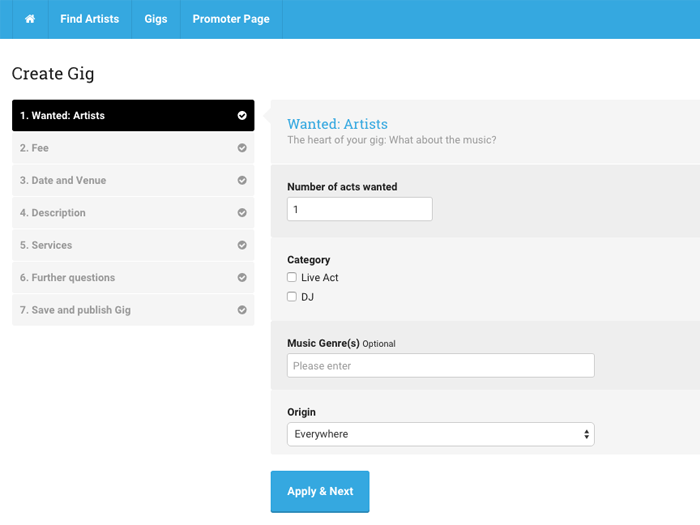 The exemplary Liverpool Sound City was shortlisted for the Best Use of New Technology award at last year's UK Festival Awards for its partnership with gigmit, one that will continue for a minimum of three years. The freedoms that gigmit has afforded the festival has led to LSC becoming a proponent for the service. The two came together very organically, said Ruessel: "They tried our online tool and liked it, it's as simple as that. The majority of showcase festivals like Liverpool Sound City receive tonnes of band applications for their available slots, and it is just impossible to handle it all via email. Liverpool Sound City was looking for an online tool to make it easier to collect all of its applications, manage them and book bands directly. Gigmit offers that technology and it works. Together with LSC we have been improving the whole process for a year. I'm sure that they appreciate how open minded and flexible we have been in response to their demands and needs."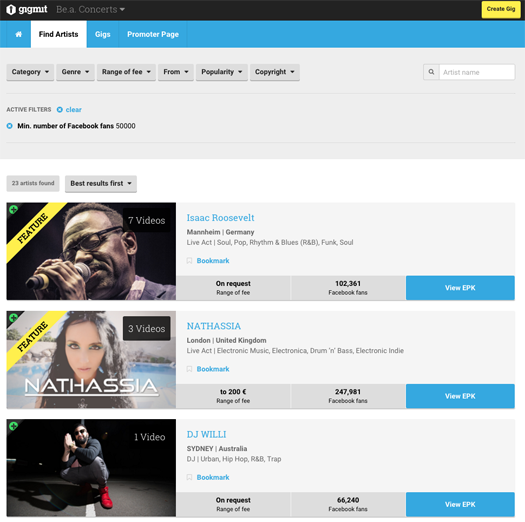 As for the financial framework of the service, it operates under a 'freemium model'. "There are no commissions and we don't take any percentages from anyone," said Ruessel. "Artists can use our service for free, but that comes with limitations. To use all of gigmit's features a premium upgrade is necessary. Our subscriptions start from €9 per month. Depending on the features our artists want to use, they have several upgrade options. Promoters, however, use gigmit totally for free."
For a dichotomous digital ecosystem such as this to thrive, its founders must strive to ensure that a healthy balance is maintained between both parties. Ruessel admits that there is room for improvement on this front, with the revelation that there are 32,000 artists and 2,500 promoters on gigmit, but he also asserts that the former camp will always vastly outnumber the latter. "There are way more bands, musicians and DJs than there are promoters, venues, and festivals," he said. Gigmit's relatively high volume of artists over promoters – despite being an area that Ruessel is looking to level out – is simply microcosmic of an industry-wide imbalance. Still, Ruessel rightly champions the platform's current ability to "grant success to at least 2,500 to 5,000 artists; a huge number."
Another important consideration to make when pioneering a service with an inherent power imbalance is guaranteeing safeguards so that inexperienced and unrepresented users aren't taken advantage of. Although Ruessel claims that "a lot of artists using gigmit are represented by agents, but it doesn't matter they are DIY or represented; only the good ones get booked and the good ones get ratings and listings. It acts as a natural filter." Still, on both sides of a purely online exchange there is always a leap of faith taken. Comparing gigmit to the shooting gallery app Tinder, Ruessel said: "Artists and promoters can find each other through gigmit and get in contact, but the first date happens elsewhere. Our service ends when the artist and promoter sign the contract for that specific booking. Afterwards they can exchange messages via gigmit but at that point our job is essentially done; the tool mainly functions for the initial connection between artists and promoters."
This year will see a number of new features incorporated into the platform. In the near future, promoters will be able to not only organise artists by the magnitude of their Facebook followings but also observe localised data to gain a truer reading of their regional draw. Coupled with this is the significant impending advancement of promoters being able to see artists already scheduled to perform nearby, thus saving on travel costs. The feature Ruessel seems most proud of is that gigmit provides all promoters and premium members with free insurance for their shows. If the venue is not able to open its doors for whatever reason, artists receive their fees anyway. Finally, artists will soon be able to order their merchandise via gigmit, something that Ruessel sees as "the next step in becoming a platform where artists get everything they need for their live career.
"To provide an all-round, carefree package is one of our goals."
Territorially speaking, gigmit is mostly determined to focus on growth in already-established markets such as Germany and the UK. However offices in Spain and Denmark will also implement the product in the Iberian peninsula and Scandinavia, respectively. According to Ruessel, there have also been "interesting developments" in the Baltics, but they are not currently proactive in the region. "Nevertheless, we have noticed numerous promoters and artists signing up to gigmit from there," he said. "Which demonstrates that our technology works even without an intense acquisition of a particular market.
"It's things like that that support the belief we have in our product. We're sure that the majority of bands and promoters will eventually use online tools like ours to improve the booking process."