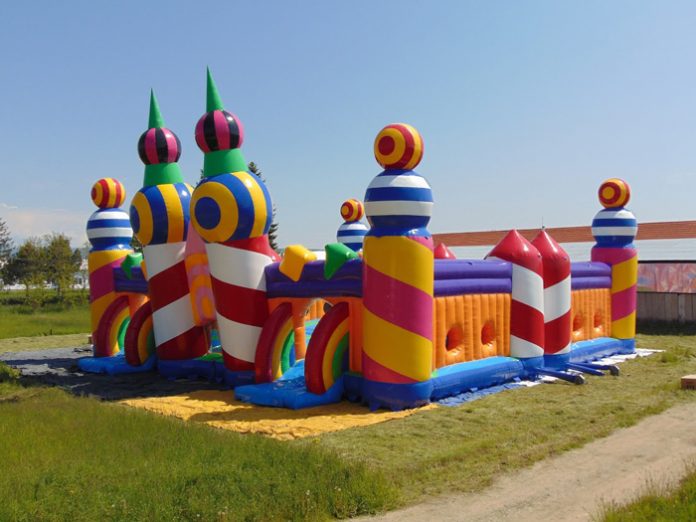 UK: Bestival has collaborated with Cardiff-based Something Creatives to make what they claim to be the world's biggest bouncy castle. Aiming to add to its accolades for the world's largest fancy dress party, the biggest busk ever and its colossal disco ball, the giant inflatable castle will debut at Common People in Southampton this coming bank holiday weekend.
Bestival and Common People founder Rob da Bank said: "We do love breaking a record and this is one of our funnest builds so far. Me and my mate Matt from the infamous Inflatable Church had a pipe dream about five years ago of building the world's biggest bouncy castle, and this summer we're making that a reality. So polish your socks and step up for what will be one of the most innocent of pleasures – bouncing up and down with gay abandon with your mates, family or friendly strangers. See you on the castle."
Something Creatives' Matt the Hat commented: "I've always been the first kid in the sandpit and consider play a fundamental part of everyday life. Everyone should find the time to play. The playful spirit of creating joy and fun is shared by Rob da Bank and all of the Bestival family and has made this brilliantly bonkers idea a reality. Whether you're young or old, what could be more fun than jumping around inside the biggest bouncy castle in the world? Just watch out for the 'bouncers', and remember if you're wearing shoes then you can't come in!"
Measuring 23.8 metres long, 20.7 metres wide, and 12.8 metres tall at its highest point, Bestival claims the castle breaks a near two decade old record for the largest in the world. The side turrets are equal in height to the walls of Cardiff Castle, making it taller than the Great Wall of China and roughly three times the height of the Berlin Wall. Filled with 1143 cubic metres of air it can comfortably accommodate 100 pleasure-seeking festivalgoers at one time.
Common People is set to take place in Southampton from May 28 – 29, Camp Bestival from July 28 – 31, and Bestival from September 8 – 11.