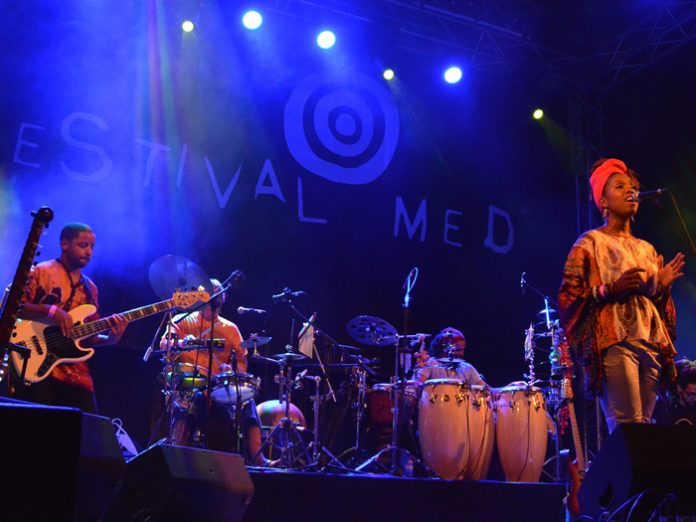 PORTUGAL: From June 30 – July 3, the Historic Centre of Loulé will welcome back Festival MED, one of the biggest world music festivals in Europe. This year's edition will represent 19 nations, more than the event has ever had before. In total there will be eight stages, where 55 bands are going to play with more than 250 musicians in 75 hours of music.
The alignment of the 13th edition of Festival MED continues to bet on quality and artistic diversity, with well known names and new artists within the international world music scene. Dubioza Kolektiv (Bósnia and Herzegovina), Tinariwen (Mali), Emicida (Brazil), Ana Tijoux (Chile), Mbongwana Star (Congo) or the Portuguese António Zambujo, Isaura, Fandango and Marafona are some of the names that will be on MED stages.
Festival MED's activities will not just feature music, however. Along with the musical alignment that brings the excellence of world music, this festival also brings cultural events such as gastronomy, plastic arts, street entertainment, handicraft, dancing, workshops, and much more, with the clear objective of promoting the various cultures from around the world. Some of the proposals of the organisation include: 80 arts & crafts stalls from around the world, four exhibitions, five street entertainment groups, traditional food from different countries, a world film programme, and a conference about the importance of festivals for tourism.
Having the richest 'natural stage' of the Historic Centre of Loulé as scenery, the houses and streets, the Espírito Santo Convent, the Mayor Church, the Public Islamic Baths (discovered during archaeological excavations), and the Castle – the ultimate symbol of the Arabian and medieval period – means the festival is the perfect environment for visitors to live in the true spirit of the Mediterranean. This event is also an opportunity for visitors to appreciate the cultural heritage of the city with a different look.
Included in the itinerary of one of the greatest 'world music' festivals in Europe, the MED Festival was born in 2004 under the programme 'Loulé, Host City of Euro 2004', and since then it has grown and settled as a reference in the Portuguese and European context.
Tickets are available online in several selling points, through a partnership with BOL – Bilheteira Online (Online Ticket Office), with the following prices:
Daily Ticket – 10,00€
Festival Ticket (access to 3 days of Festival) – 25,00€
Family Daily Ticket (2 adults and 2 children up to 16) – 25,00€
During the normal selling period, the tickets will have the following prices:
Daily Ticket – 12,00€
Festival Ticket (access to 3 days of Festival) – 30,00€
Family Daily Ticket (2 adults and 2 children up to 16) -25,00€
Festivalgoers may follow all information about the event on its official website or Facebook page.