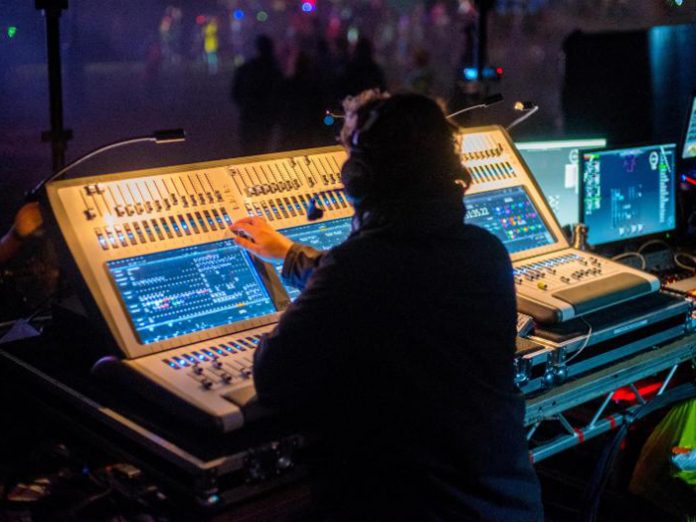 UK: Avolites' lighting consoles, dimmers and media servers once again delivered robust, festival-proof performance to shows across Glastonbury's vast and varied musical programme from June 22 – 26.
For nearly 40 years, Avolites equipment has been found surviving the mud in each corner of the Worthy Farm takeover. This year the British manufacturer's consoles and media servers were not only used on the main stages such as the Pyramid (which was also powered by Avolites ART2000 dimmers), the Other, John Peel, West Holts, and the Acoustic Stage, but also Arcadia Spectacular and The Temple immersive dance environments, plus afterhours areas such as the Unfairground art field.
Lighting designer Andrew Liddle, whose recent portfolio includes OMD, The Charlatans and La Roux, has been working with Avolites consoles for the past 35 years. Like Avolites, Liddle is a Glastonbury stalwart, hitting the festival for the 16th year running – this time with indie dance legends New Order.
Liddle augmented the Other Stage's house rig with 24 x Clay Paky Sharpys, 4 x Martin Professional MAC Vipers and 6 x ETC Source 4s, controlling the set up with an Avolites Arena, supplied by technical event production house Hawthorn.
"I've been an Avolites user since 1996 and began using Titan in 2010," said Liddle. "I've always liked how easy the desks are to use, plus the patching and palette creation they offer. They are also intuitive and fast to programme, which is ideal for the festival setting."
Performing on the John Peel stage was Fatboy Slim, and along with long-time lighting designer Stephen Abbiss he created the ultimate rave atmosphere for the raucous crowd that packed the tent. Abbiss transferred the show file from his own powerful Titan Mobile, which he uses for some of his biggest shows, to a Tiger Touch II running Titan v10.
"I've been using Avolites consoles since they only had one wheel," said Abbiss. "They're always my desk of choice as they're so familiar to me now and my fingers like the fader spacing. I think Titan v10 has some good new features – window resizing is very helpful, as is the Undo option."
Also on the John Peel Stage, Tom Campbell of TC Lighting Design was operating a Tiger Touch II to control his design for John Grant, whose performance received a great review from The Guardian despite the American singer-songwriter suffering from flu.
Campbell, who is also currently out on tour with Welsh rockers Bullet For My Valentine, has been using Avolites for a decade: "I have always been a big fan of the speed and ease of programming on Avolites consoles – it's incredibly useful," he said.
As John Grant captivated the audience with his heart-wrenching back catalogue, Campbell complemented the performance with a series of retro-esque lighting looks, cleverly using LED technology disguised as classic tungsten fixtures. His design is also based around a rear 'analog' video wall, constructed using eight rear set pieces made out of metal gauze, ranging in height from 12ft – 20ft, depending on the venue. These are used to create a range of spectacular three-dimensional visual looks for the band to perform in, which Campbell triggers from the Tiger Touch II.
Moving across to the West Holts Stage, lighting designer John Rogers chose a compact yet powerful Avolites Quartz console to control his design for soulful funk group Quantic All Stars.
"The compact design of the Quartz makes it really festival friendly," said Rogers. "However its small size is deceiving; one of the house techs of the West Holts Stage was really impressed that such a compact desk could take 15 universes in its stride. It definitely made a good impression.
"I was also using the new Titan v10, which I'm really impressed with. The expanded import feature gives you the ability to map the same source fixture to as many fixtures as you like. This makes rig expansion and show reusability a lot better. I already own Capture so importing theatres for visualisation will be a nice way to bring my show together more. There are also great improvements to existing functionality, such as Key Frame Shapes. I've always liked the immediacy of Avolites software features. Plus, the user interface elements always strike me as carefully implemented."
Also important to Rogers was the ability to transition his original show file over to the Quartz from a Tiger Touch II running version 9.
"This show started life as a festival house desk show, so being able to bring that programming across consoles and software versions was vital," he continued. "Without it I probably would have just busked the house desk at Glastonbury."
Rogers' festival tour design for the Quantic All Stars is energetic and bold, utilising Robe Pointes' striking beam and prism looks to create a strong party vibe that runs through the set.
"The looks have to be big and bouncing like a carnival in the sun, even if you're in a muddy field in the pouring rain. And this year was particularly muddy," he said. "However we had a great show and it was lovely to see some familiar faces around the festival. Big thanks to Greg Haynes for helping me get the Quartz up to the top of the slippery FOH tower and generally being excellent."
Another seasoned Avolites user, lighting designer Ken Coker operated a Sapphire Touch – the Acoustic Stage's house desk supplied by Rob Sangwell at Fineline Lighting – for Barclay James Harvest. Interestingly, the progressive rock group were the first band to take Avolites' original equipment on tour in the 1980s.
"I have been using Avolites for almost all of my working life and I'm 58," said Coker. "Despite growing over the years the company still has an air of a small business that cares and the team there offers fantastic support."
Coker applied the house rig including Robe and Martin Professional fixtures to ensure frontman John Lees was perfectly lit at all times, whilst also creating a myriad of textures with gobo work and subtle beam looks. Like Abbiss, Coker was impressed with Titan v10's customisable windows, applying the feature to boost the efficiency of his programming for the quick festival turnaround.
"I've recently got to grips with Titan v10 and I think it's excellent," he said. "The ability to customise window size will be particularly useful for smaller Avolites consoles like my Titan Mobile."
As ever there was plenty of Avolites action on Arcadia Spectacular, which brought back its stunning Metamorphosis show to the festival for the second year running.
Two Sapphire Touch consoles worked as the main and back up lighting desks, with a Quartz used to control SFX. A single Ai Infinity RX8 media server with eight outputs powered the visuals for the entire set up, with a backup in place. This meant there was only one machine live at a time running the interface, plus seven outputs going out to external – six projectors and one LED processor.
"The eight outputs of the Infinity RX8 mean you can drive everything out of one machine, rather than having to network servers up, which saves a lot of time and trouble shooting," said Avolites' Ciaran Abrams, who has been involved in Glastonbury's Arcadia for several years. "Its performance is great with smooth playback and it's also really rugged and durable, which makes it ideal for withstanding the rigours of a festival setting. Not only that, it has EDID management, which adds a safety net to the output for additional reliability. So, if something gets unplugged anywhere on the stage, it isn't going to interfere with the rest of the show."
"Avolites has been one of Arcadia's most dedicated supporters, suppliers and partners during the company's evolution from small festival stages to international repute," said Tim Smith, Arcadia's Technical Production Manager. "The relationship has been invaluable and it continues to supply cutting edge servers and lighting consoles alongside technical collaboration and unfailing dedication."
In addition, two Infinity R8 servers, one main and one backup, ran video content on The Temple Stage. Avolites Ai expert Arran Rothwell-Eyre set up and operated the system, alongside top visiting VJs.
"We ran a total resolution of 7900 x 1024 content which was split across eight projectors to create 360° surround video mapping," he said. "As well as running custom content directly from the media server, we used multiple DVI and SDI inputs on the system to take live feeds from artists and VJs and apply them to the structure in real time. This allowed us to plug touring VJs straight into the system without a long and complicated setup procedure and as a result could easily combine their visuals with the specially made content."