During a public lecture held at Cornell University on October 13, 1994, the beloved astronomer and purveyor of cosmic truth Carl Sagan presented an image of Earth to the audience, as seen from six billion kilometres away. Within his widely circulated reflections upon the image's implications for humanity, he famously referred to our pathetic little nerd of a planet as a 'a pale blue dot', providing both a friendly reminder that our lives are unfathomably pointless, and more importantly a name for the new Bluedot Festival.
Taking place at Cheshire's Jodrell Bank Observatory from July 22 – 24, the festival was founded as a more cerebral counterpoint to the multitude of increasingly hedonistic and identikit events across the nation. Its conflation of innovative music, cosmological themes and wicked sick scientific ideas was executed throughout the programme with pinpoint precision and obvious intent, manifested in appearances from synthesizer-wielding cyber wizard Jean Michel Jarre, Radio 4 science podcast The Infinite Monkey Cage, and pioneering beatsmith DJ Shadow.
Insights spoke with Ben Robinson, Creative Director of Bluedot, about how the ethos of the festival translated into its various offerings, how he sees the event in the context of the UK festival scene (and the universe I guess) and how to differentiate oneself within it all.

Festival Insights: Speaking as someone whose grasp on science is tenuous at best, Bluedot is a really interesting concept for a festival. What was the impetus for launching it?
Ben Robinson: The concept very much came out of the work we'd already done with the Live From Jodrell Bank Series. Around six or seven years ago we came down here to try and do an album launch for British Sea Power, which didn't quite come together. However Jodrell Bank came to us afterwards and said they'd like to work with us on attracting a new audience to the location, and bringing together the worlds of science and culture.
Across those shows we had some landmark performances from New Order, Sigur Ros, and The Flaming Lips, but what we wanted to do after taking a break from that was to expand it into a developing annual event. We thought long and hard about what it was we wanted to do with the site, and inspired by the Lovell Telescope – which is a colossal, humbling piece of engineering – we knew we needed to make Bluedot about innovation, creativity and broader thinking.
Personally, I've been to a lot of festivals over the last decade where there's a lot of similar line-ups, and festivals have become a lot more throwaway I guess. We wanted to take Bluedot back to the initial ethos of festivals like Glastonbury, encouraging and enabling people to explore new ideas and learn.
FI: The reception to the festival has been very positive. Do you think there's been an increasing demand from the public for more cerebral programming?
BR: Yeah I think so. Festivals are continually trying new things to make their events distinctive. There's always been great music in the UK, so that's never been an issue, but now the food & drink side has improved drastically.
Festivals like BoomTown, Festival Number 6 and Secret Garden Party have taken an incredibly immersive approach that has won a lot of new ground. There's also a festival called HowTheLightGetsIn, centred on music and philosophy, which people have reacted positively to. In an age where the Internet is so full of misinformation and public opinion, I like that you can come to Bluedot and learn something factual. Whether it's through the talks or experiments or art, we're hoping that you can take something away from the festival other than a headache and a broken tendon or two.
FI: It strikes me that the festivals you mentioned there all utilise their sites really extensively, to the extent that it's a key selling point. Bluedot is doing something similar through various means too. Do you think this is the most effective way for festivals to differentiate themselves?
BR: I think if you have a unique location then it's a real bonus; it's incredibly difficult to take a flat green field and build something that hasn't been done before. We're sitting in a discovery centre right now here at Bluedot, which was purpose built for what we're trying to do. There was already so much done here before we began to bring our stuff in. What we've tried to do is mirror elements of the architecture here into our stages and structures, so we're working with the site rather than just on it.
FI: If it's possible to whittle it down, are there any fixtures on the line-up that you're particularly excited about on a personal level?

BR: For me it's all about Underworld tonight, considering the atmospheric nature of their music and how it fits into the context of the event. The Infinite Monkey Cage on the main stage will be great. DJ Shadow is also over for the first time in five years with a new live show. Beyond that, watching Close Encounters of the Third Kind will be pretty incredible to see in a festival tent. There will be great shows in our Planetarium, plus a load of interesting talks. One of the most exciting things on the bill is Brian Eno's 3D, computer generated art installation that will be projected onto the Telescope, evolving autonomously over the three days.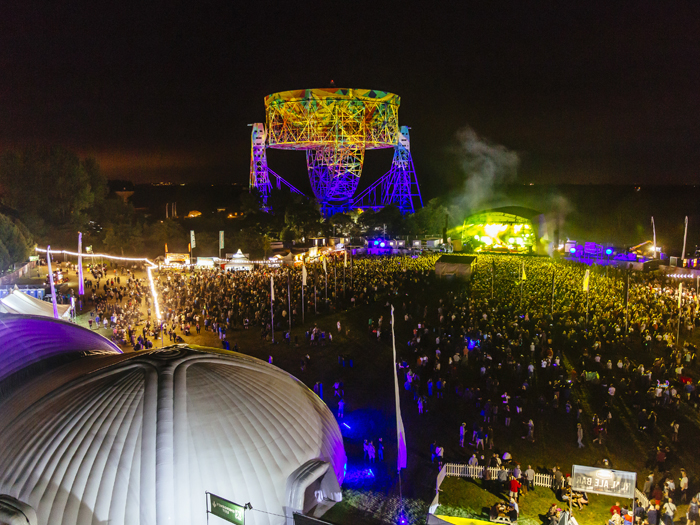 FI: On the music side, the bookings don't seem arbitrary at all and very much tie into the scientific and cosmic themes of the festival. How actively did you try and find musicians whose work was directly influenced by science fact and / or science fiction?
BR: This year was agonisingly curated, and although there are artists who may not seem to fit together on the surface – such as British Sea Power and Underworld – there are common threads there with the way they approach music. I actually had to create a Spotify playlist of all the acts we've put on to see if they fit together. Thankfully they do.
FI: Aside from the music, art, talks, and screenings, you also have Marshmallow Laser Feast and AND Festival onsite with their range of virtual reality experiences. Do you see a lot of crossover potential for festivals and VR?
BR: I think VR does have a lot of potential in the festival industry. I've spoken to people at those companies and they say the technology is comparable to the Game Boy phase of videogames, which is exciting considering how much progress there is to be made. Since festivals are focusing more on experiential and immersive programming I do think VR is a natural fit in that sense. However I do maintain that part of going to a festival is being present in the real world and away from digital platforms. Naturally there's a desire, for me at least, to escape that. Capturing performances in 360º for VR is a really cool thing to do though, and something that we're doing here.
FI: This final question is a potentially contentious one, but as a festival organiser who has to import a lot of European talent, are you worried about the potential fallout of Brexit?
BR: I'm not worried, no; the grass is still green and the sky is still blue. It will have an effect but lots of market forces have effects on live events
What it has highlighted for me is the importance of what we're trying to achieve with this festival. We've spent the last eight months putting together an event named after a Carl Sagan quote that highlights the almost unimaginable insignificance of our planet. We've been thinking from a global citizen's perspective.
The Internet exists now; we shouldn't be putting walls back up. Festivals are now more important than ever as places for cultural exchange. The underlying racist connotations that have emerged through Brexit need to be combated by the festival industry – we need to keep providing places for people to come together and have a good time on this rock floating through space.