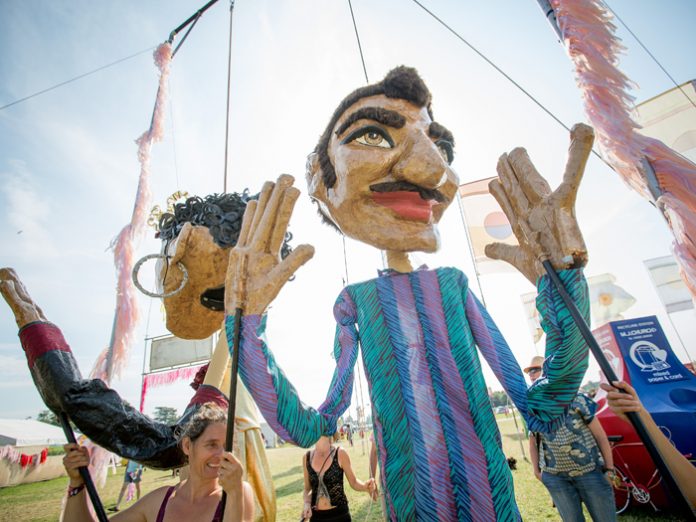 UK: Sound System, the four-way, 135,000 Watt speaker system designed by British speaker brand Bowers & Wilkins to deliver studio quality sound to the live environment, returns to WOMAD from July 28 – 31 with a typically progressive and ambitious line-up.
Having fast become a favourite on the WOMAD music programme for the past two years, the Sound System returns for a third year, with an exciting array of artists who will explore the theme of sound in interesting ways. With each day starting with a soundscape, visitors will be taken on a sonic journey of discovery which progresses via acoustic acts, special live performances, electronic live sessions and finally a closing DJ set – all from artists passionate about sound.
Friday's proceedings kick off with a performance from one of the UK's finest, most respected and forward thinking home-grown electronic music producers A Guy Called Gerald, followed by the soulful vocals and glitchy, psychedelic soundscapes of Native Dancer. The evening takes on a distinctly roots-reggae feel with a special performance by one of the original Queens of Reggae music Dawn Penn, followed by more royalty, the King of Sounds, Jah Shaka, who'll bring his spiritual vibes, vocal chanting and, a strictly vinyl, selection of roots reggae music from old and new.
Saturday opens up with the unique musicality of Paddy Steer and his cornucopia of instruments, an intrepid punk spirit and disco lights, before experimental singer-songwriter Gwilym Gold takes over. Singer-songwriter and Dave-Stewart muse Hollie Stephenson will then perform a soulful live set prior to moonlighting Horrors frontman Faris Badwan and Rachel Zeffira's Cats Eyes lead us into the evening. After dusk, the music take on a French feel, with Parisian electronic disco pioneer Black Devil Disco Club followed by a highly anticipated set from the legendary DJ, remixer and producer Francois K.
Sunday sees Nick Luscombe and Steve Hellier live mixing original field recordings from the WOMAD site with archive sound material specifically made for a multichannel environments. Another early highlight will be the layered guitar soundscapes of Stuart McCallum. En vogue multi-instrumentalist The Anchoress will present a very special performance of her new album to get the after-dark programming under way, followed by a live performance from London based band The Invisible before Glasgow DJ duo Optimo close the stage with their infectious brand of electronic music interspersed with cross-genre samples.
Bowers & Wilkins Brand Director Danny Haikin said: "The Sound System is now embedded into WOMAD culture and has grown in stature each year. Having become known as the stage to find electronic acts who explore sound in interesting ways, Bowers & Wilkins are proud to present this line up in association with Real World."