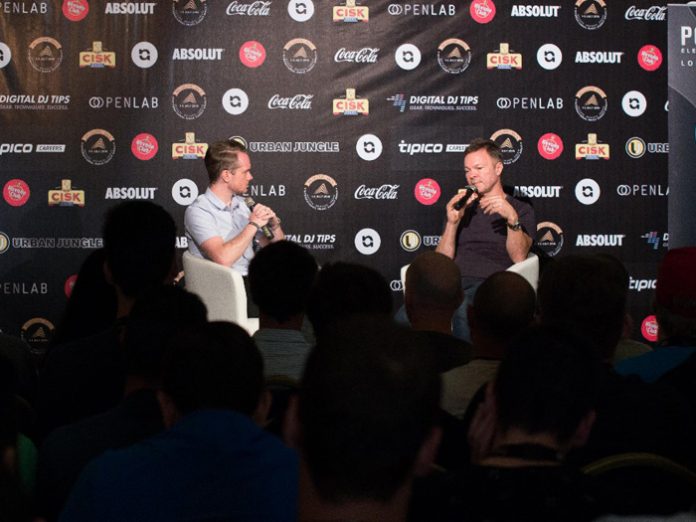 Marking its first foray into Malta, the International Music Summit successfully debuted IMS College with an enlightening crash course in electronic music, comprising talks, networking sessions and workshops hosted by Point Blank and SAE Institute respectively. An intimate and hugely interactive format saw delegates given the chance to engage in valuable one-to-one Q & A sessions with all of the speakers throughout the two days, who each offered genuine and personable advice in their areas of expertise.
With proceedings officially opened by IMS co-founder Pete Tong, day one of IMS College Malta saw a wealth of young minds in attendance, with the Radio 1 presenter praising an 'eagerness to absorb' within the conference. A particularly humbling factor that served as a key theme throughout the schedule, Tony also appeared across the speed networking sessions that rounded off each of the two days – giving fledgling talent the chance to gain direct conversation at a personal level.
The first day commenced with an empowering introductory talk from Robert Horsfall – of media and entertainment law firm Sound Advice – that highlighted the importance of passion when breaking into the industry, explaining: "Find a job you love and you will never work another day in your life. Ambition and work ethic go hand in hand."
Referencing Bob Lefsetz's '5 pieces of the jigsaw' analogy which reads "You need talent, you need ambition, you need work ethic, you need luck, you need business taken care of", Horsfall emphasised the importance of having a strong team around an artist from the get-go and advised the audience to always be inquisitive and always ask questions.
Focus then returned to Pete Tong for a keynote interview around his long-standing career in radio, which saw him pinpoint an early turning-point when he was starting out: "I was talking to a generation that were doing M25 parties, warehouse parties…it was totally the right time."
The discussion also explored the differences between US and European audiences and how these have evolved over the last five years, as well as highlighting the huge popularity within different genres of the electronic scene – with particular focus on Ibiza. Tong explained: "It's fascinating now. I can take you to Ushuaia and you can see people going crazy to David Guetta, then go to Amnesia and see people going crazy to Marco Carola, and the same with Jamie Jones at Paradise."
Shining a light on the importance of press for both artists and events, Lucy Allen of press agency Listen Up explained that a love for music is integral in becoming a music PR. Emphasising that a publicist must know their audience when telling a client's story, she highlighted that: "Fundamentally, it's relationships with journalists that are key. They've got to respect your suggestions and you have to target the right people in order to be taken seriously."
She then explained that press needs to remain unbiased in order to maintain credibility, and despite being able to forge media partnerships and advise on how to deal with sensitive scenarios, ultimately: "There's a reason why we respect five star reviews in Resident Advisor – you can't pay for that."
Laura Newton of CAA then echoed the theme of passion when it comes to the role of an agent, expressing: "You have to have your artists back, and it's really hard to do that if you don't respect and engage in the music they are making."
Speaking of artist growth, she explained the importance of strategy and taking time to plan a timeline of progression, adding that "if it's not a team effort then there's something wrong there."
Robert Horsfall then returned to the panel to speak specifically about his expertise in music law, with an important message regarding communication in today's online dominated industry. Advising on how to stand out, he commented: "I think we're all overwhelmed by email traffic, we can all tell when an email is personalised, and when it's a round-robin. You've got to personalise your approach."
A networking lunch was succeeded by an incredible step by step track deconstruction by Ski Oakenfull – who focused on Duke Dumont's 'Ocean Drive' – with Point Blank music school commenting on their involvement with IMS College Malta, stating: "We are passionate about education and that it should be connected back to the industry."
An industry panel featuring each of the day's speakers included topics such as streaming, how to stand out, the importance of social media and career highs and lows, after which Stefano Ritteri led a demonstrative workshop centred on the creation of samples.
With IMS College's 360 degree focus also offering delegates the chance to party by night, attention then shifted to the evening celebrations which saw Pete Tong and Solomun descend upon Numero Uno for a special b2b performance. A true testament to the island's flourishing electronic scene, the newly-refurbished open air club saw an incredible mix of local and international visitors in attendance and saw the first day of IMS College Malta's debut edition rounded off in spectacular style.
Day two opened with the same enthusiasm, and saw Mark Netto of IBZ Entertainment describe his experience as a talent booker. He explained: "You have to understand the dancefloor. You have to have the right connection with people. The longer you're in it, the more people you will meet and the more you will understand. You have to be fully immersed."
Building on this, Mark emphasised the financial elements that successful bookers must be aware of: "Good promoters are shrewd promoters. Know your means and know your market. You have to start off by not looking at what the artist thinks they are worth, but what they are worth to your dancefloor. Never exceed your means."
Next up, Wilf Gregory of Hideout Festival and Annie Mac's Lost & Found discussed his varied career in promotion and festival curation. Reiterating the importance of a USP and perseverance, he explained the vital ingredients behind running an event, stating: "I'm a great believer in community in clubbing, you need to support the people. If you can get great local support that will really help, as well a great awareness on the ground."
Mark Lawrence then discussed his experience in music rights and trade organisation – which he represents via AFEM: Association for Electronic Music – and referenced the need for fairer payment systems: "It's ridiculous that in this day and age, with all the technology, all the data, that money can't go to the right people."
He also explored emerging markets in the electronic music scene and noted the huge impact of EDM in America, before highlighting China as an up and coming area. Speaking of the importance of IMS College itself, Lawrence explained: "This event is hugely symbolic. We have to continually educate people because the electronic music industry is such a complicated scene. There's so much to know and we have a responsibility."
Continuing to mirror each of the speaker's enthusiasm in highlighting the importance of educating others within the electronic scene, Lawrence was then joined on stage with the rest of the day's speakers to round off day two. Summarising that staying power, clear messaging and networking are key factors in helping to break into the scene, IMS College Malta came to a close having made a thoroughly empowering message to all those in attendance – and continued to cement Malta as an affordable and thriving destination for aspiring electronic music lovers.