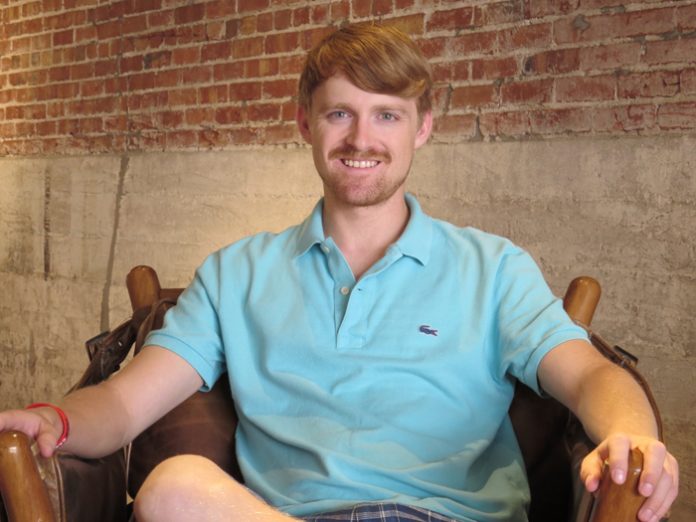 Todd Terrazas has been building bots since 1999 and is the Co-Founder & CEO of Brainitch, a conversational software company focusing exclusively on the live entertainment and sports industries. Todd and his team have developed the HANS bot framework to increase fan engagement and revenue for ticketed events.

Most festivals invest heavily into their mobile and web properties to deliver content, sell tickets, and provide support. A Facebook page is free and serves as a valuable asset year-round to festivals. According to ComScore, messaging apps account for 91% of all time spent on mobiles and desktops by US users.
The majority of festivalgoers use Facebook or Messenger everyday, making it an ideal platform to engage with a pre-populated audience before, during, and after an event. Mobile apps rarely show any value post-event because they only provide a service during the festival.
Festivals and their sponsors want to keep the conversation going throughout the year, but only until now has there been a meaningful way to do this within platforms like Facebook Messenger.
Festivals typically spend money on Facebook when they need to boost a post to reach their targeted audience or when posting an advertisement. Unfortunately, Facebook recently announced that they are changing their news feed algorithm to focus more on friends and family posts and less on publishers and businesses. Page owners will start to see their organic reach go down, forcing them to spend even more on boosting posts. Facebook has planned to change their ad bidding process because of the expected increase in demand for this feature on their platform.
Carpe diem! Invest in a trusted bot…
Think of messaging apps as the new browser and a bot as a website.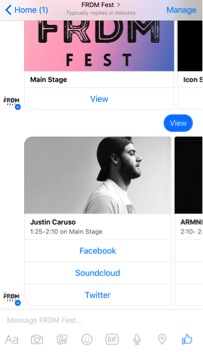 New Opportunities
Facebook has opened up their Messenger platform to give businesses the ability to offer more on-demand services within a conversational channel that has 900 million monthly active users with more than 60 billion messages sent a day. Instead of referring to a website or a mobile application, you can now provide instant content, seamless commerce, and integrated customer service in the Messenger app.
Every interaction with your audience creates an opportunity to start a conversation and develop a better relationship with your customers.
A New Revenue Channel
What is conversational commerce? It's a new way to provide purchasing power to your audience within a communication channel like Messenger. Festivals can now sell tickets, upgrades, and concessions within a conversation by integrating their ticketing and POS provider's APIs into natural language processing driven frameworks such as HANS.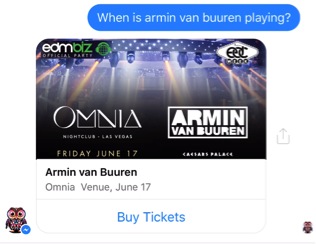 Purchasers can receive a receipt and their tickets within Messenger and easily retrieve their tickets when they arrive to the show instead of searching through emails.
Let's not forget about RFID wristbands. This form of credential is becoming more popular at festivals because of their access control and cashless payments capabilities that improves operations management and statistically drives more revenue. Now attendees can activate these wristbands, keep track of balance, and load currency easily within Messenger.
Less Friction
Accessing content, transactions, and services within a messaging platform is faster and easier than installing, opening up, and navigating through any festival app. Trust me, I'm a millennial and I would rather not download an app every time I go to a new festival. That's why festival expert Tucker Gumber aka The Festival Guy created FestEvo.
Building and maintaining a mobile app that supports multiple operating systems is a more expensive and time consuming task than building a bot. A bot's code sits in the cloud, making it easier and cheaper to update on the fly without interrupting the user experience. Instead of using creative tricks to get users to download a new app to their device, festivals could be spending more of their energy educating their audience to use what they already have: Messenger. It has a built in audience and is directly connected to the festival's page.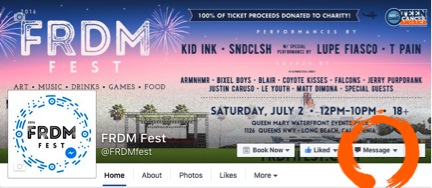 Personalised Customer Service
Today, customer service involves answering emails, phone calls, and a lot of replies to comments on social posts. It's time for festivals to level up their customer service game by providing an automated FAQ, self-service account management for ticketing, and access to lost & found, while seamlessly escalating cases that need a human touch.
Your fans will become more engaged and loyal to your brand once you start providing a personalised and context-driven experience. Messaging is at the centre of every mobile experience and over time you will understand more about your audience based on their linguistic and buying behavioural flow.
Hire HANS (Helpful Automated Nexus System)
We created HANS as a solution that would continue to evolve and grow as technologies change in the future. Unlike mobile apps that need to be constantly updated for different devices and operating systems, HANS operates on the cloud and is device agnostic. HANS is built with machine learning algorithms that makes him smarter with every engagement over time.
Conversations help build positive, emotional connections. Each interaction with a customer is an opportunity to strengthen brand loyalty and in turn, enhance or sustain revenue and profitability. Engaging with an audience on a messaging app will prove to be a more efficient way to conduct business and have a higher return on investment.
I hope you found this article useful. If you'd like to learn more about HANS and how sponsors can leverage this cool new technology, message me and let's start a conversation.
Cheers!
Todd Terrazas

Twitter: @toddterrazas
www.brainitch.com