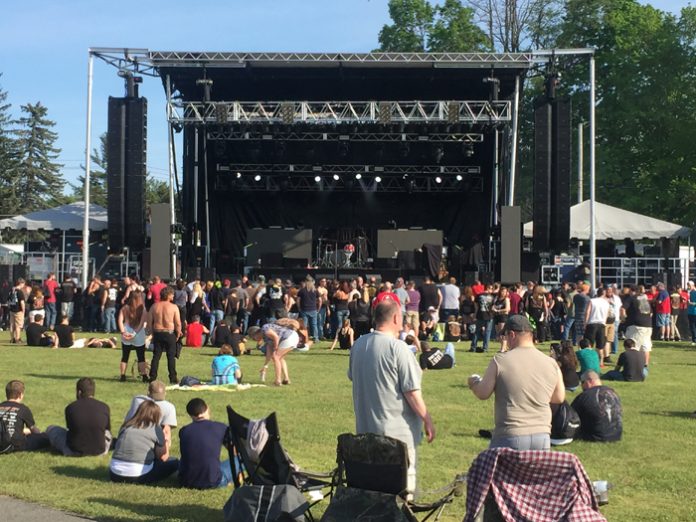 USA: New York based live sound production company Audio Images Sound & Lighting recently deployed JBL's VTX Series speakers – powered by Crown I-Tech HD amplifiers – to deliver powerful live sound at the inaugural Rock'n Derby music festival in upstate New York.
The JBL VTX V25-II arrays delivered incredibly clean output and high SPL to complement exciting performances by some of the world's biggest hard rock bands. This combination of advanced power and exceptional high-frequency performance enabled Audio Images to provide an intense and high-impact concert experience for more than 15,000 music fans.
"The VTX is a lot clearer and louder than our previous system," said David Holland of Audio Images. "The VTX's D2 dual-diaphragm, high-frequency drivers are designed to eliminate the harmonic distortion you would normally hear in the high end, so the clarity is amazing."
The three-day event provided attendees with a truly unique festival experience, combining live music, demolition derby and championship wrestling. More than 40 bands performed on three stages during the event, including heavy-hitting acts like Megadeth, Five Finger Death Punch, Coheed and Cambria, Anthrax, Clutch and more. In order to provide excellent live sound for the distortion-heavy performances, Audio Images deployed the VTX arrays for their ability to deliver high SPL without sacrificing clarity. The VTX arrays were met with wide acclaim by touring front of house engineers, who were impressed by the crisp high end and powerful output.
"The front of house engineers were extremely excited about using the VTX arrays, and we received lots of compliments on the clarity of the sound," said Holland. "We had Lamb of God on the first night, and their engineer usually likes to get a lot of high-end click out of the kick drum. He actually had to dial down the high end that he usually turns up, because the clarity was already there."
Audio Images also used JBL HiQnet Performance Manager 2.0 software to control and configure the VTX arrays and ensure optimum performance. The team was particularly impressed with the level of control the software provided.
"I was very impressed with the control we had over the entire array," said Holland. "I could pick out each circuit in the array and see exactly what it was doing. For the Crown VRack and I-Tech HD series power amplifiers, we could see temperature, voltage and any type of limiting going on. It basically gave us very direct control of the entire system."