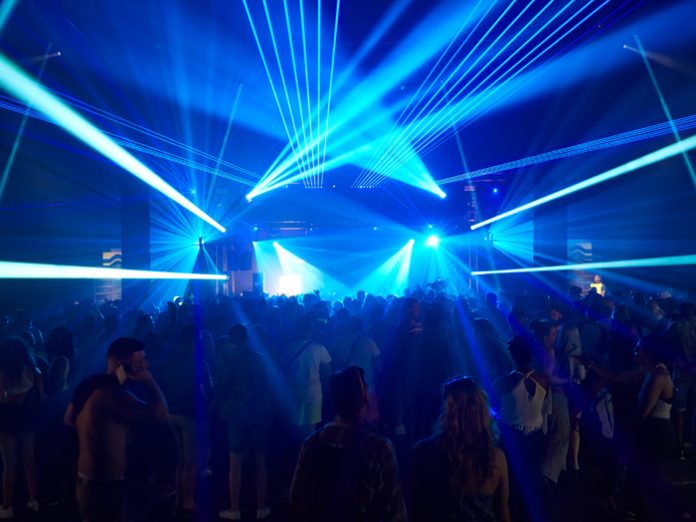 Lovebox celebrated its 12th year as a two-day festival at London's Victoria Park this July, and featured performances from the newly reunited LCD Soundsystem, Australian electronica sensation Chet Faker, and hip-hop super duo Run the Jewels.
The world famous London nightclub Fabric teamed up with Pioneer Pro Audio to assemble its sound system for Lovebox, marking its first-ever outdoor event. The Fabric arena was a 2000-capacity, 38-metre round tent designed to recreate Fabric's Room One, giving festivalgoers a true nightclub experience within a festival site, and was the only stage at Lovebox to commission an exclusive pro audio partner.
Both Fabric and Pioneer Pro Audio went to great lengths to achieve the feat, starting with the sound system – which comprised six three-metre GS-WAVE dancefloor stacks, 12 XY-218S 18-inch twin bass reflex subwoofers and 12 XY-122 12-inch two-way loudspeakers for infilling. Everything was powered via Powersoft 1RU amplifiers, including multiple high output, high efficiency K10 and K2 devices armed with Armonía software.
"We wouldn't normally consider using the GS-WAVE stacks for an outdoor event because their sound dispersion is designed for fixed installations inside nightclubs," said Alex Barrand, Manager of Pioneer Pro Audio. "But in this instance, because Fabric were recreating a club experience, they were the perfect choice."

The efforts to create the feel of a nightclub didn't end with the sound system. A birch wood floor similar to the one in Fabric's Room One was installed to give the right kind of feedback, and the tent's walls were draped with damping material to control sideways reflections and contain low frequencies. "When you take a sound system outdoors, that usually halves its energy," continued Barrand. "But we contained the sound with acoustic draping and kept the pressure in the room, so the energy was centralised on the dance floor without escaping from the tent."

On the amount of effort put into replicating the Fabric experience, the club's founder, Cameron Leslie said: "We didn't want to have a stage in a tent and just book DJs to play. We wanted to build a club within Lovebox and give the crowd the full Fabric experience. We think the Pioneer Pro Audio and Powersoft system recreated the incredible sound we're known for."


Another feature paying homage to Fabric's Room One was the DJ booth. It was semi-exposed, providing the crowd with an up-close and personal experience with DJs and artists performing from a side-on booth view. A unique set-up for a festival, it presented a challenge for Pioneer's Barrand and his team. "Because the booth juts out into the dance floor, we had to build a system for it that was powerful enough for the DJ to hear his mix over the main system, which was delayed."
The booth contained four XY-218S 18-inch subs and four XY-122 loudspeakers, producing 22 kilowatts of power in total. "It's been like a nightclub system in itself," said Barrand.
Powersoft amplifiers powered the entire sound system, and headroom was held in reserve for when the arena heated up. The temperature inside was monitored by a Waves plugin that automatically adjusted delay times for high frequencies as the heat rose, ensuring that sound was distributed evenly and perfectly in sync.
"Powersoft has been our amplifier partner since day one," said Barrand. "They are reliable, they deliver every time and the power consumption is phenomenal. The capabilities are enormous and in particular the damping factor on the subs is unbelievable."
Francesco Fanicchi, Powersoft's Brand and Communication Director, also pointed out that the Pioneer system was optimised via the presets and advanced use of the Armonia software to store different gain structures for the two different club nights. "The K series was perfect for Fabric's attempts to create the feel of a nightclub, and of course the efficiency of the amplifiers, in an environment where power is scarce, is vital."
Furthermore, Powersoft's Sales and Marketing Director Luca Giorgi said: "The wonderful success we enjoyed at Lovebox was made possible through the synergy of the Pioneer and Powersoft brands, that together delivered a solution in line with customer expectations. Combining the acoustic know-how of Pioneer with the high power and fidelity of Powersoft products was the perfect recipe."
Fabric's Promotions Manager, Andrew Blackett, summed up the project by saying: "We think that the stage and sound system that we designed in collaboration with Pioneer Pro Audio gave our crowd the full Fabric club experience."