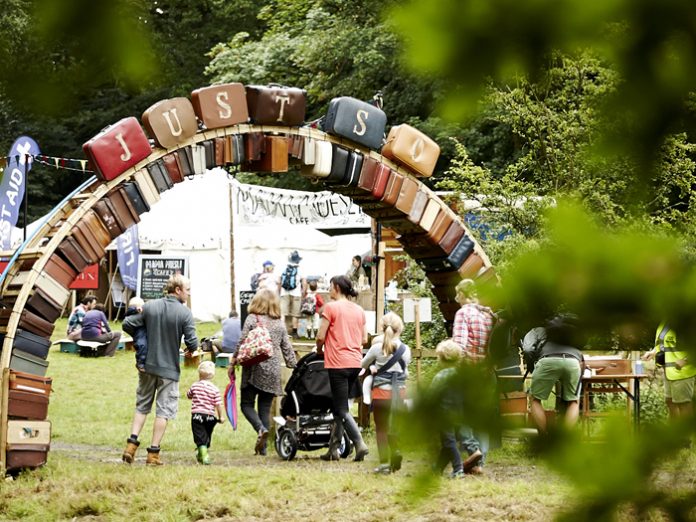 UK: The Northern Festivals Network has unveiled its 2016 calendar of arts programming for family audiences. Led by Wild Rumpus, award-winning producers of Just So Festival, the Network includes some of the most exciting and varied festivals in the UK today, including Underneath The Stars, bluedot, Cloudspotting, Kendal Calling, Just So, Festival Number 6, and Ramsbottom Festival.
The Network has recently been awarded Arts Council strategic touring funding to continue its shared commitment to raise the bar of family programming at greenfield festivals, increasing the amount of high quality touring arts for families and creating an environment where it can thrive.
Highlights of its forthcoming activities include: Long, Broad and Sharpsight, a new physical show from visual theatre company Sharklegs; site-specific giant puppets, performance, stilt walking and carnival procession from Handmade Parade; Cheval Solitaire, a new dance and music show for early years by aboutNOWish; Highly Sprung's aerial Urban Astronaut and Travelling Treasury storytelling experience; and more.
Cathryn Peach, Northern Festivals Network Manager, said: "We believe that the family arts programming should be just as inspiring and engaging, as brilliant and clever, as what's on the main stage. Not only that but it's a great opportunity to engage families who don't necessarily think that the arts are for them, surprising them with aerial theatre, magnificent light installations, immersive walkabout."
David Agnew, Director of Ramsbottom Festival, continued: "In this way, we're looking to push the boundaries of what people think of as standard family arts programming. Highlighting high quality artists putting on work which will absorb a whole family both from the UK and internationally."
The Northern Festivals Network is currently uniting with Unlimited Impact, working on a £15,000 commission for a new dynamic piece of family work, giving deaf and disabled producers a platform to develop their art.
Artists, companies, festivals and venues who would like to find out more can contact Cathryn Peach, Creative Producer of the Northern Festivals Network via email or on 07812 671 908.