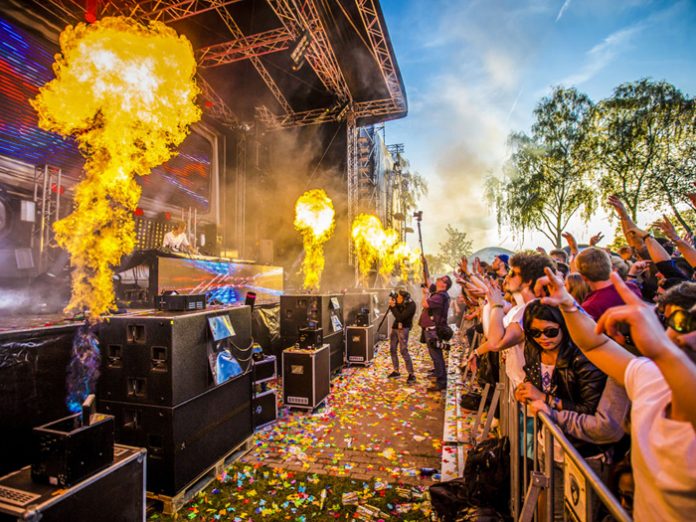 GERMANY: A crowd of more than 10,000 festivalgoers gathered at the Stoppelmarkt in Vechta, Germany, for the inaugural edition of Tante Mia Tanzt on May 5. Staged for the first time by local agency plus2event, the festival boasted unique staging, spectacular special FX and top-flight sound reinforcement for all areas.
Audio service provider Acoustic Sound, a local outfit from Vechta, opted to deploy brand new RCF systems at the festival.
The crew equipped the main stage – dubbed 'Aunt Mia's Dance Garden' – with two sets of 12 HDL50-A three-way active line array speakers and 18 SUB9007-AS dual 21″ subwoofers in paired clusters. It was the first time this type of rig was rolled out in Germany. Touring & Theatre series TTP5-A point source enclosures served as in-fills, with front-fill support provided by stacked TTL33-A line array speakers of the same series.
Flown double clusters of TTL6-A units, another brand new three-way active line-source speaker, covered the floor in 'Aunt Mia's Vestibule', otherwise known as the festival tent. TTL33-A line array modules were used as fills to augment the TTL6-A units. Six double stacks of TTS56-AS dual 21″ subwoofers held up the low end.
DJs were treated to a monitor system consisting of TT25-SMA and TTP5-A point sources for the side PA. The artists had nothing but lavish praise for this system's performance, and the clear, punchy sound in the audience areas also got rave reviews.