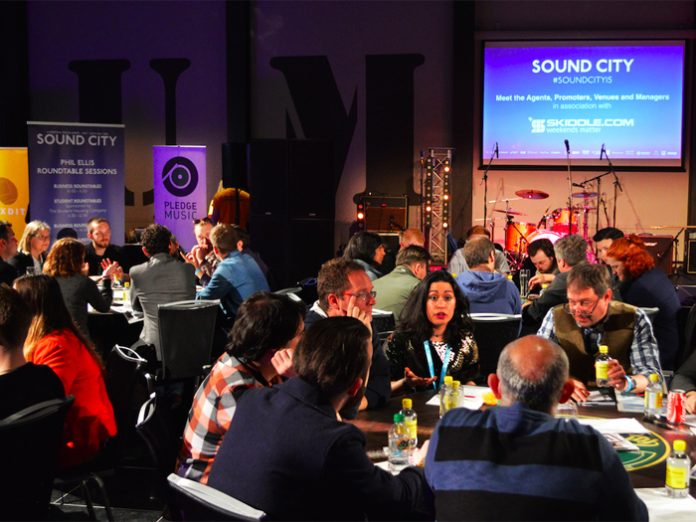 UK / South Korea: Sound City has announced that applications are now open for artists to apply to showcase at Zandari Festival and MU:CON, South Korea's most important industry events.
South Korea is a rapidly developing territory for music, with a thriving live music sector and a music subscription model which generates $139.6 million of revenue per year, accounting for 92.3% of all digital revenue and 53% of total trade revenue, according to the IFPI. This compares to $70 Million from both subscriptions and ad-supported streaming in the UK.
Zandari and MU:CON take place every October and form the gateway to the exciting and rapidly developing Korean music market. They are the biggest and most important city centre events of their kind in Korea.
Taking place from September 30 – October 3, Zandari Festival and its conference focuses on the live and independent sector, with 200 emerging artists performing in 22 venues to 3,000 industry delegates and 15,000 music festival attendees.
MUCON takes place from October 6 – 8, and showcases 150 artists to an industry audience of 3,000 industry at its conference. It has a particular focus on publishing and sync licensing.
Sound City are inviting artists, plus a member of their team, to apply to perform at Zandari Festival and MUCON, including funding support to attend the showcases, until 6pm on August 1 2016 via this link. Artists should be based in England and include details of their current UK and international activity in their application as well as links to their music.
Sound City has expressed gratitude towards Arts Council England and The British Council for their support for Sound City Korea under the International Showcase Scheme. In 2015, Sound City supported six artists to go to South Korea to perform there: The Tea Street Band, Hyde & Beast, Natalie McCool, Johnny Sands, Fizzy Blood and Chelou. The artists are expected to generate £55k+ for from the trip over the next two years.
Alison Clark, Director of the North for Arts Council England, said: "We have supported Sound City through our International Showcasing fund which helps English musicians find new markets and audiences, and gain valuable experience through performing in South Korea. Sound City's work has had a huge impact on the careers of the six artists who took part in the first year of the programme and I look forward to seeing how it develops in the second year."
Zandari Festival Director, Yoon-Young Kong, said: "We are excited to continue to develop this partnership with Sound City and look forward to Korean audiences seeing outstanding English artists this year. This helps us to build a wider international audience for our festival and conference. We have worked with Sound City for the past four years sending artists to Sound City in Liverpool which is a wonderful event for building the profile of Korean music in the UK. It is brilliant to work with Sound City in both the UK and Korea."
Sound City CEO David Pichilingi added: "South Korea is an incredibly exciting emerging music market and we're delighted to continue expanding the reach for our brand as well as for the artists and businesses we work with in Korea. This is alongside our relationship with our Modern Sky Entertainment which will see us creating opportunities for artists and businesses in China over the coming years. Watch this space."
The UK's leading development agency, Generator, and Yorkshire based label and development agency DMF Digital will assist Sound City in working with artists and businesses attending Zandari and MUCON.
Sound City is the largest and most significant event of its kind in the UK. Since 2008 they have delivered large scale music festivals and conferences in Dubai, Norway and Australia. Since 2012 they have delivered an annual boutique version of Sound City in Brooklyn, New York. Their festivals and business initiatives have generated over £16.5 million for the UK business economy*.
*Cobham Murphy Limited independent audited statistics.