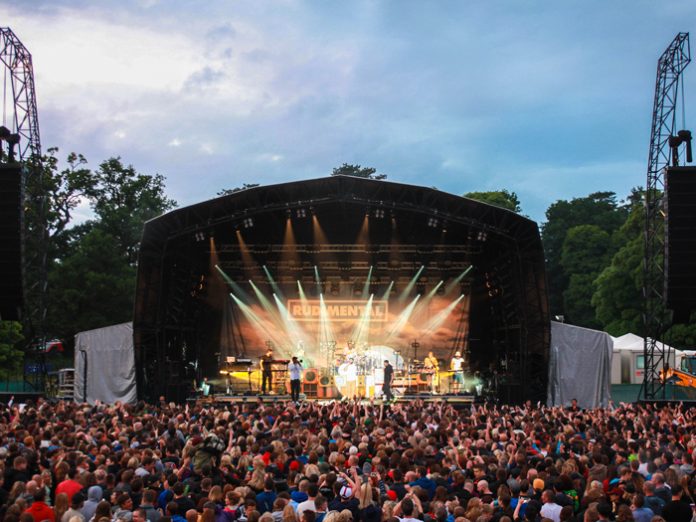 UK: Serious Stages has been awarded a further three-year contract to supply staging and ancillary structures to Forest Live, building on its longstanding relationship with the summer concert programme.
Established in 2001, Forest Live is an independent concert series, promoted by the Forestry Commission and hosted within seven nationwide forest locations, which include Westonbirt Arboretum, Thetford Forest, Dalby Forest and Mansfield Sherwood Pines Forest Park. This year's line-up has seen performances from Rudimental, Kaiser Chiefs, James Bay and Guy Garvey.
For the 2016 shows, Serious Stages supplied two 16m Supernova's to accommodate simultaneous performances at different locations throughout the summer. Serious Stages also installed steps, access ramps, handrails and two flanking single PA masts, as well as a double decker front-of-house tower to accommodate the sound and lighting engineers and follow spots.
DB Event Services produce the shows for the Forestry Commission, and Managing Director David Barrow said: "I have worked with Serious Stages since 1998 and I am delighted they have once again won the staging tender for Forest Live for the next five years. They have now worked on the Forest Live shows alongside my team since 2000, and are a big part of our forest family.
"The Forest Live series started out with just four sites and a 40,000 sales capacity across eight shows, and has now grown to seven sites and a 126,000 capacity, achieving over 93% sales this year with the proceeds being reinvested into the forests. Our deadlines are incredibly tight and seeing as the first thing we need is the stage, I am extremely grateful that Serious understand our needs. They have been great moving forwards with us, from being proactive on the introduction of CDM regulations to their team always being helpful and thorough. I would find our series strange without Serious Stages, so long may our relationship continue."
Steven Corfield, Managing Director at Serious Stages, said: "The locations throughout Forest Live are stunning outdoor venues and we look forward to these events every year. We work alongside DB Event Services and the Forestry Commission to install temporary infrastructure whilst preserving the sensitive natural environments where these events are held.
"Our team understands the challenges of putting on a show in remote locations and we have a great understanding of Forest Live, having worked on this event since its inception. We're proud to have been awarded a further three year contract to supply this brilliant concert series which David and the Forestry Commission have built up into a highly successful concert series, and we look forward to extending our relationship with them through the coming years."