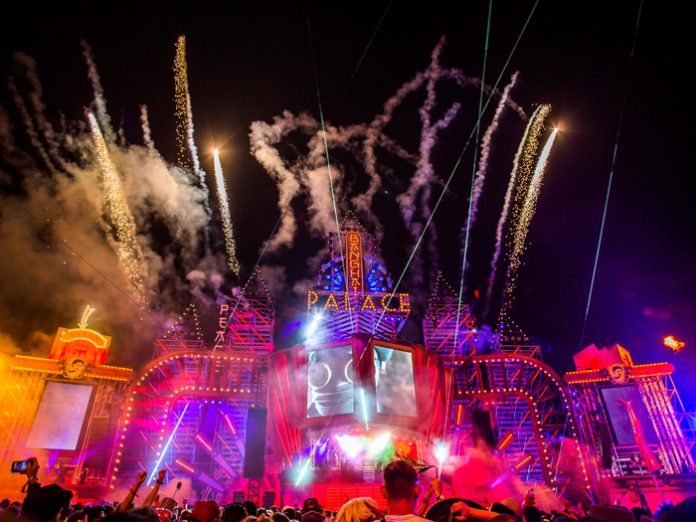 BoomTown will host the eighth edition of its wildly idiosyncratic festival this weekend in Hampshire, with an increased capacity of 60,000 and featuring nine fully themed and diverse districts, over 80 street venues, all manner of immersive arts programming, and more renowned acts than you can count on seven hands.
Insights spoke with Lak Mitchell – Creative Director & Co-Founder of BoomTown – about how they're raising the bar on production again this year, the festival's approach to welfare, and more.
Festival Insights: BoomTown is widely regarded as a trailblazer when it comes to the immersive and thematic side of the festival scene. How are you guys raising the escapism factor this year?
Lak Mitchell: In every way possible! We've tied everything together to bring the narrative, streets, stages, and performances all together to create a fully immersive and interactive show. We've got theatrical takeovers all across the festival as well as some pretty exciting little touches for the attendees to discover. Plus we've added five new stages: The Windmill, Robotika, Scrap Yard, Sewage Workz, and the gargantuan rival to Bang Hai Palace – the all new Sector 6.
FI: The festival's production is evidently a colossal undertaking. Who are some of the suppliers you work with in order to create the districts and venues?

LM: Most of the designs are done in-house and come from the brains of the directors and creative design managers. The biggest set builds are done via our sister company Front Left, a set design, fabrication and events agency.
FI: The new district Sector 6 is a grime and bass-centric miniature dystopia inspired by the turbulence of our political landscape. Do you think it's a rarity these days for festivals to engage with heavier themes like this?
LM: Many festivals focus purely on the musical line-up, and whilst this is still a huge part of the culture of BoomTown we also think the festival environment is a great opportunity to engage people further in the world around us and to try to inspire change, thought, and education in a place of escapism and freedom. Many other independent festivals do have elements of this but with the ongoing storyline there is the opportunity to take things to a whole new level and really engage people in so many ways to some of the absurd inequalities in this world.
FI: Last year BoomTown worked with Chill Welfare in order to ensure the wellbeing of festivalgoers through various means. How do you feel about drug-related harm prevention initiatives taken by organisations such as Chill Welfare and The Loop?
LM: It's an integral part of the safety and harm reduction for our festival attendees. As much as we issue drug awareness and safety messages out to our attendees ahead of the festival, it is crucial to have the right people and organisations in place on the ground to provide welfare, education and support to anyone who needs it.
This year, on top of the services provided by Chill Welfare, we are also working with The White Ribbon Campaign to raise awareness of sexual assaults and abuse, we will be rolling out a whole campaign onsite to encourage everyone to keep an eye out for each other and make sure everyone is showing respect to all in attendance.
FI: Is the musical programming for the festival all done in-house, or do you work with external curators? Have you explored any additional genres this year?

LM: All the main stages are programmed in-house, and the smaller stages, street venues and forest parties are mainly done by external crews who are the top of their game in terms of the music cultures they represent. It's amazing to be able to pull in collectives from all over the country who are massively passionate about the scenes they are in and bring in a huge mix of communities really engaged in the music they follow. It makes for a really exciting melting pot of people from all walks of life coming together and discovering new music from each other.
Last year we introduced the Psy Forest to represent psy trance more and this year we've programmed a lot more house and garage as well as funk and soul on the new Windmill stage.

FI: What are some of the ways BoomTown attempts to mitigate its environmental impact, and what are the biggest challenges in doing so?

LM: After seeing the growing trend at festivals across the country of people leaving tents, camping chairs, sleeping bags and food in the campsites after the festival, we decided to launch the Take Your Stuff Home campaign and have been promoting this to our ticket buyers throughout the year. Onsite we've got our Eco Warriors in the campsites handing out small prizes to those who have the tidiest camps, and we've also joined forces with Tent-cil campaign – where people can spray paint their tents with the individual district logos or the BoomTown logo to hopefully make them more attached to their property.
We also add £10 to the ticket price in the EcoBond, which people get back when they take a bag of rubbish or recycling to one of the Ecobond depots.
Transport wise, we have put even more coaches on with National Express and have coach and festival tickets packages (which are now the only festival tickets left), as well as shuttle buses from the local train station to promote public transport, as well as encouraging the car share initiatives.
These are just a few of the public initiatives but we do so much during the build, throughout the festival and afterwards to minimise the environmental impact and is something we are really passionate about.
FI: Charity is also important to the event, and in the past you've worked with Energy Revolution, Oxfam, and Key Changes – to name a few. Who are some of your charity partners for this edition?

LM: Energy Revolution are our main charity partner again this year, but we do have a lot of other charity partnerships in place. From stewarding partnerships with Oxfam, My Cause, Hampshire Air Ambulance to guest list donations that go towards local community projects as well as a number of refugee charities giving talks and raising awareness in the Speakers Corner.
Other 2016 charities we're supporting include The Brain Tumour Charity, Love Unite and Alianza Arkana.
FI: Anything else we should know about the festival?

LM: Everything has gone up another level this year: the sets, the streets, the theatre, the little touches. Not everyone will notice the subtler elements, but those who do will love them. And although every year it gets physically bigger, this year it is going to the biggest show across the entire city that we've ever put on. It's a bit insane really.