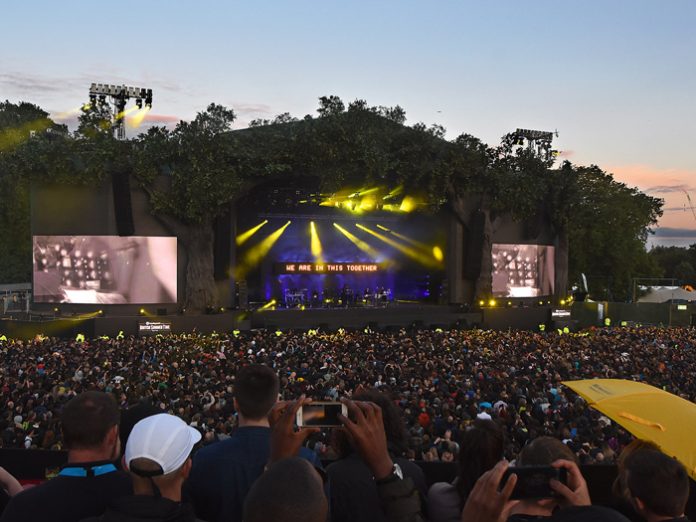 UK: For Massive Attack's headline performance at BST Hyde Park on July 1, PRG XL Video continued its relationship supplying lighting and rigging services to the festival, as well as working with Video Director Icarus Wilson-Wright to deliver a show fizzing with topical content and novel use of its video screen technology.
Barclaycard presents British Summer Time has taken place in Hyde Park since 2013, when organisers AEG Live acquired the rights to hold concerts there. PRG XL Video has been a major supplier to the event since its inception.
Account Director Yvonne Donnelly Smith takes care of the project for PRG XL, and said: "BST Hyde Park is an amazing event right in the heart of London, with fantastic artists playing every day, on one of the most beautiful stages of any festival. It's a pleasure to continue our work with Production Manager Mark Ward of Proper Productions – he always comes to us with a clear picture of what he wants and how to achieve it. Playing a major part in the largest summer event in one of the royal parks is a real privilege. It presented the usual challenges associated with outdoor shows, but our Crew Chief Luke Jackson led a talented team of lighting and rigging technicians onsite to ensure everything ran smoothly."
This year's lighting rig centred on a multitude of festival-robust and high performance Vari-Lite products: 68 VL3500 washes, 36 VL3000 spots and 18 VL2000 wash fixtures. Also featured were 24 GLP Impression X4 RGBW LED wash lights, 25 Solaris Flare LED RGBW multifunctional lighting fixtures and the PRG Best Boy spot HP moving light. Fifty Molfay lights around the perimeter of the stage were powered by Avolites ART2000 dimmers. Six long throw 2.5kW Lycian M2 followspots at front of house provided the mainstay of followspot lighting, with two Lycian 1271 Starklites overhead as truss spots. The lighting control consoles were MA Lighting GrandMA2s, with DMX distribution served by PRG Super Nodes.
PRG XL Video has enjoyed a close working relationship with Icarus Wilson-Wright for a number of years, including on his temporary art installation in the Tate Modern's Turbine Hall last summer. He contacted Account Director Phil Mercer with the brief for Massive Attack's current European tour, for which PRG XL Video supplied d3 media servers and a 14.4m x 6m LED video wall of ROE MC-7T, with a cantilevered, solid strip of non-transparent MC-7NT in the centre of the screen.
"Text features prominently in most of the screen content used on a Massive Attack show; the band have never been too keen on using conventional video," said Wilson-Wright. "They prefer to use text and symbol based content wherever possible for more direct communication. The idea behind the letterbox format of the screen was to create two areas of interest, enabling us to play with context. A message on the front surface could be contradicted or affected by content behind it, and the two environments existing in the same space gave the option to create tension between them."
Content and show design was directed by the founding member of Massive Attack, 3D (Robert Del Naja). 3D worked with creative agency United Visual Artists (UVA) who created the video content for the show, which constantly evolves. As the tour moves through different European countries, a lot of the text content is translated into the local language, as well as picking up on local issues. Icarus explained that the Hyde Park gig was very much a presentation of 'Britain on Britain', whereas subsequent shows will be 'Britain on Germany' and 'Britain on Spain' and vice versa.
Wilson-Wright worked closely with 3D, UVA, Paul Normandale and Peter Van Der Velde to achieve the overall look of the production. Icarus said: "Less has always been more for Massive Attack. It's not your typical rock show with lots of front lighting, and that's a conscious choice. Although the impact was a little washed out due to starting the set in broad daylight, the effects really came into their own as the evening wore on and darkness began to fall."
Account Director Phil Mercer, who handled the project on behalf of PRG XL Video, said: "This latest design is the continuation of a relationship stretching back over a decade. Between us, we always deliver 'out of the ordinary screen hardware', whether it's custom-faceted O-Lite columns, animated MC-7 louvres, or the current part transparent / part-opaque cantilevered screen, the end result is always thought provoking."