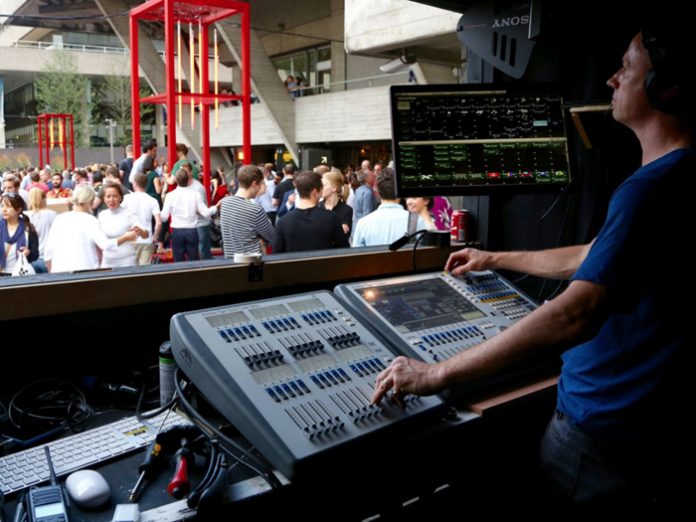 UK: The National Theatre's (NT) River Stage Weekends festival returned to London's Southbank from July 29 – August 29, with Chief Lighting Designer Huw Llewellyn choosing an Avolites Tiger Touch II and Fader Wing running the latest Titan v10 to deliver versatile, power-packed control across the month-long programme of weekend takeovers.
The free summer festival played host to a diverse range of artists and acts from family friendly workshops to energetic riverside raves. Throughout August, the festival saw numerous National Theatre partners from across the country tread the boards of the outdoor stage, painted red to mirror the NT's iconic Temporary Theatre (previously affectionately known as the Shed).
"We chose an Avolites console for River Stage because it's what we know and love – it's so versatile whilst being quick and easy to programme," said Llewellyn. "We're operating and programming probably 90% of these shows ourselves, and busking around 70% of them, so trying to do that on any other desk is tricky. Plus, it's a compact console, which fits nicely in our tiny little control booth."
Llewellyn employed the Tiger Touch II to get the most out of his dynamic rig, comprising Philips Showline SL Beam 300FX, SL Hydrus 510, SL Strip 10IP, SL Punchlite 220 and SL Nitro 510 fixtures.
"Avo has done a sterling job with the new Titan version 10," continued Llewellyn. "We're loving the new addition of random direction to the already brilliant Key Frame Shapes engine. If you're ever running out of ideas, you can simply change a few attributes and change the direction in the shape generator and you have a completely new look. It just saves you hours – I highly recommend it."
Titan version 10 follows a year of extensive research, development and customer feedback by Avolites' dedicated team and enhances the well-loved features of Titan v9 whilst introducing a plethora of new ones, such as a full 3D visualiser powered by the Capture engine, Intensity Grid, Halo, Freeform Workspaces, UNDO and REDO.
"The new Capture Visualiser gives great scope for offline programming, which is essential in this festival set-up," said Llewellyn. "The ease with which version 10 deals with sACN and ArtNet makes connecting multiple universes (we are using nine) so easy. There's no need to type in individual IP addresses – v10 just finds them, which is fantastic."