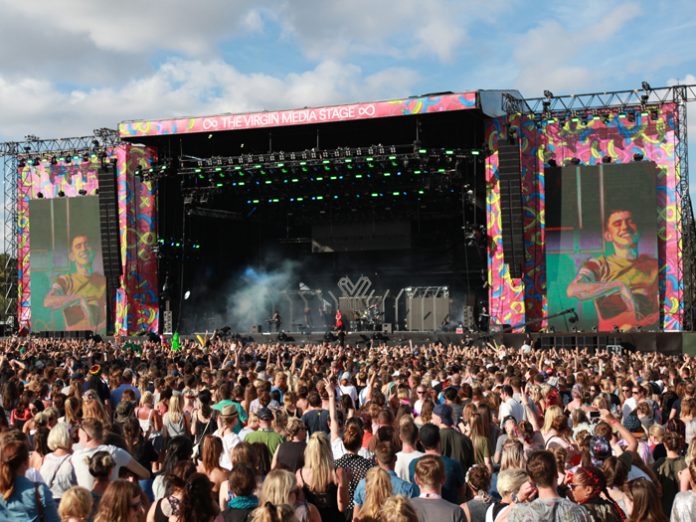 UK: Serious Stages continued to expand its client roster by supplying the main stage and ancillary structures to V Festival for the first time from August 20 – 21.
V Festival 2016 boasted a capacity of 90,000 and hosted performances from Justin Bieber, Rihanna, Sia and Bastille. For its inaugural year working with the festival, Serious provided the Virgin Media Stage, in the form of a 28.8m x 28.8m stage with a 27m x 19.2m Triton Roof. Serious also installed two side extensions to accommodate monitor desks and production technology, as well as a 4.2m x 6m offstage hut for the VIPs, which was decked on two levels and featured a VIP viewing platform on the second.
Flanking the stage, Serious provided two 12m x 12m PA wings to accommodate the video screens and PA speaker systems. Two 7.2m x 7.2m covered front-of-house towers were also installed to accommodate the lighting and sound. Serious Stages also supplied steps, ramps, camera runs, two roofed camera towers and a 4.8m x 2.4m media platform, complete with hand and kick rails.
Steven Corfield, Managing Director at Serious Stages, said: "We were thrilled to get the chance to work with V Festival for the first time, and it truly was a great event to be part of. We supplied our Triton Stage, which draws on over three decades of our experience and enabled us to offer a range of great benefits to the organisers. Our in house CAD designers, structural engineers and fabrication teams worked together to create this high end tower roof system, which allows for larger weight loading capacities, flexibility for different trim heights and improved audience sightlines. With weight loading capabilities of 3400kg per cross stage arch, this stage enabled organisers to accommodate the impressive productions at this year's event."
Festival Director Simon Forshaw commented: "We don't change suppliers very often but a significant one this year was the introduction of Serious Stages to our team. They have supplied our main stage, which looks great. It is not much different in size, but has a bigger weight capacity in the roof, which is good moving forward with the trend for heavier productions coming in."