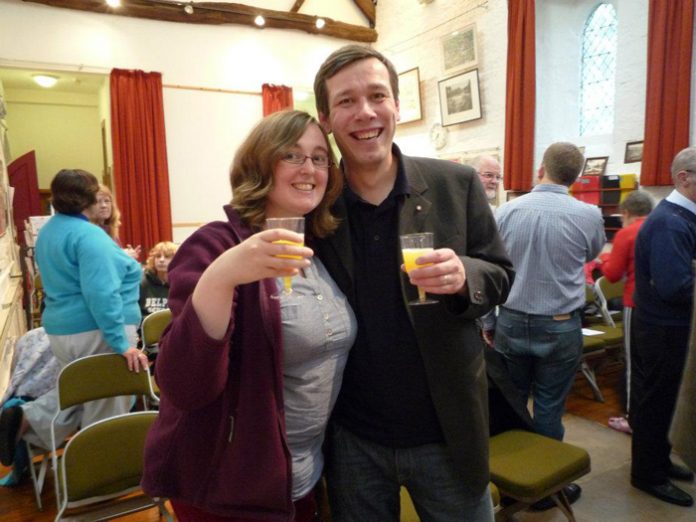 Jean Blakey was part of the team that founded Halifax Street Angels in 2005 and has since worked alongside husband Paul on CNI Network and affiliated projects. She and Paul have visited many of the 130 projects that make up the Network – offering support, training and guidance to its army of volunteers.
The question was asked whether festivals actually need welfare. It's only a few days and people are looking for a good time – what can possibly happen? Those good time seekers consist of approximately 60,000 people who decide to temporarily live in a field. Imagine a peaceful pasture where over the course of a few hours tents start to mushroom and form a hamlet, then a village and finally a large town. Canvas in a variety of designs and colours as far as the eye can see, all tightly packed tightly together. Beautiful from afar but perhaps a potential hazard on closer inspection. Enter the Angels.
Leeds' Festival Angels has seen increasing success over the last few years by adapting its service to meet a variety of needs. It started with a prayer cafe serving hot drinks to the festival audience and over time has expanded to include detached teams and lost property services. As the name implies, these volunteers are largely Christian and the ethos behind the initiative is based on the Christian principles of serving others; however Christianity is only discussed if the conversation is led by the service user. The banner the volunteers work under declares "Jesus loves festivals."
The prayer cafe is open 24 hours a day during the festival and serves an alternative to alcohol which is very popular with the cold punters. Buying a travel mug for £5 and having free drinks for the rest of the stay is a winner and a sure way of ensuring the Festival Angels can afford to be there each year. Apart from tea (Yorkshire of course) and biscuits, the volunteers offer spiritual or general advice, or a more practical service to anyone who asks for it. Volunteers are there to make sure everyone is enjoying themselves and staying safe. If, however, anyone attending the festival falls on hard times with perhaps a breakdown in friendships or if anyone has found themselves in difficulty with unwanted attention and feels unsafe, the Angels are there to help protect them and advise possible solutions. Many problems can be solved with just having a listening ear and providing the safe space to allow that person to hear themselves and a majority come to their own conclusions. Spiritual conversation occurs organically in the prayer tent and many customers help create a multicoloured bunting of prayer requests that zig-zag across the tent's ceiling. Some are reduced to tears, some are challenged, some decide to become Christians and some are inspired to debate. The volunteers love (almost!) every single moment.
The lost property tent has seen tremendous success of returned lost property not only during but after the event. The team log every piece of lost property and record returned items through the symbol of happy bunnies. Each detail of the item is logged to make sure it's returned to its owner successfully. These volunteers make full use of social media to actively seek out the owners of the property thus going the extra mile to make happy bunnies. Many people are astonished at how brilliantly honest the partygoers are even when less than sober. Wads of cash and expensive equipment are all handed in to the tent alongside jewellery, passports and other necessary equipment. We were even concerned that some poor soul would be unable to enjoy the meal they planned when an onion was handed in at the desk.
The detached team help people in the community of tents to ensure that everyone is relaxed and happy, and have water, food and suncream. They have an important pastoral role in the festival community – listening to people, and answering all sorts of political, spiritual and philosophical questions. They can also help people to network beyond the festival. I remember on one occasion speaking to a young soldier who wanted to speak to a Padre about some questions regarding conflicts with his faith and his army service. I suggested one of our wide network of Angel volunteers who can be contactable on social media and also a Padre. Some people may think that Christian service is out of place in the festival scene but really this is exactly where Jesus would be serving.
All three teams have superb communication and sometimes have integrated tasks. There was one dark and exceedingly stormy night when a bedraggled young lady entered the lost property tent. She was lost. She arrived with her boyfriend but they were separated in a confusing swarm of people. The battery in her phone had expired. She was alone, shivering and feeling vulnerable. The volunteers befriended her and asked the detached team to help. These volunteers charged her mobile with a cordless charger and guided her to the prayer tent. She started to relax. She was welcomed by smiling, friendly volunteers and offered a hot drink and something to eat. Her feet were no longer on the cold mud but on a carpet and the gentle warmth of the room helped to dry out her clothes. The phone soon charged and she was able to contact her boyfriend. When he arrived, his face was crestfallen. He had either lost his tent or had it stolen, he didn't know. The volunteers soon rescued the situation as they keep a small stash of emergency pop-up tents for similar scenarios. A short while later the universe was a friendly place and the couple could enjoy their stay.
There is a clear and definite need for the services of these volunteers both practical and pastoral as already outlined. Leeds Festival Angel volunteers will remain working under their Christian ethos in years to come. No matter what they are asked to lead on next they will serve without judgement and no matter what challenges they face they will keep the faith. Through the words of one customer: "If this tent does nothing more this weekend, it's restored my faith."