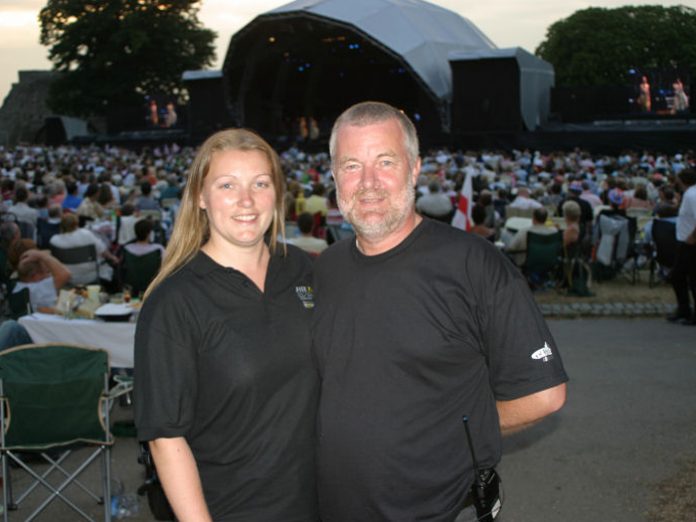 UK: The UK Festival Awards – whose 13th edition takes place on November 28 at The Roundhouse in London – has announced that the recipient of this year's Outstanding Contribution to Festivals Award will be Enteetainment MD, Dick Tee.
Over the course of the last 35 years, Tee and his company Enteetainment have provided site coordination, event management and production services to many of the UK's most iconic festivals and concerts, most notably Glastonbury and Reading Festival.
Anyone who has worked with Tee will recognise he has never been one to rest on his laurels, always striving for new and better ways to do things. He has been bold – maybe even visionary – in introducing a variety of production innovations that have changed our industry for the better. With a career spanning three and a half decades in the live events sector, 'Dick: Head of Production' is now a familiar sight.
Events weren't always the plan for Tee, who started out at agricultural college. He was elected Social Secretary in his first year and re-elected for each year of his studies. When he left college, the National Union of Students gave him a job as the UK Entertainment Officer, travelling and visiting other colleges' social secretaries, making him one of the first people to teach and advise others on putting on events. After three years he set up on his own, and he has been at the forefront of the production industry ever since. In 1984 he published the first edition of THE WHITE BOOK with business partner Andy Ayres, which went on to become the revered contact source for the music industry for over two decades.
His event career began at the tail end of the Ziggy Stardust tour on June 24 1973, when as a teenager, Tee saw David Bowie perform at Fairfield Halls in Croydon. Twenty-seven years and a day later, Bowie was in the passenger seat of a battle-scarred Land Rover on a tour of the Glastonbury site. Tee, now the Production Manager for the festival's Pyramid and Other stages, was in the driver's seat. A few hours later, Tee was stood stage right for Bowie's triumphant headline slot, a moment he will never forget.
Committed to improving health and safety standards, Tee pioneered working practices and procedures, which led to him co-founding The Event Safety Shop, TESS, in 2000. Whilst Tee is no longer a part of The Event Safety Shop, he is still just as passionate about everyone getting home safely from his site.
Rather than take risks, Tee proactively closed the Pyramid Stage in 2014 as lightning strikes hit the Glastonbury Festival site. Within three months he was also pulling UB40 off stage at Rochester Castle for the same reason. He's never been one to shirk his responsibilities, believes the devil is in the details, and after 35 years still carries an excellent reputation for overcoming any challenge and performing at the highest standard.
Throughout his 35-year career, Tee has worked at 200 festivals, managing sites and stage builds, ensuring thousands of bands' production setups deliver on the day, and helping to entertain in excess of 7,000,000 people. Through these years Tee has developed a longstanding relationship with many loyal clients, helping them to continuously raise their game.