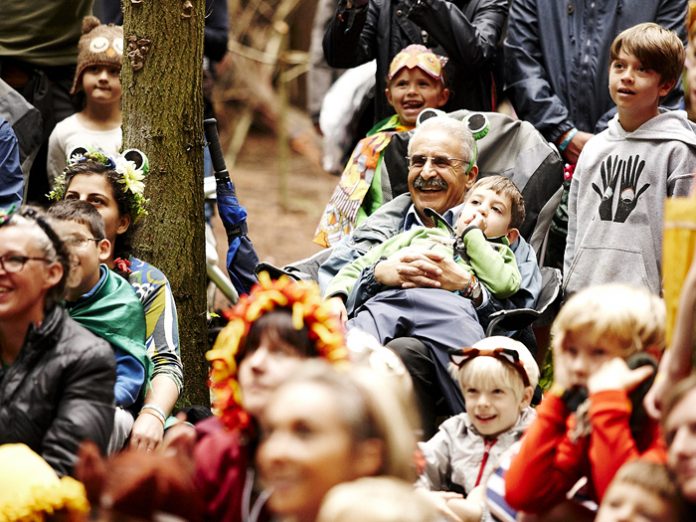 UK: The Northern Festivals Network – a consortium of festivals committed to raising the quality of arts available to families at Greenfield festivals – has teamed up with Unlimited, an organisation that believes disabled artists can and should work across all forms, to address the lack of disability led work for families, and the lack of deaf or disabled artists producing work for greenfield festivals.
"We were natural partners from the start, given each of our individual ethos'," said Cathryn Peach, Manager of the Northern Festivals Network. "Being able to come together and exchange our knowledge of family audiences and Unlimited's knowledge of disability led arts has been invaluable in creating a successful commission, enabling some really exciting work to happen and great relationships to be brokered. Families deserve to see inspiring work, and deaf and disabled artists shouldn't have fewer opportunities to make that work. It was fundamental to the commission that the art shouldn't be focused on making disability visible, but about dismantling the barriers that were perhaps holding these artists back from making that work."
Unlimited and the NFN shortlisted six artists who attended NFN festivals with a budget awarded by the commission. They were then able to develop their final pitch, informed by their experiences over the summer, from such simple things as the kind of work it would be difficult to carry, pack and unpack to each festival, to learning about how audiences move through festival landscapes.
"The standard of applications was so high we've doubled the investment so we can commission two pieces – I can't wait for next summer to experience them both," said Jo Verrent, Senior Producer at Unlimited.
The high standard has led to a double commission with £30,000 being spent on creating new disability led arts, supported by at least seven confirmed festival shows between them.
Caroline Bowditch, with Squirt – or What do Snails do inside their Shells, a new adaptable indoor and outdoor promenade piece for under fives and their families and Aidan Moseby, with A Nice Day For It, a field of anemometers each generating sound or visuals in response to the weather linking to deeper considerations about climate change and the landscape of mental health in the UK.
Sarah Bird, Director of NFN lead festival Just So Festival said: "Each of the pieces have the potential to make such a deep impact, and to quite different audiences, with one being a beautiful early years piece and the other a mesmerising visual installation. So as a panel we decided to double the investment and fund two works, rather than just one."
The works will be at Bluedot Festival, Just So Festival, Kendal Calling, Ramsbottom Festival, Underneath the Stars, and Cloudspotting Festival in summer 2017 and are available for additional bookings.
"This makes a strong statement that the decisions we make in the festival industry can have an important impact in the arts sector, whilst collaboration feels absolutely key. Bringing both knowledge and funds together through a new partnership has been essential in our growth and in the impact of this project."
"This is only the first step in tackling areas that need to change and making that change sustainable," added Peach.
To book these new commissions or to find out more about the work of the Northern Festivals Network contact Cathryn Peach.