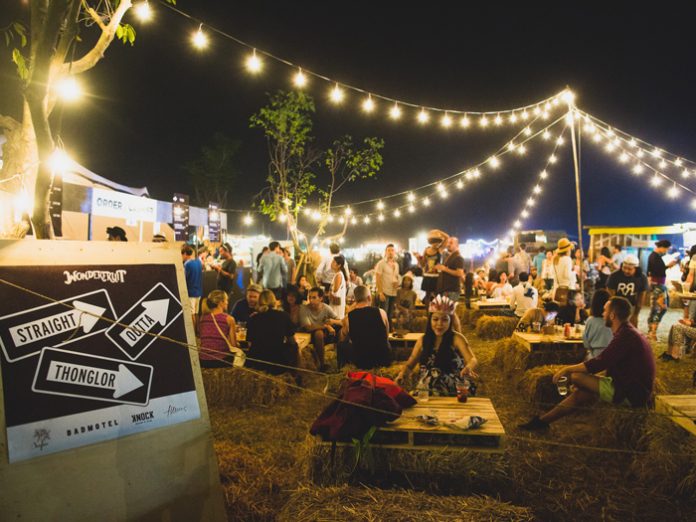 THAILAND: Wonderfruit Festival, Thailand's pioneering sustainable, eco-friendly, cross-cultural live celebration of art, music and life, has announced an array of acts for its upcoming edition, now set to take place from February 16 – 19.
BRIT Award winners Rudimental and the Grammy nominated Lianne La Havas will headline the 2017 festival, following a postponement of the event this year. Other artists that are confirmed to perform include Young Fathers, Junjun featuring Shye Ben Tzur & The Rajasthan Exoress, Mad Professor, Kate Simko & The London Electronic Orchestra, Shura, DJ Sabo, and Buke and Gase.
Speaking of Wonderfruit, Rudimental said: "We've played festivals all over the world but never in Thailand. Wonderfruit sounds like an incredible party and holiday all in one – we can't wait to go. Shout out to the organisers for pledging to be carbon neutral too."
Wonderfruit will host much of the same line-up of art installations and architectural engineering that was planned for 2016, with works from some of the world's greatest sculptors and engineers taking centre stage and using innovative, eco-friendly techniques to realise their conceptions. These creations include the Farm Stage – inspired by ceremonial architecture, this design is from the minds of PO-D Architects and Thor Kaichon. The stage will be entirely covered with rice, as a celebration of Thailand's traditional farming culture. The British Council (Thailand) will use Wonderfruit as the setting for a collaborative arts and crafts project that sees British and Thai artists creating an installation to which Wonderers will be invited to contribute onsite.
New additions to the artistic line-up include unique multi-sensory environment Wonder Lily Island, where Wonderers may go to participate in secret performances, ceremonial tastings, and chime installations – all surrounded by lush vegetation. Also onsite will be Bonafide, a series of geometric light installations by Thailand's ZIEGHT x Iconic Studio set to live DJs, as well as Cocoon Playground by Indonesian collective Waft Lab. The latter will be an interactive installation inspired by Southeast Asian myths and folklore about the natural world, set in the Wonderfruit Farm.
Wonderfruit will also bring together a unique and international line-up of art, wellness and adventure with a diverse series of talks and workshops from around the world. Traditional Thai arts will be celebrated such as the local Nang Talung Sakon Dharma traditional Thai puppet shows, as well as German interactive sculptural performance #Touch by Ulrich Gottlieb. #Touch is an interactive sculptural performance – an improvised and poetic combination of movements influenced by dance, martial arts and physical theatre. Concealing the performing body with textiles, Ulrich invites observers to paint directly onto his living canvas.
New additions to Wonderfruit's talks and workshops include Real Island Life by Eddie Brock, an insight into how to rebuild and maintain island communities of Palawan.
The journey from farm to feasts begins at Wonderfruit's onsite farm, at the heart of the field and surrounding the Farm Stage. Wonderers can experience rice farming and workshops, sample local delicacies and discover contemporary, horticulture-related art. Wonderfruit will hosts Wonder Feasts, giving Wonderers the opportunity to experience a unique luxurious communal dining experience with various world-class chefs serving gastronomic delights each day. This year Wonder Feasts will feature Gaggan Anand, named Asia's number one chef, a reggae brunch by Paolo Vitaletti (Peppina / Appia) and Jarrett Wrisley (Soul Food Mahanakorn / Appia), an unforgettable daytime banquet from London's celebrated Love Brunch series with Chef Jeriko of Cocotte, and a forward-thinking meal from F.A.C.T. Collective that will combine the flavours of northern and southern Thai cuisines using homegrown and wild-foraged ingredients.
Other food offerings at Wonderfruit will include Chef Morimoto's contemporary Japanese fusion restaurant Morimoto; French bistro Marcel, with an emphasis on local ingredients; Thyme: Eatery & Bar; and Asia's only certified sustainable seafood restaurant, The Oyster Bar Bangkok.
New additions to the wellness programme this year include Wushu, Shaolin Kung Fu and Tai Chi classes taught by internationally-known Master Zhu Qiguo, giving Wonderers the opportunity to explore ancient Chinese martial arts, as well as free-running with Team Farang. A new addition to the adventure programme includes Wonder Flights, taking guests into the sky for breathtaking joyrides and views of the fields below as well.
Wonderfruit has also announced new activities at Camp Wonder including Messy Jam, creating art with paint-filled balloons and squirt guns; as well as large-scale mandala-making with Hannah Theodorou. Other additions to the family offerings include interactive talks about the planet with under-the-sea stories discussing wildlife issues and new ideas for recycling.