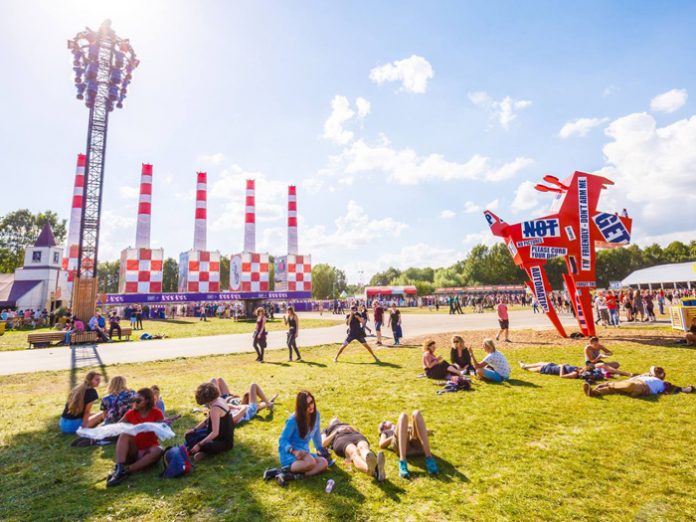 Lowlands Festival – or A Campingflight to Lowlands Paradise if you're not into the whole brevity thing – is one of The Netherlands' most successful events, attracting around 55,000 visitors to its annual three-day festivities. Appealing to both Renaissance men and women, Lowlands encompasses music, cinema, street theatre, cabaret, stand-up, ballet, and literature.
At this year's Eurosonic Nooderslag, Insights spoke with Eric Eerdenburg – the Director of Lowlands and Down The Rabbit Hole – about the former festival's programming approach, its embrace of the scientific and political, and the challenges he personally foresees for the live events industry.

Festival Insights: Lowlands boasts over 200 acts across over 10 stages each year. What do you have in store for 2017 on that front, and do you handle all the programming in-house or do you prefer to enlist external curators?
Eric Eerdenburg: This year's line-up features Mumford & Sons, The xx, Editors, Alt-J, Elbow, Flume, Iggy Pop, Moderat and more. Since its inception, Lowlands has always focused on representing new and emerging artists but for the last two years we've also put on bigger artists.
We've had 10 years of enormous success, with tickets selling out in hours. However because of our very loyal audience returning each year we haven't been attracting as many young people as we'd like. Aside from the inclusion of more established artists we're also booking a lot more hip-hop to pull in more kids.
We programme all of the music in-house at Mojo Concerts. Our individual bookers all have their own specialist areas; some are into metal, some into soul, and others primarily into jazz. All of these bookers work for Lowlands for a part of the year.
We do have a lot of external programmers, but they're for the non-music side: dance & theatre, literature, film, debate, classical music, art, and so on. All of that constitutes about 20% of the programme. The ones who programme in those areas are specialists. Our film guy runs his own film festival and distribution company for example. The same goes for dance & theatre; she works on the jury for a large theatre prize in Holland and likes to focus on attracting audiences who wouldn't usually experience the art form.
FI: Lowlands does seem to be very highly regarded as not just a music festival but a performing arts one; for its street theatre, cabaret and stand-up, ballet, literature and more. How are you expanding the non-music offerings this year?
EE: We're really happy with the science program we've been developing. In past years we had the 'Lowlands University' where we would invite lecturers to speak. Now we invite students and professors to do research on the festival site, where we have a natural environment and a lot of willing people to participate in new research. That has proven itself to be very successful, and now IBM have come on-board as a sponsor we can develop it further. Our researchers are very enthusiastic and the audience participation is huge. Another big thing at Lowlands is the political debate. We have politicians from national political parties coming down and debating.
FI: The science program interests me because we have a new event in the UK called Bluedot, whose line-up is half comprised of scientific and educational content. Similarly, on the political front, Roskilde Festival had Edward Snowden being interviewed via satellite feed on the main stage screens in 2016. With such a chaotic year behind us, do you think that festivals are seeing a resurgence in political engagement and educational content?
EE: I think there is. Right now in Holland the leading political party is the one appealing to populism and xenophobia. I think this is how it must have been in the 1930s and it worries me a lot.
Lowlands invites politicians from different sections of the political spectrum to debate at the festival. This year there will be elections in March, so by the time of the festival we'll have a new government. There'll be a lot happening this year and so we'll tap into that.
FI: Speaking of the political turmoil that's worrying you, what concerns do you have for the festival market moving forward?
EE: It's not a new issue but there are so many festivals right now and the competition to secure the acts that everybody wants is getting bigger and bigger. There seems to be no way of stopping the fees – and subsequently ticket prices – going up. Pop music should be affordable for young people and not just the elites.
Is this something that will implode at some time? Will there be more festivals saying 'fuck you' and just having smaller acts for a lower ticket price? The price of tickets is going to be hilarious soon. The current approach is to have higher ticket prices and VIP camping options for 6000 grand, but I don't think it makes the festivals more fun.
If you're a young adult you should be able to afford to go to a festival without having to save all year. I don't know what the solution could be; the mechanisms of the music industry are very capitalistic.

FI: Do you think part of the problem is that there are too few acts of that stature to go around? Do festivals have a role to play in ensuring that new acts breakthrough and achieve this level of success?
EE: Lowlands certainly has a role in that. We hardly ever put on the kind of headliners that would play Roskilde, Glastonbury or Rock Werchter. We go for acts that are a little smaller than that. Lowlands is a festival where you get to play for a very open-minded, motivated audience who will pick up on new stuff really soon, and so it's a great platform for smaller artists before they go on to play at the biggest festivals.
FI: On the flip side of things you're worried about for the future, is there anything you're optimistic about?
EE: Well the whole festival experience has become more and more popular. Instead of spending a weekend in London, Paris or Berlin, people will go to a festival instead and find everything they could possibly want there – aside from maybe a bed.
Festivals have become comparable to a city trip or holiday and many people go to three or four a year, which is great for us as promoters. There's a lot of creativity on the scene. Artists who usually exhibit in museums love it when they get to do the same at festivals. Our dance & theatre acts perform in a 700-capacity tent now. Back in the day they didn't dare to perform, but then they experienced how welcoming and enthusiastic the crowd is.
FI: Speaking of the festival experience, how would you summarise the unique character of Lowlands and what it offers to people?
EE: I think a very important factor is that our main stage only has room for 35,000 people, which falls considerably short of the 55,000 that are in attendance. That design choice encourages our audience to seek out other things on other stages and discover new experiences. It helps that our audience is very responsive and open-minded towards new things.
We start each day off a little bit serious but go on till five in the morning where everybody's going berserk. After three days the people are practically hysterical but nothing bad ever really happens; there are no fights. It's a very friendly, open-minded, good vibe, and that's what we're doing it for. We're trying to get people involved with each other. In our full name – A Campingflight to Lowlands Paradise – I take the word 'Paradise' very seriously. It must be something that people never forget, that they want to return to, and whose vibe they want to spread around throughout the year.