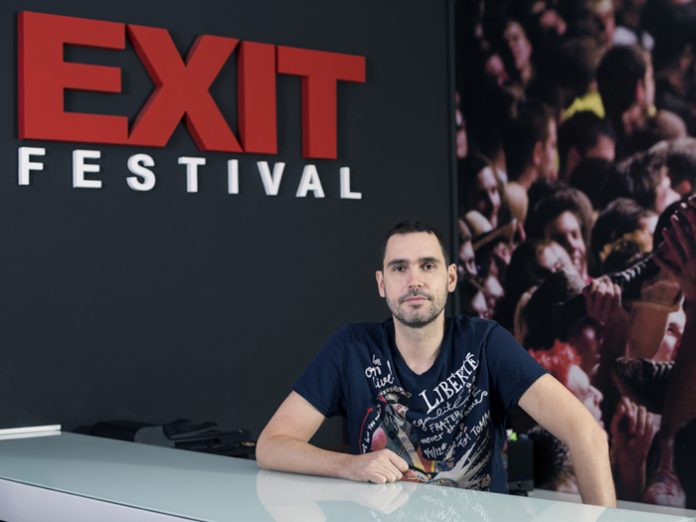 With roots in Serbian student activism and a comprehensive list of conscientious endeavours under its belt, EXIT Festival is proudly anomalous in a major festival scene that so often makes the bottom line its top priority. The unique appeal of the festival extends to its site – housed within the ramparts and tunnels of Novi Sad's Petrovaradin Fortress. Since its inception at the turn of the millennium the festival has welcomed internationally renowned acts such as The Prodigy, Arcade Fire, Faith No More and countless others, consistently capitalising on its success by striving to improve both the world within its walls and the one outside.
In addition to the main event, the EXIT organisation also hosts three sister festivals across the European continent: Sea Dance in Montenegro, Revolution Festival in Romania, and the newly announced Sea Star in Croatia. The former in particular has rapidly accrued accolades and the common DNA between each suggests they're destined to become mainstays in their respective countries.
Insights spoke with EXIT Festival founder Dusan Kovacevic about the organisation's extracurricular ambitions, how it'll be utilising the Serbian site differently this year, the benefits of collaboration, and more.
Festival Insights: The EXIT Foundation was recently in charge of the winning campaign for Novi Sad to be the European Capital of Culture in 2021. What will the designation mean for EXIT's home city, and for the festival itself?
Dusan Kovacevic: The idea of applying is an old one since Novi Sad is generally deemed as one of the must culturally diverse cities in the region, with many great artists and cultural achievements in its history. At first, this was something that local authorities and relevant institutions like Cultural Centre of Novi Sad wanted to apply and campaign for, but the process was unfortunately brought to standstill, leaving Novi Sad only able to try again in 10 years!
We were then approached by the Mayor who personally envisioned that EXIT could help to continue the application successfully. It was no brainer for us, since supporting local community is in the heart of our social activism and we had already initiated Novi Sad's candidacy to be the European Youth Capital 2019, which was also won in the meantime.
We assigned our top people from all over the company to work very hard on both of these candidacies. Nobody expected Novi Sad to win anything – especially being part of a non-EU country – so it was a great surprise when we learned that EXIT will be held in the European Capital of Culture 2021 and European Youth Capital 2019. This is also important for our visitors from all over the world, as an important part of the programme of European capitals in 2019 and especially 2021 will happen at and around EXIT.
FI: EXIT was founded in 2000 as an affront to the Milosevic regime, and remains an NGO whose ethos centres as much on activism as it does on hedonism. What are the main causes EXIT tries to support, and do you think more festivals should utilise their position to engage with political or humanitarian issues?
DK: Over the years we've had many causes that we still chase almost fanatically. After using the power of music we protested against the regime for 100 consecutive days and have finally changed it in 2000. Our next goal was connecting the youth of the Balkan region that was torn apart by the wars of '90s through a massive musical gathering. And that's how EXIT as an international music festival came to be. Over the years we took on many important projects, such as a global campaign against human trafficking with MTV (called MTV EXIT), campaigning to the EU to remove the visa regime for countries of this region, as well as various green initiatives and many more activities.
We are also focused on humanitarian causes. In last few years we gathered hundreds of thousands of Euros that directly went to the national flood victim's relief fund and a hospital department for children with cancer. We are also focusing on the protection of environment as one of the greatest challenges the world faces in this moment. In order to save the planet we also need to increase the consciousness of human race in general.
Festivals over the world represent strong voice and should use it for social and humanitarian issues. After all, the first major music festivals started in late '60s and they had this huge anti-war and human rights element to them. When we look to our roots, we look at Woodstock and Monterey, we look at the Summer of Love, where activism through music, art and peaceful protest can bring change both on local and global scale. We consider ourselves to be one of a few major festivals that still cherish this heritage. 2017 will mark 50 years since the original Summer of Love in 1967, and so we're branding our events as the EXIT Summer of Love this year, with the sincere hope that all generations, no matter the age, will pick up the messages that are needed today, perhaps more than ever.
FI: Sea Dance partnered with renowned YouTube platforms TheSoundYouNeed and UKF for help with programming, planning and marketing in 2015. Will those partnerships continue this year, and what was the reasoning for inviting external curators on-board?
DK: We had a truly good year with AEI Media (that represent UKF and SYN) and we'll continue to work with them in the future. We are working with many different brands in the industry and we're in general very open for cooperations. For example, last year we invited five fantastic clubs to curate their own nights at our No Sleep Novi Sad stage. We had Tresor (Berlin) celebrating 25 years, Concrete (Paris) who presented their amazing residents, Nitsa (Barcelona) which brought the spirit of Primavera Sound with them and Grelle Forelle (Vienna) joined forces with Drugstore (Belgrade) for an amazing four nights. And that is the vibe you get with partnering, with refreshing your own team and ideas.
FI: Sea Star is a new festival from the EXIT team, set to take place this May in Croatia. What are the similarities and differences between this one and your other events?
DK: Sea Star as well as EXIT and Sea Dance is held on amazing location of Stella Maris beach resort in Umag, Croatia. It will host some of EXIT's most popular stages and diverse genres that makes it such a different festival in the global scene. And yes, we are bringing The Prodigy, which is something we are known for with super tight relations between the band and our audience. To quote DJ Mag: 'If you want to see The Prodigy live once in your lifetime do it at EXIT, as they can't remember ever seeing a crowd that insane!'
FI: What areas are you focusing on developing for the main event in 2017?
DK: We have been truly blessed that EXIT has the best surroundings you could wish for – the magical Petrovaradin Fortress, the biggest of its kind in Europe. It really builds up the atmosphere and makes EXIT stand out. It is located upon a massive rock, with gates, tunnels, bridges, and moats, which is super challenging. We are always looking into new possibilities and experiences at the festival. We recently made a temporary bridge over the Dance Arena in order to reach a brand-new zone above it all, thus expanding our massive capacity even further and having an area with an unparalleled view. EXIT is still re-imagining itself and it's a fun process to always come up with new ideas that create lifelong memories for our audience. Our main goal is that every year festival looks and feels different.
FI: EXIT's four festivals will be united under the same umbrella in 2017, the 'EXIT Summer of Love', where purchasing a ticket for the flagship event in Serbia provides festivalgoers tickets to your other festivals in Croatia, Montenegro and Romania. I haven't heard of an offer like this before; did it receive a strong response?
DK: Well, we though why not! If you have already planned to come and experience EXIT, why not stay a few more days and travel to Montenegro for Sea Dance Festival at Lonely Planet's 'Best European Beach'?. Maybe you will also want to come to Croatia for the May bank holiday weekend, for a summer season opening with great acts next to the Adriatic Sea.
We decided that this year's holiday offer should be the biggest in EXIT's history. We had massive response, and we're up in sales 25% in comparison with last year – which was record breaking in itself!
FI: In the past, EXIT has been a consistent host of the European Talent Exchange Program, which held its final gathering in 2015. To what extent do you think European festivals should collaborate on initiatives, whether designed to improve the circulation of continental artists or to improve industry practices?
DK: EXIT was always a strong advocate for collaboration between festivals, since it opens so many new possibilities that you hadn't considered before. Much can be gained, learned and improved upon with such associations, but one key aspect of European festivals working together should be the promotion outside of Europe. Increased numbers of festivalgoers that come to Europe raises everyone's attendance and ticket sales in general. Making a brand out of European festivals is a joint mission.
FI: Is there anything else we should know about EXIT?
DK: If you have experienced it, then you will want to go back to EXIT and you probably have been back at least once more. But if you haven't, just Google 'sunrise at Exit Dance Arena'. I mean it, just type that and see if you want to know more about it. Much love from Novi Sad, peace!