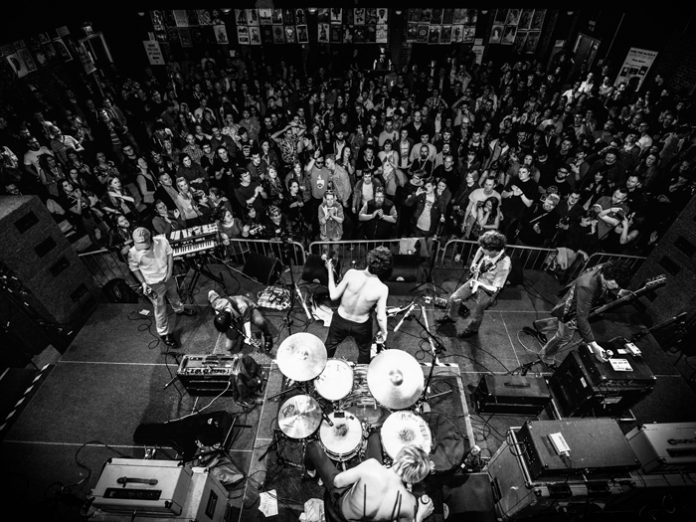 The multi-award winning Liverpool Sound City will host its 10th anniversary celebrations at the titular city's Clarence Dock this May, extending its already plentiful offerings with a couple of high-profile satellite shows courtesy of John Cale and The Human League. The festival's widely renowned commitment to emerging talent across the music line-up will once again be mirrored in its colossal conference programme, dubbed Sound City+.
Insights caught up with Sound City CEO Dave Pichilingi to see what the festival has in store for 2017.
Festival Insights: For its 10th anniversary, Sound City will be embellishing its usual two-day programme with a couple of additional shows immediately preceding the festival, headlined by The Human League and a John Cale & Guests. The response to these has been pretty staggering from what I can gather. Do you think that other metropolitan festivals would benefit from hosting these sorts of separately ticketed 'satellite' events?
Dave Pichilingi: We managed to secure the only European show for the John Cale Velvet Underground anniversary and as a consequence we have audience members flying in from as far as Australia and Japan, as well as all over Europe.
I'm not sure we are the only festival to offer separately ticketed satellite events. I think other metropolitan festivals do similar things. Our idea was to maximise the tech and other resources whilst on site. Beyond that we always wanted to do something quite different and spectacular for our 10th anniversary.
FI: As for the main music programme, which areas were you keen on exploring this year in terms of styles? Will you once again be working with external curators for sections of the line-up?
DP: We have always said we are non-genre specific. We just try to programme what we believe is the best and coolest music for our Sound City audience. As ever we will be working with a number of external curators including Tim Peaks Diner, Skeleton Key Records, Modern Sky and a few others. Beyond that we will also be working with a number of relevant brands and organisations who will also help to curate a number of different stages.
FI: Sound City won the UK Festival Awards' 'Best Festival for Emerging Talent' accolade in 2016. Will you be maintaining your commitment to new and underground acts this year? Are there any ways in which you're doing more to help up and coming artists?
DP: We were delighted to win this award. Long overdue we say! Being the UK champion for emerging talent is something that is very close to our heart. Since 2007 we have worked with literally thousands of emerging bands and we are very proud to have given quite a few household names their first leg up the ladder.
What makes us different is that the new artists and bands who play Sound City also get the chance to play in front of an international music business audience. These are people who can alter their career path forever in a positive way. It is because of this that this year we have had nearly 5000 bands apply to play the festival from all over the world. Our aim is always the same: to work with artists who we believe are ready for this opportunity and to also ensure that we give artists from the North of England the largest bite of the cherry.
Beyond that we also ensure that all of our artists and their managers get a free pass to Sound City+, our business conference that runs in parallel to the festival.
FI: Speaking of Sound City+, it will focus on the theme of 'Revolutions' in 2017 – exploring the various paradigm shifts that have occurred throughout British rock n' roll history. Was this examination and celebration of counter culture inspired by world events over the past 12 months? Tell us about some of the highlights of the conference and how they relate to revolution.
DP: Absolutely it was inspired by what is going on in the world right now. The world has never felt more primed for revolution than it does right now. We thought it would be interesting to look back at the key milestones in cultural revolution that have occurred over the past 50 years in music. Primarily the 60's British Invasion, punk rock, acid house and grime. We will be pulling in some of the key mavericks who helped to create and shape the above and talk about the conditions that led up to them as well as celebrating their position in rock and roll history.
FI: The festival's 10th birthday celebrations will be accompanied with a site move to the nearby Clarence Dock. What prompted the change in location, and what will it allow you to do that you couldn't before?
DP: The move was primarily to do with having more space. We loved our former site but it was beginning to creak at the seams. This new site allows us a larger space to play about with whilst still holding onto the amazing architectural backdrops and landscapes that we have become infamous for.
FI: Sound City partnered with China's largest independent record label and events company, Modern Sky, a year ago. Will this relationship once again result in an intercontinental exchange of emerging artists? Are there any other mutually beneficial initiatives the two organisations have launched for 2017?
DP: The partnership with Modern Sky and CEO LiHui Shen is a match made in heaven. He is an inspirational character with great vision and drive. Both LiHui and I share this vision and have a common love of music and art. The partnership so far has been amazing in that LiHui and his team allow us the creativity to shape and develop the festival how we see fit. This freedom has allowed us to offer the satellite shows this year such as The Velvet Underground and The Human League. We also have further shows planned for July.
Beyond that I have personally taken on the role to become CEO for Modern Sky UK. This is a brand new initiative (initially records and publishing) that will allow us to sign artists from the UK with the view of breaking them globally with a focus on China. We also aim to become the first company to break a Chinese artist in the west with a crossover audience.
These are very exciting times for both Sound City and Modern Sky. The North is where it's all going on!