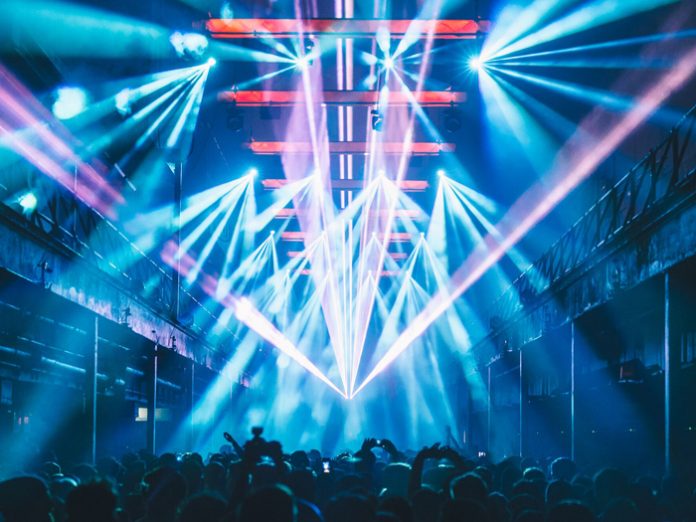 UK: An Avolites Arena console has been selected to control the custom designed, automated house rig on debut electronic dance music series 'Issue 001' at London's new, experimental cultural hub 'Printworks'. The 001 series sees some of the industry's most progressive electronic dance music promoters including Junction 2, Melt Festival and Knee Deep host top and emerging dance music talent.
The Arena was selected and installed alongside the rest of the event's lighting package by Poole based lighting and rigging expert Wolf Lighting. The console is networked in the venue's 'crown jewel' event space – a 16.8m high, 120m x 30m area dubbed 'The Press Halls' on account of the original printing presses that still flank its sides.
"There was never a question of not using an Avolites console for the Printworks project," said Jonathan Oliver, director of Wolf Lighting. "We needed a console that could offer a wide range of live control options for each show. Lighting programmer and operator for the Printworks Issue 001 series, Jonny Godsmark, worked alongside me in selecting the Arena for its substantial, intuitive control surface, large touchscreen and audio input."
The Arena is the latest lighting control console to be released by the British manufacturer and is currently providing Godsmark with full creative control for the 13 week Printworks run. The console hosts two touchscreens, the second screen providing an additional workspace window and labelling the adjacent macro buttons and rotary pots. The fully assignable playback encoder pots allow Godsmark to intuitively control channels and effects during the live shows. The six LCD screens display electronic legends for 30 faders, providing access to pre-programmed playbacks, fixtures and palettes.
"For Printworks I wanted a console where I had access to as many control options as possible," said Godsmark. "I have been an Avolites user for years and their consoles just keep getting better."
For the Printworks shows Godsmark is making heavy use of the Key Frame Shapes feature, which allows designers and programmers to create spectacular lighting effects from scratch using pallets and tools such as transition curves, phase and spatial direction to craft the light.
"I have a huge amount of creative freedom on this project," said Godsmark. "Because of the live and varying nature of the shows I do not always know what is going to happen next; trying to creatively balance this with expert control is a really enjoyable challenge."
The Printworks project is managed by London Warehouse Events (LWE), an underground promotor and producer of events in unusual and disused spaces, and international festival producer Broadwick Live.
"LWE is a long term client of Wolf Lighting," explained Oliver. "For Printworks we worked closely with Loz Poulton, production manager at LWE, to put together a lighting package that would showcase the original and dramatic features of the venue, whilst playing to the incredible height of The Press Halls."
Completing Printworks' lighting control network is a backup Avolites Quartz console, the most compact of the brand's control surfaces which still retains the formidable processing power and range of control options of its larger cousins.
"We chose to network up the Arena with the Quartz as our house technician, 'Diggers', wanted a console that would give him a full, seamless switchover should there be an issue or power loss at front of house," explained Oliver.
The Printworks Issue 001 series started on February 4 and will complete its run in April 2017. During this time it will host artists such as Nina Kraviz, Joy Orbison, Maribou State and Adam Beyer. Printworks is a temporary venue located in the Surrey Quays area of London. As well as hosting the Issue 001 music series the venue also hosts various art, culture, fashion and film events.