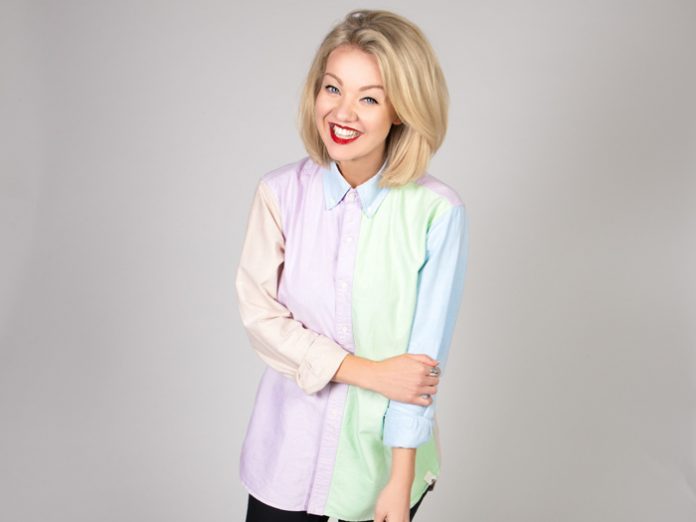 After six years spent studying and working in Manchester for the likes of Manchester International Festival and The Warehouse Project, Sarah McBriar moved down to London in 2013 to undertake an MA in Creative Producing. During her postgrad studies the team behind Glastonbury's Block 9 enlisted her to work for six months on everything from the area's curation to team building and post-event work. With this newfound experience in the world of large-scale festivals, McBriar applied for a grant to start her own festival & conference in Belfast, entitled AVA.
Over the past three years AVA has evolved from a fledgling concept into a global brand, now running events across mainland Ireland, Amsterdam, and Mumbai. The predominantly techno-focused festival is one of few to foster collaborations between musicians and digital visual artists, and its massive conference programme provides the vast amount of emerging talent in attendance with an abundance of educational content and networking opportunities.
We spoke to Sarah about what makes AVA unique, her commitment to representing Irish talent, the best way to build a festival brand, and more.
Festival Insights: AVA owns the bragging rights of bringing Boiler Room to Belfast for the first time. Do you think that livestreaming platforms are the most effective way to grow a festival brand and give potential future audience members a taste for what an event is all about?
Sarah McBriar: Boiler Room has been a fundamental part of growing the AVA brand internationally, and has demonstrated how fun and up-for-it the Belfast crowd really are. I think it's one platform to grow your audience, but it is definitely not the only way. Growing your audience is about building trust in your programming, delivering a high quality event and then relying on word of mouth. I still think word of mouth is the most powerful form of marketing. When each festival-goer and artist leaves saying 'I have to be back', that spreads.
FI: Everfest Magazine listed AVA alongside ADE, Sónar and Berlin Atonal as one of 11 European festivals to satisfy one's 'inner nerd'. What have you got planned for 2017 that will pique the interests of art and tech aficionados?
SM: We won't be announcing our full Conference programme until the end of March. I can tell you that the conference has really grown this year, and we are welcoming some serious speakers to discuss topics spanning 'Creative Collaborations', 'Music in Film', and 'New Identities in Electronic Music', along with a tech drop-in space with tech leading equipment brands including Ableton, Native and Pioneer as well as showcasing some homegrown Northern Irish & Irish tech talent.
Native are presenting their Native Sessions with a packed programme, and there is a new area for publications and promoters across UK & Ireland to discuss key topics. The tech side and transfer of ideas and knowledge is such an important part of our Conference, but bringing people together to create relationships is also key. This year we are really working towards creating an environment where industry professionals, non-industry and emerging talent can meet in an area that works as a stepping stone towards creating new opportunities across the UK and Ireland.
FI: When it comes to representing emerging talent, many festivals focus solely on inviting acts to perform – either on standalone 'introducing' stages or peppered throughout the line-up. AVA, on the other hand, goes further by hosting competitions for emerging producers, DJs and visual artists, promising the winners further support via the festival's partners. Do you think providing these sorts of opportunities for audience members onsite is something more festivals should be doing to foster engagement and good will?
SM: I think it needs to come from the right place. It needs to be done because you genuinely want to give emerging talent a platform, not just as a tool to foster engagement and good will. We have a team and infrastructure built that can run a competition and then give the right opportunities post-festival. Quinton Campbell won our emerging producer competition last year, and then went on to get signed by Extended Play and release an EP. We took him to ADE and have booked him again for our AVA Castle Party. He has gone on to really foster a career in music, but the individual needs to have the drive and determination as well. With emerging talent and the speed of which the industry moves, it would be wrong to run a competition without the right steps in place for the winner.
FI: Northern Ireland tends to be omitted from the conversation when discussing the lineage of the UK's festival scene. Are there any challenges unique to the territory, and do you think its profile in the live events world is on the rise?
SM: I think everywhere has its challenges. Licensing, venues & locations, and talent booking are all challenges I think a lot of festivals face. Northern Ireland's profile is definitely on the up. More people are visiting Belfast, more students are coming here, there are more flight routes, and more events and venues are opening. It's great to see.
FI: AVA has a commitment to predominantly presenting Irish acts. Do you think it makes for a more authentic and unique festival experience when organisers do their best to host artists from local communities first and foremost?
SM: I think it's a balance. I think sometimes we can forget what there is around us, when we get fixated on 'what's hot'. There is a big challenge though for festivals to compete globally on line-ups, and that requires big talent and international acts. AVA comes from a place where it wants to develop talent and the industry, so it's intrinsic to our programming, but other festivals focus on other areas, which is cool.
FI: The concept of collaboration seems encoded into the DNA of AVA – from its presence at international festivals like ADE, the networking opportunities inherent in the conference; the apparent parity between visual arts and music; and even this year's headliner act, the pairing of Jeff Mills & Guillaume Marmin. Is it one of your aims for AVA to be a catalyst for collaboration? And again: is this generally something you'd like to see more of in the festival scene?
SM: Yes, 100%. Collaboration leads to the unknown, and that's what's exciting about it. The process can be difficult as creatives tend to have a particular style and way of doing things, but ultimately what comes out is special. We feel that when you bring different elements together, that is where the magic happens. It makes for a memorable festival, and it's an experience that's unique to AVA.
When I first went to Glastonbury (10 years ago now) as a punter, I was blown away by the community created in a field over five days, the art and music, and the experiences you shared with total strangers. It was incredible. Life-changing to be honest. That festival was the catalyst for me entering the festival world and wanting to create my own, and it is the different elements coming together that's so inspiring.
FI: Aside from AVA, you're also heavily involved in SheSaidSo – a community for women in the music industry. Can you tell us more about the initiative? How do you think the industry can evolve to better foster and encourage female talent?
SM: SheSaidSo is a really fantastic network of inspiring women in the industry who help each other out, discuss key topics and push for equality and diversity. The industry is evolving, and more women are coming through which in turn helps promote the industry as a safe place for women. I have been fortunate to have such supportive male colleagues, and I think it is important to give the guys credit too, as many of them want the industry to be diverse and mixed as well.
FI: Is there anything else we should know about AVA, SheSaidSo, or anything else you're working on?
SM: Up Productions is my company which runs AVA, and a few other key projects including a street food event, an event at this year's Culture Night and a series of workshops in festival curation & producing. I also run PLUME STUDIOS with Oisin O'Brien which designs & builds visual motion content for artists and brands. We launched a new hotel in Belfast with an AV show and an online series of shorts, and we are working on a few touring shows with some really special artists.