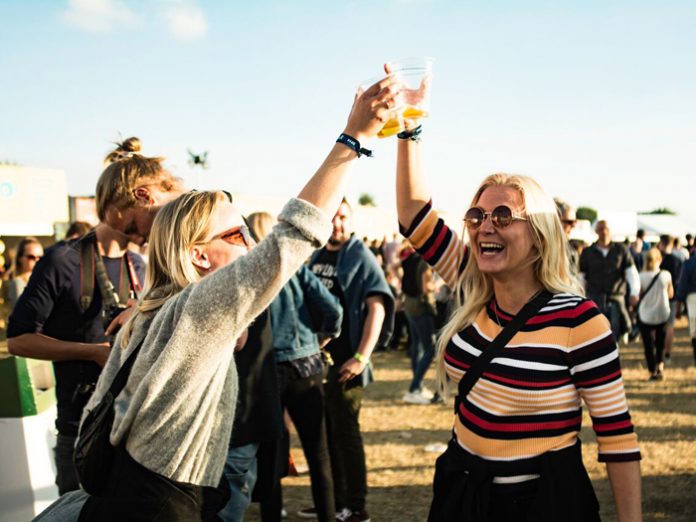 DENMARK: NorthSide Festival has released its latest sustainability report, which demonstrates marked improvement in the festival's environmental policies and promises to deliver a 100% organic selection of food in 2017.
The work to construct NorthSide 2016 started with a goal of putting together an exciting and varied music line-up, but it also centred on goals concerning organic products, waste management, and new projects, which were created to move NorthSide even closer to the ideal of becoming a totally sustainable festival.
An evaluation of its work to this end has now been presented in a new report prepared in collaboration with the festival partner on sustainability, Worldperfect, and the non-profit organisation Organic Denmark.
Selected results from the report are as follows:
95% organic food / 74% organic beverages
76% of all waste was sorted for reuse (154 tonnes) – the target was 60%
All volunteers were given a refillable water bottle
48% sustainable food packaging across stalls
1.67 tonnes of food collected and donated to shelters by the Food Bank
94% of the guests associate NorthSide with sustainability
The last point is on level compared to NS15, but more interestingly an impressive 87% of all guests find it important that NorthSide works with sustainability.
In addition, NorthSide still runs the country's most advanced deposit system that ensures separation into 15 different factions that all trigger payment on return.
In March 2017, NorthSide won both the Sustainability and the MPI's Outstanding Achievement Award handed out at the Danish Events & Meetings Awards (DEMA17) for achievements in the field of sustainability. Last year, NorthSide was also one of only five festivals nominated for a Green Operations Award during the European Festival Awards. NorthSide also kept the sustainability certification from A Greener Festival Award – an award that has only been awarded to a single Danish festival besides NorthSide (Arla Food Fest).
Targets for NorthSide 2017:
100% organic food across the entire festival
85% organic beverages at the festival
80% sorting of all waste
60% sustainable food packaging
Extension of last year's refugee project in collaboration with the Municipality of Aarhus, which hopefully will provide 30 refugees the possibility to become volunteers at NorthSide
A new plastic circuit project carried out by Worldperfect and supported by the Danish Environmental Protection Agency, wherein beer mugs and other discarded plastic products are converted into new packaging materials that can be used at NorthSide 2018
It is the second time NorthSide gathers results and evaluations in a comprehensive sustainability report, which is subsequently made public.
Find this year's sustainability report on the NorthSide website.
NorthSide 2017 can be experienced in Aarhus, Denmark from June 9 – 11.