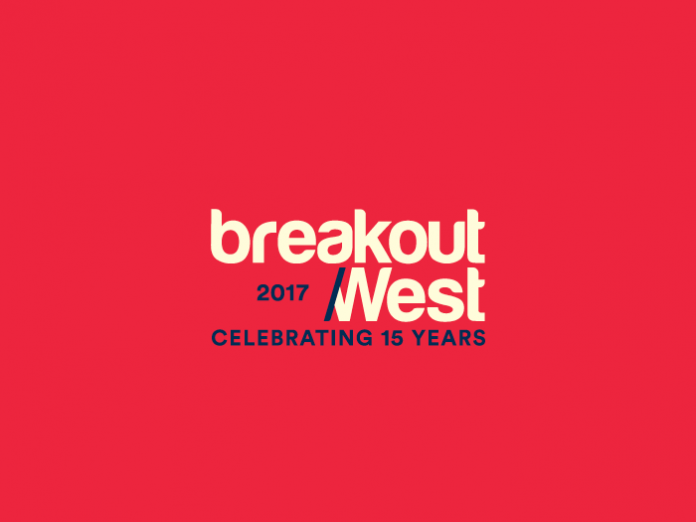 CANADA: BreakOut West has launched a brand new website and mobile app for the event's 15th edition, set to take place in Edmonton from September 13 – 17.
"We're excited to debut a new website along with this year's mobile app," said BreakOut West Executive Director Robyn Stewart. "Thanks to support from our funders, BreakOut West's website has gotten a much needed overhaul, leaving us better able to frame this year's 15th anniversary event and all of BreakOut West's activities throughout the year."
The new website features a more sleek and streamlined look, more readily available information and easy navigation, with a focus on marketing the artists and industry BreakOut West serves year-round. Prospective attendees can register for the conference, learn more about BreakOut West's current initiatives and history, and check out this year's event schedule.
But most significantly, the new website facilitates the promotion of what's happening now in the western Canadian music scene, with content created by and for the artists and industry, including playlists, artist-created video content, stories from alumni, current nominees and festival artists, and more.
Several of this year's delegates have also been announced and are available on the website, coming from a wide variety of countries that support and bolster their respective music industries, including Australia, Iceland, Poland, and the Netherlands, to name a few.
The new BreakOut West mobile app distils the website content directly onto festival-goers' phones to create a user-based BreakOut West experience. As with prior versions of the app, users can learn about the artists, plan their schedule and mark which showcases, artists or conference panels they'd like to attend during BreakOut West 2017, however the latest version features a more business-integrated approach. The inclusion of career information and event goals from each artist, and a direct messaging component make it easier for attendees to communicate.
The app also updates and delivers relevant content to users based on their favourite artists and geo-location within the event, and maps out showcase venues in Edmonton. Thanks to the app developers at Greencopper, the BreakOut West 2017 app is free for download and available for both iOS and Android phones and tablets.
Extending both the reach and the value of BreakOut West through online engagement helps make possible the goal of developing the careers of the artists and the industry in western Canada, and it wouldn't be possible without the support of FACTOR, the Government of Canada and Canada's Private Radio Broadcasters.
"FACTOR has had a long standing commitment to developing digital platforms for marketing Canadian Music," said FACTOR's Duncan McKie. "Funds administered by FACTOR and provided by the Government of Canada through the Canada Music Fund have supported a wide variety of initiatives that extend the reach of Canadian music events to both domestic and foreign markets. This is another great example of that funding at work."
Registration is open now for the full BreakOut West experience, for those who wish to attend the conference, festival and concert as a packaged deal. Festival wristbands and kick-off concert tickets will go on sale June 15, along with the announcement of the first wave of festival artists.