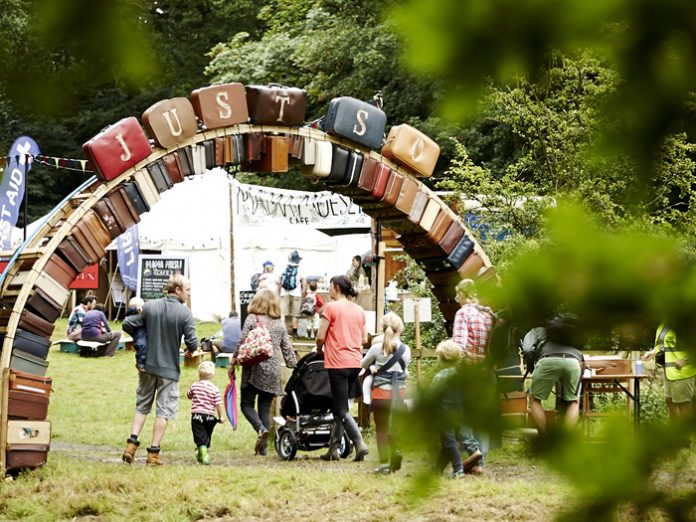 UK: This year Just So Festival will have a new area for children aged 8 and older, created in association with acclaimed current affairs magazine The Week Junior. The Forgotten Courtyard will be set in Rode's Italian Garden and will provide workshops, 'provocations', debates and talks.
Now in its 8th year and recently awarded Best Festival by the National Outdoor Events Association, Just So is an annual, intimate, weekend-long festival – and touts itself as the only arts camping festival in the UK dedicated solely to children and their families.
The area launched alongside The Week Junior will comprise a packed programme of events, including photography and writing workshops and the chance to take part in a topical debate with The Week Junior team.
Some of the UK's favourite children's authors will be leading interactive sessions revealing more about the creative process behind their storytelling and sharing the best new books out this year. Blue Peter book award-winner Kieran Larwood will be providing guidance on how to invent a world and design a fantasy world map, and joins Costa Children's Book Award shortlisted Ross Montgomery on an interactive discovery session exploring his stories.
Mike Brownlow will be sharing the process of making a picture book, how his ideas are generated, and how to get started making stories. Furthermore, Froggicorn author and illustrator Katy Jones will be leading a session on devising strange creatures culminating in the creation of a brand new Extraordinary Beast.
There will also be talks and interactive sessions across a variety of topics with Amy Wilson, Sarah Mussi, Matt Dickinson, Corin Bell, David Gibb, and researchers from the London School of Tropical Medicine.
Sarah Bird and Rowan Hoban, Directors of Just So Festival, said: "We are huge fans of The Week Junior and are thrilled to be working together to present The Forgotten Courtyard. It will give our older Just So family audience the chance to experience some incredibly stimulating events which will complement the other adventures perfect for curious minds across the festival site such as evening lakeside cinema, learning bushcraft, circus, dance, singing, yoga and tai chi skills, staying up late for the midnight feast, dancing to bands on the footlights stage and experiencing some of the most exciting new outdoor theatre and comedy shows in the UK today."
Anna Bassi, editor of The Week Junior, said: "We are delighted to be joining forces with Just So. The festival's brilliant and inspiring mix of events and experiences will provide the perfect accompaniment to our workshops. We're looking forward to welcoming curious young festival-goers to The Week Junior's walled garden and hearing what they have to say!"
Just So Festival will take place from August 18 – 20 at Rode Hall in Cheshire.