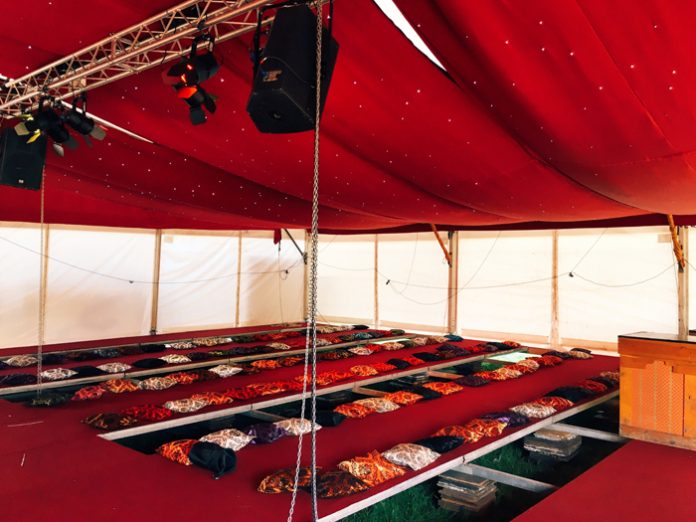 UK: Arribar!, part of the Eventist Group, has won its ninth contract with Glastonbury Festival and will return to Worthy Farm with two themed bars: The Chameleon and Rock the Kasbah.
The bars, located along the main road between major stages, will offer unique experiences to festival-goers throughout the five-day period.
The Moroccan themed Rock the Kasbah will be decorated with rich colours and fabrics to give revellers a taste of Marrakech. Floor cushions, authentic music, large lowered tables, and a star-lit ceiling complement the area's friendly and informal atmosphere.
With its colourful interior and quirky furniture, The Chameleon will transform from a chilled out daytime zone to a club hot spot as the sun goes down and features a silent disco. A resident DJ will play music until the early hours allowing guests to party after the headline acts have finished.
Both bars are open from 10am and will serve a variety of drinks such including beer, cider and spirits. Indoor and outdoor spaces are available at both venues so guests can enjoy themselves regardless of the weather.
Tim Stevens, Managing Director of Eventist Groups, said: "The themed bars have been hugely popular in previous years and we are delighted to be back at Glastonbury Festival once again creating unique experiences for festival-goers. Feedback from guests is always fantastic and pays deserved tribute to the hard work and dedication of the Arribar! team."
Arribar! provides and operates bars at a wide range of functions from sporting events to music festivals, offering full bar management from design concepts to theming, scenery and catering. It is supported by sister companies Best Parties Ever and Tapenade, all of which are part of the Eventist Group.