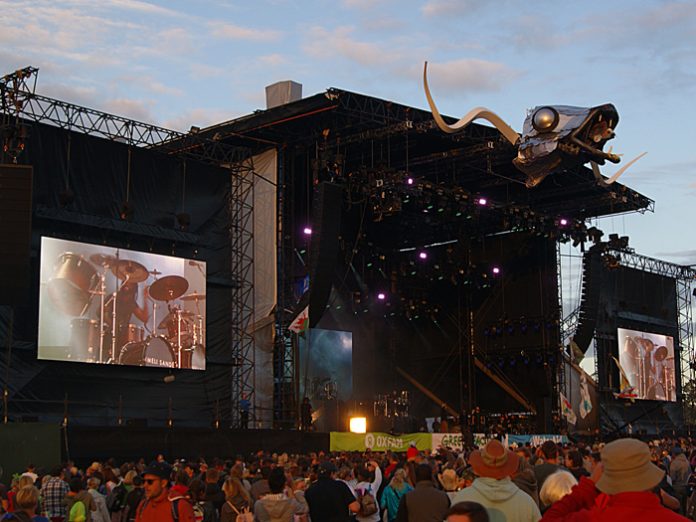 UK: Glastonbury contracted Serious Stages to design and manufacture a new version of the Other Stage for this year's festival, which took place from June 21 – 26 at Worthy Farm in Somerset.
Dedicated to improving the festival experience for artists and fans, the organisers' long term relationship with Serious Stages made them the obvious choice of contractor to create a new look Other Stage to accommodate the large scale incoming band productions form the likes of Stormzy, Major Lazer and Boy Better Know.
This four-tower, 25m TZ roof featured a sloped back to give extra on-stage storage for artists and production, along with clear-span wings creating a much improved working area with increased space for the incoming productions. An offset leg design on the rear of the goalpost created the space for the side-shed. The main deck, rear shed, side wings, ramps and underworld also offered improved performance and working areas and presented extensive loading facilities for crew.
With a total height of 20m and an overall width of 70m, the stage was complete with the Other Stage's iconic art installation, which this year took the form of a metal fish sat on the front of the 6m cantilever roof.
Serious Stages' Max Corfield commented: "As one of the biggest events in the global festival calendar, we were hugely exited to launch our new stage at Glastonbury Festival and be able to enhance the experience for artists, production teams and the audience. It is technically and aesthetically another progression in our range of large stages.
"We worked closely with the Glastonbury team to create this new stage, which was designed by our in-house CAD team and manufactured by our engineers at our head office in Somerset. Our project manager, Simon Fursman, was crucial to the installation. Whilst we utilised as many components of our existing TZ roofs, he guided the onsite team through the new elements within this system and ensured this new stage was constructed to the highest standard."
Serious Stages has been working with Glastonbury Festival for over four decades and for the 2017 edition it once again supplied almost 60 structures which included the flooring and trussing on the Pyramid Stage, the four main stage roofs, most of the dance tent stages including the John Peel Stage and the Sonic Stage, the Ribbon Tower, plus multiple structures throughout the festival site including camera runs, media platforms, front of house structures, accessible viewing platforms and structural supports. Building on the success of last year, Serious Stages once again worked directly with the BBC to design and build a 12.6m x 17.4m media studio, complete with a presentation platform which overlooked the entire site.