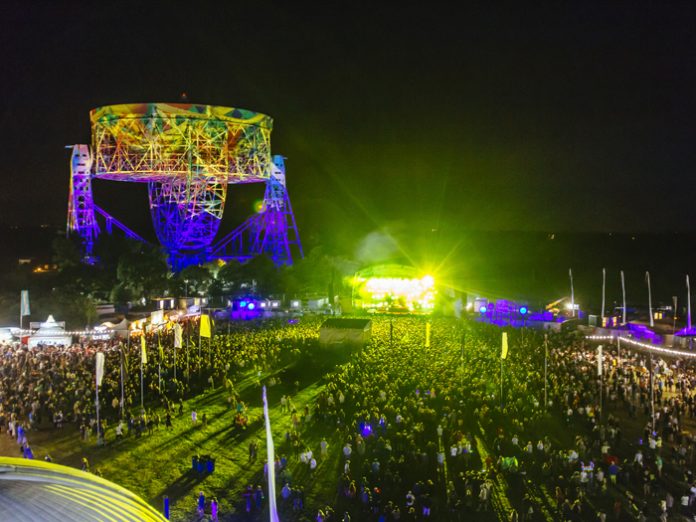 One of the coolest German words that we lack a direct equivalent for is Gesamtkunstwerk, roughly defined as a 'universal work of art'. Distinct from a masterpiece, it instead denotes a piece of work in which each individual aspect communicates the same theme or set of ideas, where its creator has consciously oriented every tool at their disposal in the same direction. There are few festivals that can lay claim to the word, and even fewer organisers pretentious enough to want to, but if bluedot were so inclined they'd have a pretty strong case.
The festival's sophomore edition took place from July 7 – 9 at Cheshire's Jodrell Bank Observatory, a site whose cosmic ambitions and scientific infrastructure are capitalised and expanded upon across almost every element of the event. The organisers' penchant for all things innovative and exploratory is evident in the music curation, the comprehensive science and education programme, and even the visual focal point of the festival – the colossal Jodrell telescope – which is appropriated as a canvas for a specially commissioned art installation each year. They've even dubbed the food area the 'g'astronomy village'.
Insights spoke with festival Director Ben Robinson about how bluedot built upon its foundations for 2017, whether more festivals should attempt to engage with political issues, and more.
Festival Insights: We last spoke at the inaugural Bluedot in 2016. How did you feel about the debut event, and what areas have you strived to improve and expand upon for 2017?
Ben Robinson: I'm incredibly proud of the team that worked together on the first bluedot to create such a unique and seamless event in such a short space of time. Watching the combination of talks, comedy, music, art and interactive experiments all come to life beneath the inspiring presence of the Lovell Telescope was spectacular.
This year we dramatically increased the arts programme with support from Arts Council England. The Arboretum has been bustling with digital and fire based installation works and we have extended the hours of that area until 4am. We also had an opening parade featuring international performers from the French company Compagnie de Quidam's.
The science programme has expanded to have more hands-on workshops and experiments as the audience reacted really well to those last year.
FI: Last year's festival utilised the Lovell Telescope as the canvas for an evolving art installation courtesy of Brian Eno. How have you carried on that tradition this year?
BR: We are thrilled to have had Japanese artist Daito Manabe create a new piece for the event. Manabe is an artist and programmer who has worked with artists such as Bjork, Nosaj Thing and Squarepusher. Manabe was acclaimed internationally as one of the eleven key persons, including John Maeda and Hans Zimmer, selected for a special website to celebrate 30 years of Mac by Apple.
In a world first, he has used live astronomical data to projection map the telescope and has created a soundtrack to accompany it. Both the visuals and the music have incorporated live Pulsar data captured by the Lovell Telescope.
We see this collaboration between world leading scientists and the award winning international artist as the centrepiece of bluedot's remarkable fusion of art, technology and the exploration of space.
FI: Bluedot it quite a rarity due to its equal precedence between music and non-music programming. What have you had going on in the latter area this year?
BR: This year we have introduced 'The Planet Fields' which is focused on climate change and the planet. From the vanishing glaciers of Everest to thoughts on how climate change will effect the UK festival season and interactive art installations, it has proven to be a fun packed area with a meaningful message.
The programme is underpinned with the search of the skies above us. We have had Dallas Campbell presenting an illustrated guide to leaving the planet, plus Mike Garrett speaking about the search for extra terrestrials (SETI) and how signatures of advanced civilisations may present themselves in astronomical data.
For the 40th anniversary of Star Wars we also had a geek out Q&A with the original Darth Vader, David Prowse, and the sculptor of the famous mask, Brian Muir.
FI: Could you tell us about some of your personal highlights of the music line-up and how they fit into the exploratory, cerebral themes of the festival? You mentioned last year that you made a Spotify playlist of all the acts to make sure they fit together conceptually. Did you do the same this time?
BR: We began speaking to Orbital about the show and nudged them into a comeback after a five-year break. They really fit the event as they were innovators in the production and live performance of electronic music and they have a very sci-fi edge too.
Vitalic is an exciting booking as he has just released an album called Voyager which is a slice of space disco befitting of the festival.
Radiophonic Workshop have joined us this year too and represent the forefront of pioneering work in electronic and sample based music. We also hosted a Delia Derbyshire day at the event to celebrate her influence on electronic music.
A personal highlight has been Anna Meredith, who I first saw perform at the Trans Musicales festival last year. Her fusion of classical training and electronic production is really exciting. Her live set up included clarinet, cello, tuba and guitar, and it came out like a more psychedelic Bonobo.
This year we also staged the debut live show from Rogue Emperor, featuring Jupp (Elbow) and Rebelski (Doves) who were at last year's festival and have since formed a live electronic band. They approached us about performing their debut at bluedot as they were inspired by attending the event as punters.
The list is endless as each booking was hand-selected to fit the event concept; from Comet is Coming to Hawkwind there is a cosmic or innovative edge to all the acts involved.
FI: Bluedot concerns itself with pressing global issues, such as climate change and the effects that Fake News will likely have on democracy. Do you think the events of the past 12 months will encourage festivals to become less singularly focused on hedonism and more likely to engage with the wider world?
BR: There is no doubt that the last 12 months have seen a dramatic change in the focus of audiences in their daily lives. Festivals should still offer escapism and I think bluedot allows people to see things differently, discover new perspectives and explore new ideas. We hope that people then have more to take home than a hangover and that the experience of the festival can bring changes, however small, to their lives and to the world.
FI: In March, Bluedot co-produced a show with Convergence and Noise of Art for a revival of the BBC's Radiophonic Workshop. Do you have plans to stage more of these one-off collaborative shows? And how much value do you think it adds to a festival brand to work on these kinds of year-round gigs?
BR: This was a very fitting hook up for us. We noticed Convergence as an event was exploring similar themes to bluedot and made contact to see how we promoted to each other's audiences. I think working together with other like-minded events is a good thing as you can learn from each other of a creative level and also cross promote to audiences.