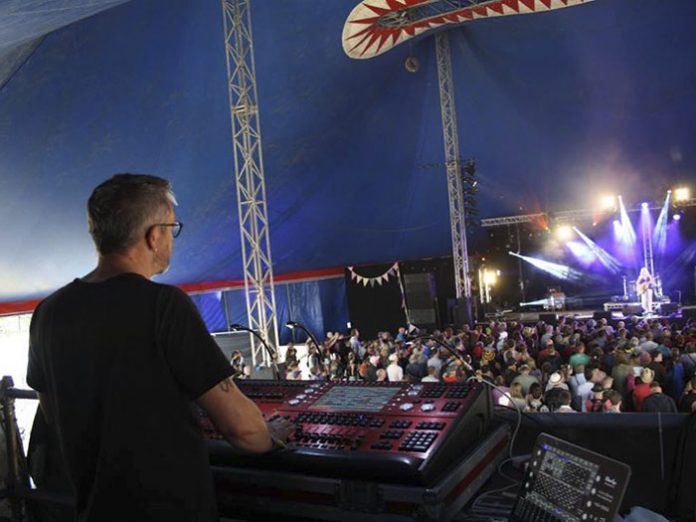 UK: ChamSys consoles were present across numerous stages at Glastonbury festival this year, supporting acts from the Other Stage all the way to the Silver Hayes WOW Stage.
"We had some good things going on at Glastonbury this year," said James Harrison, Support Manager at ChamSys, who along with Software Engineer James Crickmere and Personality / Support Specialist Dan Coombs, represented the company at the five-day event. "There were a wide variety of our products at the festival, used in a wide range of different applications – and I'm pleased to report that everyone we spoke to was extremely happy with their performance."
A MagicQ MQ500 Stadium served as the house console and was available to all touring LDs on the Other Stage, which was supplied by Neg Earth Lights. Another MQ500 served as the console on the Bloc 9 Genosys structure supplied by Coloursound Experiment. Both were enthusiastically received by lighting designers and programmers. "Jason Hyne, LD for the Kaiser Chiefs, usually uses his own MQ80, but he worked with the MQ500 console on the Other Stage and was very happy," said Harrison.
At the Park Stage, a MagicQ MQ500 Stadium, supplied by South West Group Events, excelled as the house console. "The two HD resolution multitouch displays on the MQ500 were great for setting up layouts," said Steve 'Mac' McCracken from South West Group. "You've got plenty of real estate to have everything at your fingertips without having to change between multiple layouts."
A MagicQ MQ80 console and extra wing supplied by Fineline Lighting was used to visually complement electronic artists at the Silver Hayes WOW Stage. In addition to working wonders on the WOW stage, the MagicQ MQ80 served as the house console on the BBC Introducing Stage and Left Field, both supplied by South West Group Events. Another ChamSys console, the MagicQ MQ200 Pro2014, supplied by GLS Lighting, was deployed at the Avalon Stage.
Visiting LDs also brought their own ChamSys consoles with them to Glastonbury. The LD for Little Dragon, Jonezy Lights Jones, worked on the West Holts Stage, touring with his own MQ80 console and extra wing. Peter Zellan, Father John Misty's LD, used his own MQ80 and extra wing on the John Peel Stage. Other visiting LDs using ChamSys included: Josh Mansfield, who ran the show for Future Islands on the John Peel Stage with his MQ80 console; Mark Hilditch, who brought his own PC Wing setup to the John Peel stage for Cabbage; Matt Waterfield, who relied on an MQ80 with an extra wing setup for Joe Goddard at the Park Stage; and Manuel Rodrigues, who called on his MQ80 console for Noisia's performance on the Silver Hayes Sonic Stage. LD Olly Suckling and board operator Mark Hilditch used the MQ 500 in their work for Temples. Suckling also used the MQ500 console for Circa Waves on the Other Stage.
Looking back at his Glastonbury experience, Harrison expressed pleasure with the performance of the ChamSys products: "A five-day festival calls for versatility, performance and reliability on the part of a house console," he said. "The MagicQ Stadium MQ500 showed that it was more than up to the task at Glastonbury."