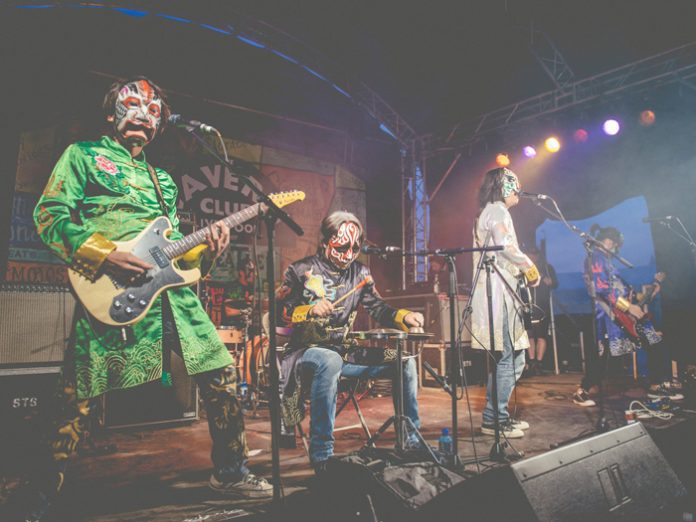 UK: Sound City, the award-winning metropolitan festival of live music and arts, will take place from May 5 – 6 2018. Returning to its roots, the festival will move back to Liverpool city centre in a yet-to-be-announced venue.
The next edition of the festival promises to repurpose a 'pioneering location', offering a much more intimate experience with the chance to discover hundreds of new artists and experience headline acts across myriad spaces.
As ever, Sound City 2018 will deliver the very best of breakthrough acts and major names both from the UK and abroad, as well as a host of independent record label parties and showcases, collaboratively working with a broad range of innovative partners. 2018's programming will be partly curated by special guests including Glastonbury's Silver Hayes, Kendal Calling, Bluedot, Greg Wilson, Domino, Moshi Moshi and many more, representing an even wider range of music and arts.
Artist applications for Sound City 2018 will be open soon for anyone wishing to perform in May 2018, with more info from the festival to follow next week.
Sound City COO Becky Ayres said: "We delivered three hugely ambitious and successful years of Sound City on the north docklands of the city. Sound City was the first to shine a beacon on this neglected area of the city and, by doing so, we've even encouraged Everton FC to relocate to our former festival site.
"We now feel it is time for us to come back to the city centre and embark on the next stage of our journey. 2018 will all be about re-establishing new links and a new feel. This will also lead us into the hugely ambitious plans that we have for 2019, which will be revealed over the coming months."
With almost, 7,000 bands having applied to play at Sound City 2017, next year will see a panel of acclaimed regional, national and international curators bolster the selection process.
Previous years have seen the likes of Ed Sheeran, Royal Blood, Jungle, Jake Bugg, Catfish & The Bottlemen, Bastille, The Kooks, The Kills, Gil Scott Heron, The Human League and John Cale perform.
New for 2018, Sound City Satellite will take the globally acclaimed Sound City model to key towns between Manchester and Liverpool as well as along the M62 corridor in the North of England.
The Sound City team will work with key stakeholders in each location such as promoters, record labels and artists to design and deliver a targeted business conference and live music programme. They state their core aim is to shine a national and international spotlight on these towns, demonstrating their business, creative and cultural credentials to a national and international audience.
Sound City CEO David Pichilingi said: "If there's one thing that Brexit taught us, it's that there is a sense of social disenfranchisement between the significant suburbs that lie between the cities of Liverpool and Manchester, and along the M62 corridor. This should not be the case when you consider that this great region has been responsible for some of the most important pieces of pop culture over the past 50 years. Going back further, the region has been responsible for some of the greatest innovations of the 20th century.
"Sound City Satellite is a hugely ambitious project. It strikes right at the heart of what we originally set out to do: to champion emerging business and artistic talent from our region and give them the belief that they do not need to move away in order to fulfil their potential and run successful businesses. The aim will be to foster a spirit of inclusion. That we are all in this together. It is not meant as a snub to London, but it is meant to help people view the bigger picture as well as encourage artists and businesses to stay in the North and build a real business economy outside of the capital."
Instrumental to this initiative were Andy Burnham and Steve Rotheram, the two Mayors of the Manchester and Liverpool city regions.
Steve Rotheram said: "Music and the music industry have always straddled the rivalries between our two great cities and have flourished in many towns across our region. It's an expression of a shared creative DNA that has continued to nurture and launch world-class talent. This is a great idea and a great opportunity to celebrate and enjoy something that unites us."
Sound City Satellite will take place during April and May 2018. Key town locations will be announced in January 2018.
The Sound City+ business conference will be a precursor to the Liverpool Sound City festival and will take place on May 4.
Over the past 10 years, Sound City+ conference events have been responsible for generating in excess of £25 million for the UK music business economy both on B2B and B2C initiatives. The 2018 programme will aim to build upon this success and bring an even deeper and wider business experience to the city.
Conference Director Jo Whitty said: "The conference programme will be packed with the usual mix of influential music names and innovative panels and programmes. We will work closely with our national and international partners to encourage even more business to come out of it as a result. Our core aim is the same as it was when we started, that is to offer an environment to foster belief in the region and encourage business to stay here in the North."