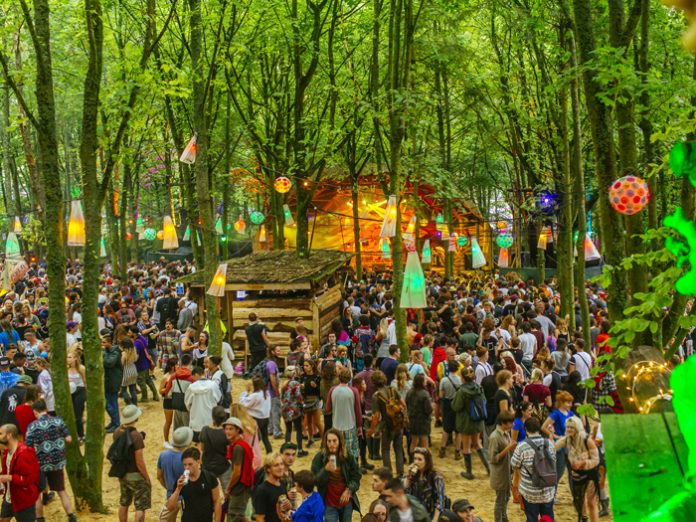 UK: Hampshire's Boomtown Fair has raised a record breaking £116,303 for charity in 2017, with £32,000 going directly to charities and projects in its local area.
The 60,000 capacity event that attracts attendees, musicians and artists from all over the world was also hailed a success by the Cabinet Office for its positive contribution to the region's wider local economy, who took to Twitter to show their support. The continued and growing popularity of the festival drives many people to the area and has positioned Boomtown as a perfect stage from which the local area can expose its areas of natural beauty, cultural and visitor attractions to thousands of additional tourists.
Boomtown has made Matterley Estate near Winchester its home in 2011 and over the years have worked with and donated to numerous local and national charities. 2017 saw the event expand its charity networks even further by teaming up a record breaking number of charities including local organisations such as Street Reach, Hampshire Air Ambulance, Trinity Winchester, Naomi House, and the South Downs National Park Trust, to name just a few.
The festival's main charity partner for 2017 was Winchester based youth outreach organisation, Street Reach. Working directly with vulnerable and disadvantaged youth in Winchester, Street Reach will receive £8,702 directly from the optional £2 donation customers can make when they purchase their tickets. This will help fund its weekly outreach sessions, youth club nights, drop-in projects and trips that are offered to young people in deprived Winchester communities.
Ben Martin, Project Manager at Street Reach, commented: "We are absolutely thrilled by the amount that was raised by Boomtown and we would like to thank everyone that made a donation to Street Reach. Through our partnership with Boomtown we involved young people working with us in their drop in arts workshops and we were able to take a group of young people on a unique and inspiring back stage tour of the festival. The donation will enable us to continue supporting young people in need and those experiencing disadvantage through our outreach work across Winchester."
Through the long-standing stewarding partnership, Hampshire and Isle of Wight Air Ambulance will receive a donation of £8,148 to support their vital services in the area.
For the second year running the guestlist donations collected at the entrance gates were supplemented by Boomtown to raise £10,000 for the five parishes that border the festival site. The parish councils are required to invite parishioners to suggest where the money would be best spent to benefit their wider community. The 2016 Community Support Fund was allocated to vital restoration projects, contributed to broadband technology, footpath and wild plant replanting schemes and helped purchase equipment for play areas, local clubs and schools.
Supporting local businesses and communities like this is a huge part of Boomtown's ethos and in the lead up to the event the festival worked on a number of outreach projects in the Winchester area, including Naomi's House, Trinity Winchester, and Cheriton Primary School which were held at Winchester Discovery Centre by hosting interactive carnival music, theatre and costume making workshops to be a part of the vibrant Kidztown Carnival at the festival.
Other locally focused initiatives this year included the introduction of the first ever Hampshire Farmers' Market at the festival, putting local food traders into the spotlight, giving them a chance to showcase a range of local produce and artisan goods to the 60,000 visitors. These included food traders from Mrs B's Bees, Broughton Water Buffalo, Cupcakes mmm Cookies, Baker Boys, Turner & Hardy Co, to Hampshire Pantry.
Another close to home collaboration for this year saw the South Downs National Park Trust running one of the forest school sessions in the Kidztown area, teaching those in attendance about the local wildlife that can be found within the Area of Outstanding Natural Beauty that is the SDNP.
In addition to the money raised for local specific charities, £84,302.50 was raised for national and international charities, with £49,009 raised via the Oxfam Stewarding Partnership plus a further £13,000 through their onsite shop in Mayfair. My Cause, a multi-charity stewarding organisation, collected just over £10,000 for a over 1,600 different charitable organisations.
Other charities in attendance included:
The Rose Road Association raised £1,020.72
Greenpeace had a stall in Whistlers Green area to raise awareness on the global projects raised £5,500
TEMWA, (Malawi Charity) ran the festival's on-site Lost and Found and information stands, raising £5,000
Love Specs had a stall and workshop and raised £1,540 to help projects and communities in Malawi
Energy Revolution – collaborative festival venture to minimise the carbon footprint of festivals raised £927.50 via ticket donations
The Purple Community Fund's on-site stall in Whistlers Green raised £866 to help the Philippines break the cycle of poverty through education, welfare and livelihood programs
The Samaritans were on-site and provided a safe place for anyone who wanted to talk helping them to forge their own path
Long Live South Bank were fundraising to restore sections of the legendary skateboarding spot, the Southbank Undercroft
Safe Gigs for Women were on the ground providing support to women who face gender equality issues with interactive workshops and support
"Being able to raise vital funds and awareness to support a wide range of charities, community projects and those most closely located to the festival is something we are really committed to. We're so pleased to have worked with so many organisations this year and really look forward to involving and developing relationships in the future.
The festival is currently on the lookout for its local main charity partner for the 2018 event. If any Winchester or Hampshire based charities would like to apply, or residents would like to make a suggestion, you can get in touch here.
Boomtown will return to the Matterley Estate from August 9 – 12 2018.