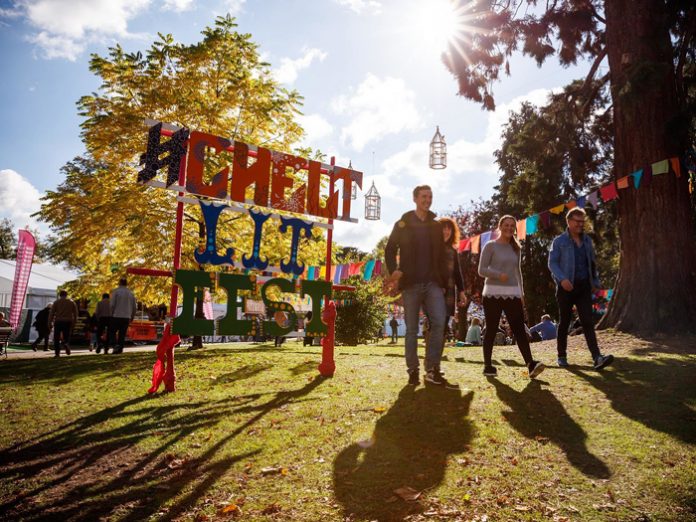 UK: Cheltenham Literature Festival enjoyed the most successful edition in its 68 year history in 2017, breaking box office records with over 134,000 tickets issued, 20,000 attendees on each of the festival weekends, and over 6,000 visitors to the site every week day.
Cheltenham Festivals Director Ian George said: "Heading up the Cheltenham Literature Festival for the first time has been an incredible experience. Our new Festival site has been a resounding hit, with Festival-goers enjoying the street food, new family areas and more late night events than ever before. I'd like to pay tribute to the amazing effort from the programming team to put together a Festival with such breadth and depth, ensuring that Cheltenham remains the only place to be each autumn."
In her first UK appearance since the US presidential election, Hillary Rodham Clinton gave a revelatory interview with Mariella Frostrup and received a standing ovation from the 2,000-strong audience.
Ostensibly with a straight face, Clinton blamed her election loss on sexism, saying: "The only way we'll get sexism out of politics is to get many more women into politics." Talking about her book, What Happened, Clinton said: "I'm not leaving politics…I have a lot to say. I'll continue to say it. I'm not shutting up and sitting down."
Literary greats at The Times and The Sunday Times Cheltenham LIterature Festival included Salman Rushdie, Alan Hollinghurst, Sarah Waters, Ian Rankin, Amit Chaudhuri, Joanne Harris and Roddy Doyle, alongside poets Jackie Kay, Lemn Sissay and Hollie McNish. In its annual Man Booker celebration, the Festival welcomed three shortlisted authors: Ali Smith (Autumn), Emily Fridlund (History of Wolves) and Fiona Mozley (Elmet). New literary voices included some of 2018's most promising authors showcased in Proof Parties by Canongate, Two Roads and Vintage, while the Borough Press First Novel Prize was launched at the Festival.
Current affairs had a strong showing, with Robin Niblett of Chatham House curating debates on Russia, China, America, Europe and Brexit, bringing authoritative voices for their first appearance on the Cheltenham stage. Other political names appearing at the festival included Nicky Morgan, Craig Oliver, Stanley Johnson, Vince Cable, Jacob Rees Mogg and Jess Phillips.
BBC Radio 4 fans were in for a treat as the Festival celebrated 60 Years of Today with a behind the scenes film filmed specially for the Festival by Today presenter Justin Webb. Sunday morning's Broadcasting House came live from Cheltenham Town Hall on October 8 and the Festival even made it in to The Archers storyline with two of the characters attending the Festival on the popular BBC Radio 4 soap.
National treasures were in abundance: Alan Bennett presented the inaugural David Vaisey Prize to a Gloucestershire library; the audience sang Happy Birthday to Nicolas Parsons who was celebrating his 94th birthday; Mary Berry signed 900 books in two hours and Michael Parkinson closed the Festival looking back over his career in conversation with his son Mike.
The Festival saw more free family activities than ever before. Illustrator Jim Field took part in five events as well as creating the artwork for the Family programme while Lucy Cousins created a mural with the help of children visiting the Festival and Children's Laureate Lauren Child talked about the importance of children having the freedom to discover creativity for themselves.
Cheltenham Literature Festival's popular Lit Crawl returned again this year. Over a thousand people took to the streets, enjoying spoken word, music and comedy in surprising spots around town, with several events proving so popular that people were turned away at the door.
9,000 school children experienced the Festival, (20% more than last year) receiving inspiration from writers and illustrators including Tanya Landman, Michael Rosen, Anthony Anaxogorou and Alexis Deacon. The Festival launched a new national poetry project Words That Burn developed in partnership with Amnesty International UK and The Poetry Hour and the second year of its flagship Reading Teachers = Reading Pupils outreach project, enabling teachers and their pupils in 36 schools to rediscover the joy of reading.