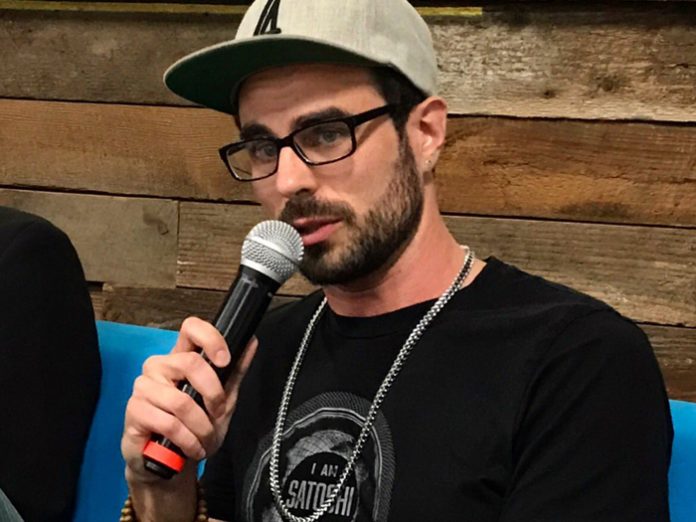 Jason Robert is the co-founder and CEO of HelloSugoi. In June 2017, he launched the world's first blockchain-based event ticketing platform. He is also the co-founder of the popular 'Real World Blockchain' Meetup. As an active educator and community builder, Jason has facilitated numerous public speaking engagements on the topic of blockchain and event ticketing, including appearances at the UCLA Anderson School of Management, Innovate Pasadena, BlockCon, and SF Music Tech Summit.
2017 will go down in blockchain history as the year that moved the needle within numerous industries. While the cryptocurrency, Bitcoin, has flooded the news channels and increased in worldwide awareness, it is blockchain that is the solid and steadily rising star.
The reason this technology is expected to revolutionise nearly every sector is the decentralised nature of its architecture: a distributed database (also known as a distributed ledger) that holds data records on countless computers across the globe, so no one party controls it. Once a record, like a financial transaction or patient record entry, is written it is validated and distributed to all those computers in the blockchain, making it impossible to change, enabling data integrity, trust, and transparency.
The process also incorporates high-levels of encryption, which combined with the other factors, is why major financial institutions like CBOE and CME Group have announced their commitment to blockchain, moving from a position of speculation to plans for real-world applications.
It's also a self-preservation move. You see, the disintermediary, peer-to-peer nature of blockchain, enabling me to buy from you, or you to buy directly from your favourite band without a bank or even Venmo, could eliminate banking's middleman reason for existing.
Startups and companies across the globe are developing blockchain-based initiatives and solutions aimed to revolutionise insurance, the supply chain, adtech, education, government, healthcare, and the entertainment industry.
While we're still in the early days and stages of the who, how, and when, blockchain will reinvent nearly every business and sector in every country. This year the signs have shone much brighter than ever before.
The Entertainment Industry is Overdue for a Power Shift
With the increased adoption and availability of music streaming services over the last few years, the RIAA reports that the first half of 2017 saw music retail revenues reach $4 billion in the US, with streaming music services accounting for 62%, almost double what it was in 2015 at 33%. This is only after services like Spotify were able to reach licensing agreements with the major record labels who may have learned a monetary, 'can't beat 'em, join 'em' lesson post-Napster.
Today the recording industry has returned to higher levels of revenue and profitability. According to Music Business Worldwide, Universal Music Group (UMG) reported $1.6 billion in streaming revenue, a year-over-year increase of 23.2%. Music Business Worldwide predicted the three major labels – UMG, Sony, and Warner Music Group – would report $5 billion in streaming sales by the end of 2017.
This is all great, right? For the music labels, yes indeed. For artists like Taylor Swift, who continues to wield her power, absolutely. For the majority of artists that spend money and time writing, recording, and producing the music, it's more like pennies versus billions, so the legacy of imbalance in the record business remains solidly in place.
Then there is the songwriter royalty issue. Spotify, Tidal, Deezer, and other music streaming services have been plagued with lawsuits costing them hundreds of millions of dollars for unpaid mechanical royalties due to gaps in song attribution data (or so they say).
When it comes to live events and ticketing, there is a multitude of issues.
Ticket fees can range from 25% to 50% on top of the listed ticket price. The secondary ticketing market, made up of brokers and scalpers selling tickets to fans at highly inflated prices, is estimated to be worth $8 billion dollars or more worldwide. There have been rampant accounts of fraud, with fake tickets making up to 20% of tickets listed on secondary market platforms.
There's also a lack of transparency in ticket allocation. It's become common practice for an agreement between promoters, management and even artists to withhold a percentage of tickets for sale to the public in the primary market in order to sell them at a marked up rate on the secondary market.
"Ticket resale is a curious and unique market in lots of ways because any other peer-to-peer online marketplace is usually based around some semblance of transparency and trust between buyers and sellers," Adam Webb of FanFair Alliance, told The Independent. But the big four secondary ticketing companies in the UK – Seatwave, GetMeIn (both owned by Live Nation), Stubhub, and ViaGoGo – anonymise the sellers, and "that's a massive issue," according to Webb.
2017's Watershed Blockchain Moments
As with the other market sectors, the entertainment world is seeing signs of blockchain breakthroughs, and this time artists are playing a part in the market shifts being made.
Composer, inventor, performer, investor, creative technologist, and Grammy award winner, Imogen Heap, was one of the first artists to map out plans for a blockchain-based music ecosystem, Mycelia, a non-profit collective that not only aims to solve the song attribution data, but deliver artists numerous additional data points. "It's so, so important to be able to know where your fans are, what they are listening to, what is exciting to them about what you are doing," she told Quartz.
Similar to how we think of fair trade products, be it coffee or other goods, 'fair trade' music like Heap's 2015 single 'Tiny Human', sold through sites like Ujo Music, delivers revenue directly to all those involved in the song's production, from writers and studio musicians, to engineers and producers. Going through the blockchain, fans or even fellow producers can not only buy the song from Ujo with the cryptocurrency based on Ethereum blockchain, Ether, but also the song's key, tempo, and stems, which addresses the rights clearing issues often incurred when artists use samples.
Always the musician pushing the boundaries of innovation and technology, this month Björk introduced her new album Utopia but with a twist. She teamed up with British blockchain startup, Blockpool, creators of a crypto-checkout plugin, to enable fans to pre-order the album with cryptocurrencies including Bitcoin, Litecoin, Dashcoin, and Audiocoin (they can also buy it with credit / debit cards or Paypal). As a bonus for their pre-order, they automatically receive 100 Audiocoins and earn even more rewards by continuing to interact with music Björk releases, her live events, and any other digital activities she may cook up.
"People have done things with crypto and artists before, but this is the first time a global artist has done anything like this," Blockpool CEO, Kevin Bacon, told Musically.
Gramatik, the New York musician, DJ, and producer, launched his own cryptocurrency called GRMTK through a token sale earlier this month in Zurich, raising the equivalent of $2,480,000 million dollars, or 7,500 Ether. The GRMTK token is designed to include his fans in his success, receiving a percentage of rights and royalties to the music and projects he creates based on their investment.
Earlier this summer, RAC broke new ground by releasing the first-ever full-length album, EGO, to be sold on the Ethereum blockchain by partnering with Ujo. The process of selling directly to the fan free from any intermediary, including Bandcamp or Paypal, reminded him of the early days when he would use BitTorrent's peer-to-peer transactions for his music releases. "The music side applies to me directly right now, but I can see this being applied to everything," RAC told Motherboard.
How Blockchain Will Transform the Events Industry
Testing the waters and putting blockchain technology to the test, as Björk, Gramatik, Imogen Heap, RAC, and others have done thus far in music and in other industries is critical to providing proof of concept projects to the public and moving the development needle forward, learning and making improvements with each step.
This is why I and my co-founder Angello Pozo, have developed and made our ticketing platform available for event organisers to use and accessible to people to buy tickets to their events using Ether. Since June of 2017, the HelloSugoi platform has allocated over 1,400 tickets to almost a dozen events all over the world, from Shanghai to New York City.
By leveraging blockchain technology, we can reduce ticketing fees to a more reasonable level and recapture that lost secondary market revenue. By taking advantage of the cryptography inherent within blockchain, we can essentially eliminate fraudulent tickets.
It's important to note that Ethereum smart contracts are built into each transaction, providing added benefits beyond the function of a cryptocurrency like Bitcoin. In the live events industry, if a food and beverage vendor enters into a contract with the event organiser through an Ethereum-based transaction, a smart contract code can be written for that vendor to automatically get paid once they've delivered the agreed upon services. The same goes for the artists getting paid by a venue or festival, or any other business-to-business agreement.
Trust is established between the two parties since the transaction is transparently processed by the algorithm within the blockchain, not by a human who could potentially delay payments or change the agreement to their advantage. Because of the peer-to-peer architecture, disintermediation provides additional cost savings while preventing payment processing delays typically experienced with today's banking transactions.
Our solution will align the economic relationship between artists, event organisers, vendor services, and consumers, which today is severely off balance. The allocation of tickets to both the primary and secondary market can be established in a transparent manner, including the definition of revenue splits between all event stakeholders.
We fully realise there are hurdles to overcome to create seamless ecosystems and user-friendly interfaces without having to teach a ticket buyer or a music fan about blockchain.
Having had conversations with fans, RAC states: "The thing that gets people's attention is when you tell them how you're essentially cutting out middlemen. For a lot of people that's exciting because they're maybe tired of the 30% Apple takes [from musicians]."
When the internet went mainstream over 20 years ago, the world's population went through a learning curve, and adoption was fueled by continuous collaboration and innovation. 2017 year was definitely a tipping point for blockchain, and aside from the ICO hype, real progress has been made and those within blockchain communities like Ethereum continue to move developments forward at lightning speed.
But there's also that underlying desire and movement to upend centralised power and protected business silos, and move to decentralised societies and industries, both figuratively and literally.
"The ideals and philosophy of freedom and liberty for all artists, for all people," said Gramatik. "This is a movement of not only art, but of the mind and of the spirit."
Robert's recent and upcoming speaking events include:
Blockchain Summit in London, November 28, 2017 – "How is Blockchain Technology Disrupting the Music Industry?" which discussed how the technology will create a level playing field for musicians, instant and transparent access to royalties, while reimagining events ticketing and increasing engagement with the fan base.
XLIVE in Las Vegas, December 13, 2017 – "Blockchain: Understanding This Technology in Relation to Live Events", a fireside chat between Jason Robert of HelloSugoi; Spender Montgomery, Blockchain Partner Executive for Microsoft; and Timothy Karunaratne, Head of Business Development at Upgraded, Inc.