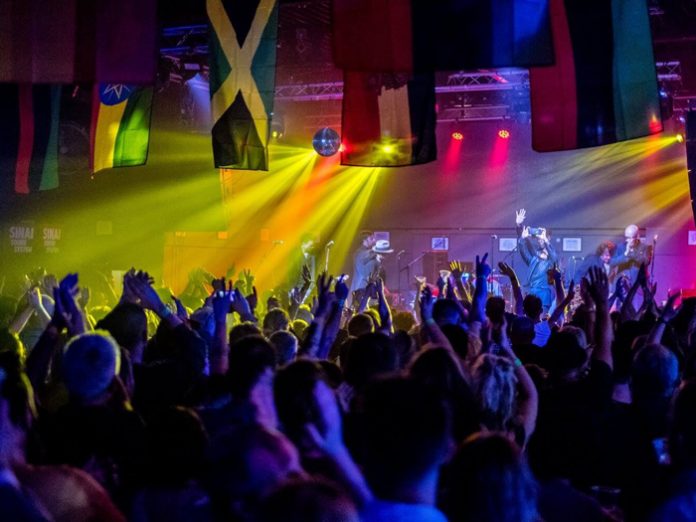 Positive Vibration – the UK Festival Award-winning celebration of reggae music and Jamaican heritage – will return to Liverpool's Baltic Triangle in June for a weekend of music, art, food, and cultural appreciation.
Insights spoke with Rory Taylor – founder of Positive Vibration – about the festival's development over the past few years, the unique characteristics of its home city, the challenges of appealing to a specific audience, and more.
Festival Insights: Positive Vibration launched in 2016 and was crowned Best New Festival at the UK Festival Awards that year. How has the festival developed since?
Rory Taylor: We actually hosted our first Positive Vibration event in 2013, but back then it was a much smaller affair – an afternoon event in the Kazimier Garden, Liverpool.
We've grown the event year on year, moving it to the Baltic Triangle in 2015. It was in 2016 that we made the big leap from small event to two-day festival.
Since winning the award, the festival has grown both in size and popularity. We've gone from hosting the festival in one venue to hosting it across three venues, three streets and a carpark. It now has a real metropolitan vibe to it.
Having a larger festival site has allowed us to book more artists, and more importantly, a real mix of artists, representing all facets of reggae music – from internationally renowned bands and legendary sound systems to the freshest new talent and industry trailblazers.
Reggae has a very tight-knit global community, which we are now seeing at the festival. Last year, we had people visit from Jamaica, the US, Argentina, Iran, Spain, Greece, Japan, France, Poland, Germany and Italy.
We hope to continue to grow the festival, as well as give reggae more of a platform in the UK.
FI: In recent years Liverpool has proven itself to be the host of one of the UK's most exciting and eclectic festival scenes. What is it about the city that makes it so hospitable towards events such as yours?
RT: Liverpool has an abundance of incredible festivals, some of which we have been fortunate enough to work with, including Africa Oyé, LIMF, Writing on the Wall and Liverpool Music Week.
There are a number of factors which contribute towards Liverpool's exciting and eclectic festival scene, most notably the people. The city is full of creative, innovative and forward-thinking individuals who make this all happen. We collaborate with one another, share ideas and cross-promote. We're very much a family of festivals. In terms of the festival-goers, people in Liverpool are always up for a party.
Liverpool has a rich and diverse cultural heritage. We have the oldest black community in the UK, the oldest Chinese community in Europe and a huge Irish community (3/4 of the population of Liverpool has Irish roots). There are also significant Greek, Italian, South Asian and Polish communities, amongst others. This melting pot of cultures has definitely influenced the eclectic mix of festivals we host in the city.
Furthermore, we're very fortunate in Liverpool to have numerous parks, green spaces, industrial areas and venues – all of which provide unique settings for festival sites. We're currently based in the Baltic Triangle, a former industrial area that has been transformed into a thriving creative hub, consisting of venues, cafes, bars, studios and other independent businesses.
FI: Celebrating a single genre of music and its surrounding culture is an amazing way to differentiate yourself within an over-saturated market. Are there any challenges involved in doing so though?
RT: Running a festival, whatever the theme or genre, is extremely challenging. There's so much to organise with often little budget. You have to be creative with the resources that you've got. So big up to all those involved in the organisation and running of festivals.
Despite the huge impact of reggae on British music, culture and society, it's overlooked and under represented in the UK. It really isn't given the credit or platform it deserves, so you don't often see it on TV or hear it on commercial radio, unless it's been sampled. This lack of exposure, in my opinion, has made running a reggae festival even more challenging.
Furthermore, you're battling against stereotypes of reggae and Jamaican culture in general. i.e. "reggae music all sounds the same", "isn't reggae just Bob Marley?", "everyone in reggae smokes cannabis". All of these statements couldn't be further from the truth.
Whilst there are challenges with running a reggae festival, these are far outweighed by all the goodness it brings. We get to work with like-minded people of all ages, all backgrounds and all cultures. We get to listen to incredible music, look at stunning pieces of art, and taste the finest Caribbean food & drink. Plus, nothing beats seeing a crowd of happy people all dancing, singing and smiling together. One love!
FI: Making its return to the festival this year will be The Art of Reggae Exhibition – a collaboration between yourself and the International Reggae Poster Contest that showcases hundreds of reggae-inspired posters. Tell us about how you became involved with them, how you feel it contributes to the festival, and what the exhibition strives to achieve.
RT: I became aware of the International Reggae Poster Contest (IRPC) by chance. Whilst searching for reggae imagery online, I kept coming across these amazing posters, which led me to the IRPC website. After learning more about the organisation and speaking to the people behind it, I had to work with them.
In a nutshell, the IRPC is an organisation which aims to highlight the globalisation of reggae and the resounding impact of its positive message. Each year, hundreds of artists & designers from around the world submit a 'reggae-inspired' poster to be considered for exhibition. The top 100 posters are exhibited and sold via silent auction. The proceeds from the auction are then donated to the Alpha Boys School in Kingston, Jamaica.
The exhibition is without doubt one of the highlights of the festival. As well as bringing colour and vibrancy, it's given us an opportunity to engage with the reggae community around the world. Last year, we received over 1,200 submissions from artists & designers in 75 countries. We're now communicating with many of these people, looking at collaborative ways in which we can give reggae a greater platform.
The main objective of the exhibition is to raise awareness of, and funds for, the Alpha Boys School. Set up in 1880 by the Sisters of Mercy, the School provides education and musical tuition to underprivileged youths in Kingston, Jamaica. Without it, we may not have reggae music, given the fact that its alumni includes The Skatalites, Rico Rodriguez, Desmond Dekker, Leroy 'Horsemouth' Wallace and Yellowman.
FI: Aside from hosting some of reggae's most legendary acts at the festival, Positive Vibration also makes a point of promoting emerging talent. How do you go about ensuring that Positive Vibration provides an effective platform for these relatively unknown acts to get heard? Do you scout out these acts yourself or do you accept submissions from prospective performers?
RT: New bands & artists are the lifeblood of the industry, so it's fundamental that they're given a platform to showcase their music. When programming the line-up, we always ensure that we've got a number of slots for emerging talent. Rather than put them on a separate 'new band' stage, we have them play alongside some of reggae's biggest names. This gives them an opportunity to play to a larger audience and support their musical heroes.
Over the years, we've been fortunate enough to work with many fantastic bands & artists who have gone on to achieve big things, including The Hempolics, Backbeat Sound System, Cut Capers, Shanty, Kioko, Jeramiah Ferrari, Mount Nakara and Solko.
Each year we receive hundreds of applications from bands, artists & DJs from all around the world, all keen to play the festival. The calibre of acts is incredibly high, so it's always a difficult decision to pick who we want to play the festival. We also try to keep our ear to the ground throughout the year, in the hope of discovering something special.
Although reggae music isn't given the platform, resources or credit it deserves, we have seen a real revolution in the past few years, with an increased number of reggae bands, DJs, promoters and events popping up throughout UK and the rest of Europe. Let's hope this continues.
FI: What other non-musical elements will the festival have that you're particularly excited for?
RT: As well as the Art of Reggae Exhibition, we will also be hosting the Reggae Q&A, at which we discuss the impact of reggae on British music, culture and society. The discussion is led by a panel of reggae luminaries, from musicians, artists and DJs to promoters, record labels and other industry experts. Last year's panel included Pauline Black (The Selecter), Dennis Bovell (Matumbi), Mykaell Riley (Steel Pulse) and John Robb (Louder than War). This year's panel, which is in association with the Reggae Research Network, will be announced soon.
Throughout the festival weekend, we also host a number of creative and educational workshops for children and young people. These include: introductions to dub poetry, Jamaican dance, drumming, capoeira, and arts & crafts. As a family-friendly festival, it's really important that we engage with the younger reggae fans.
I'm also excited about the ever-growing Jamdown Market, in which over 40 open-air traders bring a diverse selection of food, drink, records, clothes, jewellery, health and well-being to the festival.
Anyone wishing to trade can contact us here.
FI: Is there anything else we should know about Positive Vibration?
RT: In addition to the festival, we also host a number of reggae events throughout the rest of the year. Since last year's festival, we've brought Big Youth, Horace Andy, Dawn Penn and Benjamin Zephaniah to Liverpool.
Over the next few months, we'll be hosting Mykal Rose, Horseman & The Upper Cut Band, Mellow Mood, Mad Professor, plus more amazing artists to be announced. There's also our free monthly 'Reggae Social' events, which provide an opportunity for like-minded people to come together, play records, chat reggae and have a skank.
We also go out as 'Positive Vibration DJs', spinning records at a number of high profile events & festivals. Forthcoming events include The London International Ska Festival, Reggae Loves Manchester Festival and a support slot with Stranger Cole and the Neville Staple Band.