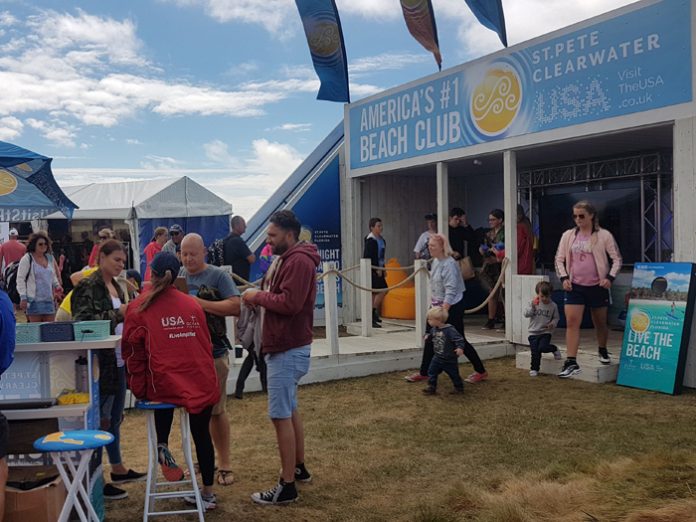 UK: Visit St.Pete/Clearwater partnered with Boardmasters this year as the festival's first ever destination sponsor. The tourist board promoted its Florida destination at the long standing popular surf and music festival with a unique two-storey activation that boasted daily entertainment from street artists and performers, VR goggles, games, and giveaways – as well as an opportunity to win a family holiday to St.Pete/Clearwater courtesy of Ocean Holidays.
Gemma Pascall, Account Manager of Visit St.Pete/Clearwater, said: "We were looking a dynamic and innovative solution that would enhance our 2018 tourism campaign, allowing us to directly target the family market with a brand that matches our core values. We were pleased with the level of interest from consumers wanting to visit the destination and are very happy with the data captured from our competition. The opportunity to tell our story at Boardmasters was a perfect fit for St. Pete/Clearwater and the customer we were targeting."
Les Seddon-Brown, Managing Director of Vision Nine's Client Events, commented: "A dream partnership from an event perspective is when the brand and event's values are perfectly aligned. This was very much the case with the Visit St.Pete/Clearwater brand and campaign. Working together, we managed to create an activation that added value for our audience through fun, interactive content, whilst promoting our shared outlook around the aspirational nature of beach lifestyle that Cornwall and St.Pete/Clearwater clearly have in common."
This partnership was brought together by BrandKiss, a marketing agency based in London that promotes tourism destinations through festival activations, brand partnerships, explores music as a promotional tool and undertakes bespoke research and insight projects.
BrandKiss
Boardmasters
Vision Nine
Visit St. Pete / Clearwater