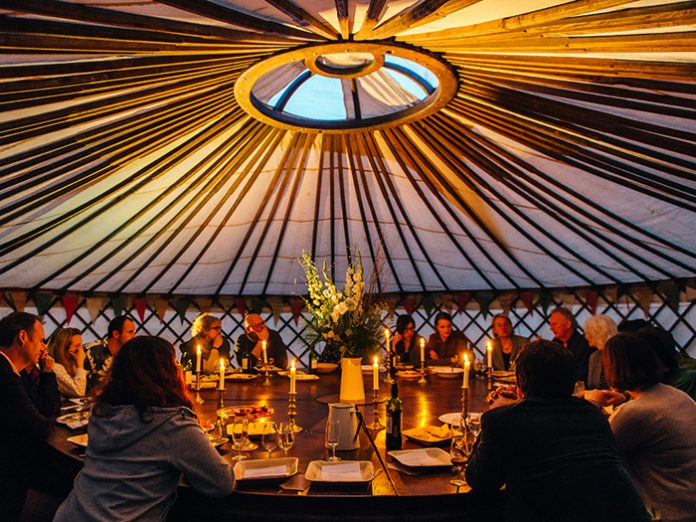 Festivals have a shared tradition when it comes to embracing progressive movements and ideas. From Glastonbury's decades-long kinship with the CND to Afropunk's 50% female line-up and Shambala's pioneering sustainability practices, festivals often capitalise on their audience's openness and energy to implement policies deemed too radical for wider society.
There's a prevailing sense that festivals have an opportunity, even a responsibility, to try and counteract some of the influence that right-wing media outlets and government institutions hold over the public imagination. Whether it's Jeremy Corbyn's triumphant 2017 Pyramid Stage appearance or Edward Snowden addressing a reverential crowd via videolink at Roskilde Festival, festivals can provide a platform for embattled iconoclasts to have their voices heard, live and direct.
Given that an unreasonable proportion of the world's population is governed by despots and / or dunces, it's increasingly looking like a necessity that festivals play this balancing role. But there's a lot missing from this model, namely: nuance, depth, disagreement, self-reflection, and genuine revelation.
Messages displayed on main stage screens and exclaimed by artists or guest speakers are almost always simple and agreeable – promoting universal love, decrying poverty & war, or reaffirming the pressing existential threat of climate change. The European Festival Awards' relatively new 'Take a Stand' accolade embodies this very notion: that festivals, as socio-political entities, are about presenting and acting upon strongly held beliefs. Their purpose isn't to challenge audiences but to embolden and inspire, fostering a sense of togetherness and collective optimism scarcely found elsewhere. Once again, this approach definitely has its benefits – but is there potential for festivals to open conversations around more complex and contentious issues whilst remaining both progressive in spirit and, most importantly, fun?
HowTheLightGetsIn – the world's largest philosophy and music festival – addresses that question, amongst many others. Founded 10 years ago by the post-realist philosopher Hilary Lawson, the festival marries a comprehensive, cutting-edge programme of debates with the template of a traditional music festival. Rather than espousing a single definitive moral position, HowTheLightGetsIn invites a diverse cast of leading thinkers and actors to discuss a multitude of issues at the forefront of philosophy, politics, science, and the arts.
This year's overarching theme is 'Tribal Truths and New Wisdom', with the core programme exploring the global ascendancy of populism, electorates' newfound prioritisation of social goals over economic growth, the benefits and pitfalls of group identity, the dissolution of civil discourse in politics, and a great deal more. Beyond the political sphere, discussions will cover everything from the impact of social media on our lives to the power dynamics of female sexuality, the virtue of play, the utility of language, and the nature of dark matter. Nothing is sacrosanct; over the course of four days festivalgoers will witness painstaking interrogations of modern technology, morality, facts, rationality, and even romance.
The festival employs a core team of around 20 individuals to curate the programme, using an internal editorial structure akin to that of a newspaper. Between the philosophy, politics, science, and arts desks, all are encouraged to pitch ideas for topics to the rest of the team. When one gains traction, it takes an enormous group effort to properly refine and frame the debate, after which they begin to deliberate over who would be the most relevant and exciting speakers. Lawson contrasts this "ideas first" mentality against that of similar events, which seem to approach panels primarily as a "celebrity picking exercise". HowTheLightGetsIn uses simple criteria to evaluate the suitability of prospective participants: Do they have anything new to add to the conversation?
Speakers this year include leading British Conservatives Nicky Morgan and Liz Truss, plus former party leader Michael Howard, and Anna Soubry – who broke away in February to join the fledgling Independent Group. From the opposite side of the aisle, the festival will welcome Jon Lansman of Momentum; Home Secretary under Blair, David Blunkett; and Labour MPs Dawn Butler and Richard Burgon. Gracing the wider line-up will be Stephen Hawking collaborator, Roger Penrose; economist, broadcaster and lecturer, Linda Yueh; Marxist literary critic, Terry Eagleton; clinical psychologist Simon Baron-Cohen; and philosopher of science, Nancy Cartwright, to name a few.
Owing to the diversity of the speakers and subjects, you could be forgiven for assuming that the festival's end goal is 'neutrality' – to occupy some passive centre-ground – but this isn't necessarily the case. At a time when anti-intellectualism has possessed considerable regions of the world's political landscape, the very existence of an ideas-driven festival makes it less of a bystander than it perhaps would be under different circumstances. As Lawson puts it: "While we are looking for different points of view, and don't present a single political outlook, nevertheless the topics we choose are always trying to challenge the status quo. I think that in a way we are campaigning, but without a single direction."
Although vindicated by its continued success, the concept of a philosophy festival was met with scepticism at first. "When we started, people said to me that no one would attend," said Lawson. "That was because the idea of philosophy was one of academics arguing over tedious logical points that have no bearing on ordinary people." It's true that the word 'philosophy' comes loaded with negative connotations. For those that haven't benefited from a formal education in the subject, many of its celebrated texts seem incomprehensible by design, encoded in an alien language that exists solely to protect its truths from being understood by outsiders. Those that are in the club, from students to scholars, can be perceived to hoard and even weaponise their knowledge, rather than share it. But philosophy isn't merely an academic discipline; in a more general sense it's simply a love of wisdom & ideas, or at least a willingness to consider mechanisms and meanings beyond the surface of things. "Everyone is a philosopher," says Lawson. "Because we all have to cope with the strangeness of what it is to be alive."
In fact, it is often the festival's most difficult subjects that generate the most interest. During its formation, the team was concerned with how to make the debates "accessible", conscious of the differing levels of understanding that audience members would be bringing with them. Lawson's past experience in broadcast journalism led him to suspect that this wouldn't be necessary, however: "When Newsnight covers a topic, they don't tell participants to speak for the public; they assume that because they are arguing with each other their core points will become apparent," he said. "Many aren't aware of the finer details of the issues at hand, but nevertheless can understand the overall gist of what's going on and are both motivated and interested by it."
In spite of the very cerebral subject matter, this concept holds true for HowTheLightGetsIn, although the team employs a couple of extra methods to ensure that the debates succeed in being widely understood. Firstly, by inviting panellists from a variety of different disciplines and backgrounds, it means that they naturally limit their use of technical jargon, or at least feel compelled to explain specialised terms when they arise. Additionally, moderators are strongly encouraged to interject if they personally don't understand a point, acting as a stand-in for audience members unable to ask for clarification. Specific elements of an argument might go over some people's heads, but as long as they understand the underlying issues then they still come away "excited and energised, feeling as if the world just became a bigger and richer place," as Lawson puts it.
This enthusiasm for the festival's deepest discussions extends beyond its boundaries. Once again informed by Lawson's past in broadcasting, the festival hosts a yearly livestream that attracts millions of viewers. To some organisers, this kind of obvious interest would compel them to expand the physical scope of the event, but HowTheLightGetsIn is decidedly content with its current capacity. "Rather than trying to create an ever larger festival we are more inclined to keep our venues intimate," said Lawson. "That way we keep the genuine human interaction that we have now, rather than it becoming a celebrity marketing vehicle with speakers engaged in empty grandstanding."
The event did, however, launch its first ever London edition last year. With two thirds of the festival's online traffic coming from abroad, Lawson says the next step would be to introduce HowTheLightGetsIn to capital cities across the globe, rather than increase the size of the UK events.
All of the above would be impressive enough if the audience were merely spectators, but HowTheLightGetsIn also features an 'Open Platform' experience, allowing attendees to dine and converse with its speakers. "Many who go to the Open Platform events find they are some of their most memorable experiences at the festival," said Lawson. "There's something very valuable about being able to converse with intellectuals, politicians and artists on an equal footing, in an intimate and informal setting where you're eating and drinking alongside one another. It tends to get rid of the aura of 'celebrity' around the speakers and makes the discussions all the more intellectually honest and exciting."
The festival's wider offering includes full music and comedy line-ups, plus cabaret, banquets, wellness activities, cinema, and a vintage fayre. These more traditional aspects of the festival not only complement the philosophical side, but actually enhance it by preventing the debates from becoming too serious. "If you're in a tent and hear some music coming in from a nearby venue at a low level it somehow softens the atmosphere. It enables people to genuinely talk to each other a bit better," said Lawson.
In 2019, learning to speak to our ideological opponents with empathy and conviviality sounds like a lofty goal, but it's one that festivals seem poised to help achieve. There's a place for sloganeering, and certainly for taking action, but HowTheLightGetsIn proves that festivals can also offer real conversation, education, self-reflection. 'There's a crack in everything; that's how the light gets in', goes the Leonard Cohen song that inspired the festival's namesake, and perfectly encapsulates its central claim: only when the inevitable shortcomings of our current ideas are exposed and confronted can we hope to create a brighter future.
HowTheLightGetsIn 2019 takes place from May 24 – 27 in Hay-on-Wye.