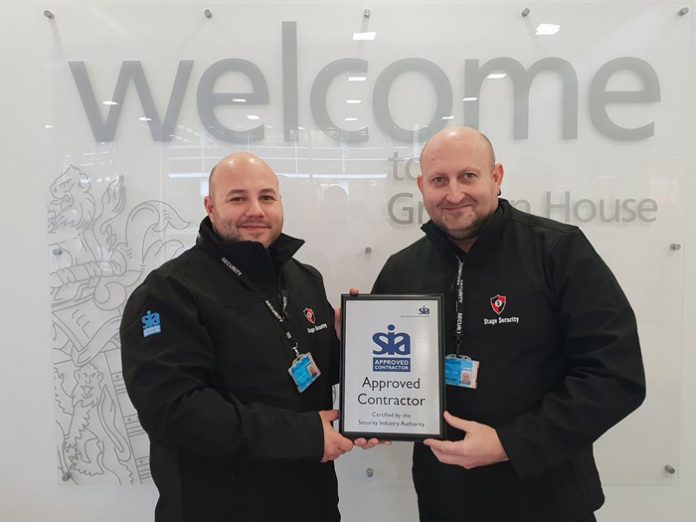 Mark Peck is the Managing Director at Stage Event Security, a specialist SIA-accredited security firm in Ipswich that delivers a range of services throughout the Suffolk region, including security for festivals, venues, and events. 
Festivals are meant to be a fun time. It's a time to celebrate good live music, have a few drinks and dance without a care in the world alongside thousands of other music fanatics. However, if a festival is not run properly, there are several mishaps and safety hazards that can pose a serious challenge.
At Stage Event Security our priority is always the safety and wellbeing of all involved, from the festivalgoers to the performers and every member of staff. We are dedicated to keeping everyone safe and believe this is best achieved with a fun and friendly approach, ensuring that everyone can enjoy the festival as meant to be. With our experience, we conduct several processes before and during the festival, from risk assessments to crowd management and clear communication.
We have rounded up some of the key features of festival security that allow us to ensure a smooth, safe and fun event for all concerned.
Risk Assessments and Planning
Festival security is one of the most challenging services to provide but can be extremely rewarding when it delivers a successful show. The key to any event is to prepare ourselves as much as possible. It's about planning for several scenarios, including situations that we don't expect to happen. Security firms are there to provide their knowledge and experience in preparing event staff for any kind of situation, especially during large-scale events attended by tens of thousands of people.
A critical part of planning for a festival is to conduct a thorough risk assessment. This will involve developing a fully detailed report on the current scale of risks and prioritising a timetable on how to reduce the level of risk for high risks. The assessment should consider elements such as who is at risk and how the risk can be managed in preparing for the event and during. Types of risks come in many forms. It could involve overcrowding, electrical equipment, and fire hazards such as people smoking onsite. It also considers weathers hazards like damage to structures caused by heavy winds or the environmental effect the festival has on local wildlife. The safety of crew members is also paramount, with organisers having to follow Healthy and Safety regulations, especially regarding heavy lifting and the transport of equipment.
The planning process should assess how suitable the site is for hosting the festival. Is there enough space for the intended capacity? Is there suitable public transport close by? Is the site prone to hazards such as high winds or at risk of flooding? These are just some of the questions to ask yourself and when coordinating with relevant departments, local councils and emergency services. The size of the festival, demographics of the audience and any concerns regarding the site can affect how security approaches the event.
Are you aware of the items that are prohibited? Some items will be obvious, such as illegal drugs, but different festivals have their own rules. You should identify what guests are not allowed to bring to the festival and make sure this is communicated to them as early as possible before they travel. For instance, bag sizes may be limited, or food and drink, tents and pets may be banned.
In an ideal world you won't have to deal with an emergency, but it's extremely important to carry out emergency planning to prepare yourself should such an incident occur. Emergencies could be anything from fires and structure collapses to terror attacks and dangerous weather conditions. Situations such as these require urgent attention and it's vital that all those working the festival are aware of the correct emergency procedures. In consultation with the emergency services, it's important to agree upon a plan covering elements such as how the alarm is raised and communicated, where the evacuation points will be situated, how limited mobility guests will be supported, and how emergency vehicles will gain access.
At Stage Event Security, we will usually provide security briefing packs to those who require it. This will contain any relevant details such as important contacts, key onsite locations, festival rules and emergency procedures.
Safeguarding Welfare During a Festival
The work we conduct is to safeguard the welfare of the public, the staff and the site itself. High-strength temporary fencing and barriers should be used to set up a perimeter and separate areas throughout the festival environment. Materials should be capable of withstanding a range of weather conditions and able to rapidly deploy when required. In combination with security personnel, this will help secure areas from unauthorised access and streamline the entry process. Site welfare will also involve providing necessary facilities to attendees and staff, including portable toilets, food and drink, water stations and storage options. Festivalgoers may also need extra supplies including blankets, earplugs and ponchos.
A firm and high-visible security presence can ensure the safety of staff and performers from risks like hostile guests. Children and vulnerable people can be more at risk in a festival environment. There should be a designated area for lost guests and a system in place for finding the parent or guardian. Staff should also be DBS checked and trained to work with children or vulnerable people.
Crowd management is a key service that we provide and especially important for events with large groups congregating in a single place. For the safety of all concerned, it's essential to only permit access to people who have tickets. This will prevent individuals with malicious intent from entering as well as reducing the risk of overcrowding. Security guards should be on hand to prevent anti-social behaviour, stop mosh pits from getting out of control, break up fights, and administer first aid treatment. It is also responsible to ensure that the local community and businesses are not affected by negative behaviour from festivalgoers.
In this day and age, it's more important than ever to carry out a thorough search before granting access to an individual. Trained staff should always conduct searches at the entrances of the festival site. This may involve pat-downs, bag checks and wands for detecting any prohibited items. As explained earlier on, the planning stage will involve compiling a list of prohibited items. All staff should be aware of what is and isn't allowed on the festival site. Steps should be taken to ensure unsearched guests are unable to pass items to someone who has already been searched.
Communication is Key
Collaboration is critical for a successful festival and this is only possible through good communication. It's important that during the event, staff have clear radio communication with the departments relevant to carry out their work. In the event of an emergency or security incident, swift radio contact can get a situation under control as soon as is possible. Any equipment required for communications should be tested and fitted comfortably and securely. In the event of a breakdown, backups should be available. Liaising with all relevant parties including local authorities at every stage is vital for keeping everyone safe.
Customer service certainly matters when working with the public. While safety is a priority, this shouldn't be at the expense of quality or entertainment. Security personnel are typically the first point of contact for festivalgoers. A warm, friendly and knowledgeable approach can go a long way in welcoming people to the festival. They will be more likely to enjoy their time at the festival and co-operative in working with staff to maintain the peace and safety.