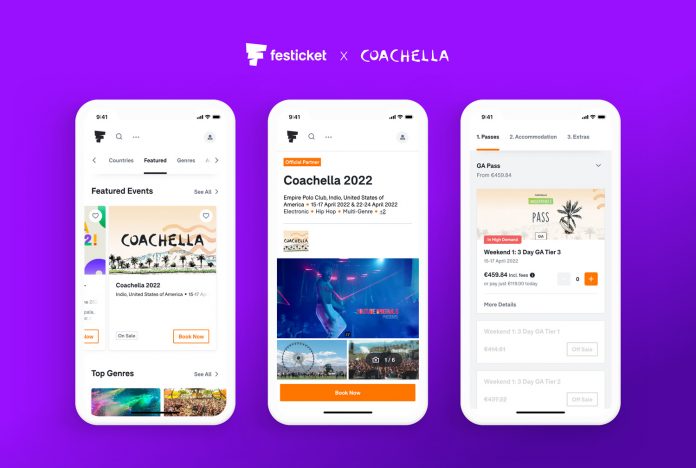 The California festival extends Festicket's exclusive international ticketing partnership 
Festicket, the world's largest platform for discovering and booking festival trips, has re-upped with Coachella Valley Music and Arts Festival as the festival's exclusive UK & Europe ticket partner.  
As the world's most visited platform for festival travel and ticketing, Festicket will continue to provide Coachella's international booking services in nine languages, accepting more than forty currencies and sixteen local payment methods, alongside promoting a wide range of ticket options and travel and accommodation packages. 
During the advance sale for the 2022 edition of Coachella this Friday June 4th, Festicket immediately expanded Coachella's sales into 54 countries outside North America, clearly displaying the demand for music tourism around the world is as strong as ever.
Since 2019, Coachella organizers, Goldenvoice, and Festicket have enjoyed a very successful partnership having attracted over 3.2 million fans to the festival's pages whilst selling tickets and travel packages to fans from 63 different countries.  
Held annually at the Empire Polo Club in the Southern California desert, the Coachella Valley Music and Arts Festival is one of the most critically acclaimed music festivals in the world and plays host to ground-breaking music and visual artists from around the world for two weekends. After two years of postponement, the 2022 festival will take place 15-17th (Weekend 1) and 22-24th (Weekend 2) April.
Zack Sabban, CEO & Co-founder at Festicket, originally founded the company in 2012 when he wanted to organise a trip to Coachella with a group of friends in Europe.
He commented "Coachella has a reputation around the world like no other festival. We got into the events game because of festivals like Coachella and it's an honor to now be working alongside the team at Goldenvoice. The fact that Festicket fans from fifty four countries have already bought tickets for 2022 is such a positive sign. Despite all the doom and gloom the pandemic has brought, music lovers are ready to get back to the experiences they live for and are ready to support the events they love, now – when it counts – even if the events aren't for another 9 months. That is brilliant to see."
"Everybody is well aware of the struggles the events and ticketing industries have suffered during the pandemic but having used this time to fasttrack integrations with our new Event Genius offering, we really feel we're ready to make even more strides into the United States in 2021 and beyond."