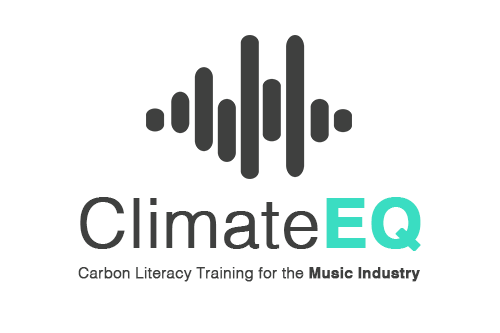 You'd obviously have to have had your head down an oil well to not get the message that we're on the verge of climate catastrophe and urgent action is needed. Sure, there are deniers and some post-festival shots in the papers may leave you wondering if we're trying to save the planet for our children or from them. Aside from waste, carbon is the key to halting the rise in energy levels that are driving ever more severe weather events, but what that means may escape some, leading to misguided actions and inefficient solutions. What we all need is a healthy dose of Carbon Literacy.
At least that's the assertion of James Dove, a grassroots musician and active environmentalist, who was keen to explore ways in which music could be used to promote environmental action. To that end, he developed CarbonEQ.
When we spoke to James he explained that, after being inspired on a course at the Centre for Alternative Technology, James first saw the opportunity to make personal changes such as vastly reduced car use, planning meals to enable local shopping and less waste and, switching personal pensions to green funds. It was this course that also provided the inspiration to develop the first accredited Carbon Literacy training course specifically geared towards the environmental challenges facing the music industry. James told Festival Insights that, as an industry populated by creative people, we are equipped to come up with creative solutions.
Carbon Literacy is an internationally recognised climate change awareness and crucially, action-based training qualification, accredited by the Carbon Literacy Project, an award-winning charity based in Manchester. They were recognised by the UN at COP21 as one of 100 worldwide Transformative Action Programs (TAP100).
The training consists of a day's worth of learning that provides participants with the motivation and knowledge to enable meaningful action on the climate crisis in their personal lives, at work and in the community. A variety of learning styles are used throughout the course, with emphasis placed on group enquiry to encourage learners to find their own answers and solutions. This helps to maximise engagement and to inspire collaboration. When we asked about the content, James was keen to point out that many of the issues addressed are not unique to the music industry, but the content is designed to put issues into the context of the sector. He went on to say that the music industry is, however, unique in its ability to influence its audience and to communicate the urgency of climate change and has the power and responsibility to be a proactive leader in driving climate change action.
But first it must address its own environmental issues, and to achieve this, the industry needs more opportunities for its employees to learn more about the climate crisis and what they can do about it.
ClimateEQ is being launched to address this need and to bridge the gap between awareness and action.
Upon successful completion of the course, participants are given the opportunity to gain a certificate in Carbon Literacy. To meet the criteria, they must provide evidence of their learning and commit to one individual, and one group carbon reducing action, both of which must be significant and relevant to their lives and organisations.
More information: www.climate-eq.co.uk