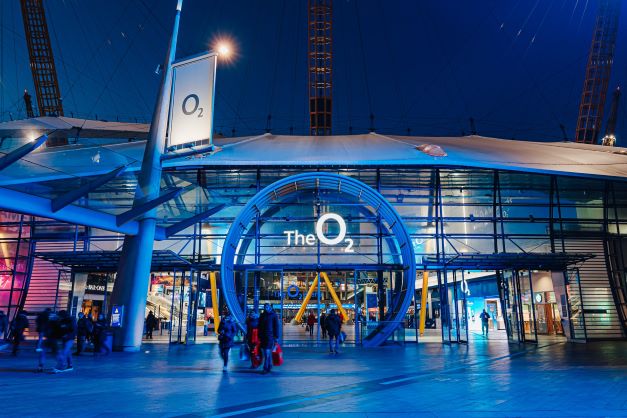 Just For Laughs, the largest and most widely-respected comedy festival in the world, is expanding their international festival footprint by creating a brand-new comedy festival curated for comedy fans in the UK, made possible by collaborating with AEG Presents and The O2. The first edition of Just For Laughs LONDON isscheduled to take place at The O2 in North Greenwich, London from March 2-5 2023.
Just For Laughs LONDON will be a four-day pass-based festival, and feature the company's signature premium comedy programming. Must-attend events will include solo shows, live podcast recordings, in conversations, and cast panels; from both UK-based artists, as well as international stars.
Since the festival's inception, Just For Laughs has fostered a deep relationship with Britain's incredible pool of talented comedians. At the time, many British rising stars came to JFL to further their careers including the likes of John Oliver, Jimmy Carr, Jack Whitehall, Eddie Izzard, Gina Yashere and Sarah Millican; while some of the country's legends such as Stephen Fry, John Cleese, Lenny Henry and Rowan Atkinson, who launched "Mr. Bean" at Montreal's Just For Laughs Festival, make up some of JFL's proudest accomplishments. Working with the vast repertoire of UK comedians who have appeared at the festival has become an integral part of the company's DNA.
Over the last 40 years, the unique and edgy style of British humour has become synonymous with what JFL is known for. They introduced prime-time TV audiences to these rising British comedy stars on Channel 4, BBC, Channel 5 and to global audiences. Now, with the launch of this new festival, JFL and AEG will be providing Britain's best acts with a JFL stage in their hometown, as well as the opportunity for international comedians to gain exposure from what will surely become the UK's biggest comedy festival.
"We couldn't be happier to be producing a Just For Laughs festival in the UK, celebrating the contribution and influence British comedy has had on JFL as well as the industry as a whole," shares Bruce Hills, President of Just For Laughs. "With British comedy being a fundamental touchstone of our company for the last four decades, we are so excited to work with AEG Presents and The O2, and deliver our UK fans an irreplicable first-class JFL experience at a world class London venue".
"Just For Laughs has produced many successful superior comedy festivals and tours in cities across the globe, and we are now beyond excited to plant some roots by adding a new comedy festival in one of the world's most notorious comedy cities, London, England", adds Charles Décarie, President and CEO of Just For Laughs Group. "We believe that expanding our festival's international reach is part of the organization's natural evolution, and we are looking forward to being in the UK next year at London's The O2."
"We are delighted to be working with such a well-respected and talented company as Just For Laughs, and look forward to presenting an amazing festival at The O2 next year," said Steve Homer, CEO of AEG Presents UK.
Emma Bownes, VP of Venue Programming at The O2 added, "The O2 is thrilled to be partnering with both JFL and AEG Presents on Just For Laughs LONDON in March 2023. Just for Laughs are world leaders in comedy programming, and we can't wait to host the very best UK and global stars, alongside podcast recordings, table reads and breakout comics across multiple stages under our roof. We look forwards to Just For Laughs LONDON returning to The O2 for years to come