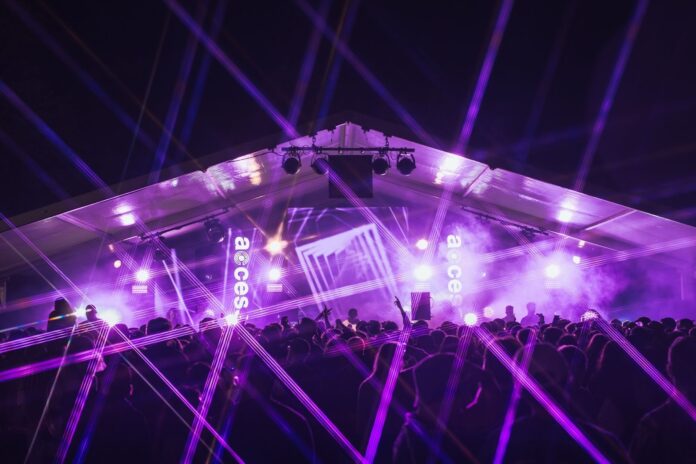 Access the Festival, described by organisers as an open-air, sun kissed summer sizzler that takes place in beautiful British countryside in Sherbourne Park in Warwick, will, for its 2nd edition, be headlined by a tasteful mix of world class DJs from across the global house, disco and techno spectrum including Gerd Janson, Octo Octa b2b Saoirse, Jeremy Underground, DJ Boring, Dan Shake, CC: Disco, Dam Swindle, Crazy P Soundsystem, MATHAME, DJOKO b2b Harrison BDP, Byron The Aquarius b2b Jamie 3:26, Raw Silk and many more to come. Two day, single day, bus trip ad-ons and limited VIP tickets with a dedicated entry lane, free return bus trip and exclusive lounge with private bar, toilets and games.
From the people behind Warwick and Leamington's most popular and acclaimed underground party, Access the Festival is about good times, good people and good energy. It is an essential event to kick start the festival season in an exceptionally beautiful spot with space to roam, the freedom to turn it up loud and the chance to make some magical summer memories. After a hugely impressive debut in 2021, now comes round two, which promises to build on that success.
Sherbourne Park is an exquisite green clearing amongst towering trees and with a historic Georgian mansion and picturesque church as the backdrop. It comes alive with an impressive main stage, world class sound and carefully designed production to make for an unmissable weekend getaway in the heart of the countryside.
The line-up this year is second to none and brings in a wealth of international talent with new partners such as London based Disco Disco and the revered Houseum label, whose stage will be recorded and streamed on YouTube. First up is Running Back boss and revered multi-genre master Gerd Janson who is joined by cult Frenchman Jeremy Underground, hugely energetic party starters Octo Octa b2b Saoirse and DJ, radio host, label head and promoter CC:DISCO.
There will be another special back to back between DJOKO and Harrison BDP, melodic techno from Italian duo MATHAME, disco from the legends Crazy P Soundsystem, emotive house grooves from Ninja Tunes man DJ Boring, deep and spaced out selections from Sweely, and plenty from hit making Dutch pair Dam Swindle, UK house man Dan Shake and Marina Trench. More back to backs come from classy American soul, funk and house dons Byron The Aquarius b2b Jamie 3:26.
Next to the music, there will be a vibrant mix of contemporary art, colourful leisure activities and adrenaline pumping fairground rides as well as plenty of extra surprises to make the experience all the more unforgettable. Keeping you fuelled across both days will be an award winning selection of street food – think handmade pizza, giant burgers, tasty world foods – and mouth watering drinks to tickle all taste buds. There is no parking at the festival site so you are encouraged to take advantage of all-day return bus trips from Leamington Spa and Warwick University campus, which are both just 15 minutes away.
Access was born in 2016 when a group of friends set out to reflect the sound of various UK cities in carefully curated club nights. They saw quick success with thoughtful line-ups and immersive production, and as well as selling out every local event for the past three years, they have also made a mark in London and internationally in France and Hong Kong. Last year came the debut festival and it set a new benchmark for the region with standout sets for some of the underground's finest names.
Say event directors Will Darley and Alex Neidhardt, "2022 is going to be the year where Access the Festival truly takes off! We're channelling all the energy spent getting 21 off the ground in COVID times into upgrading every area. I'm particularly excited about the new Groove Garden stage, it's going to have the same unique wow factor as the Daylight Disco stage. Especially with the DJs playing in there it's going to be a vibe."